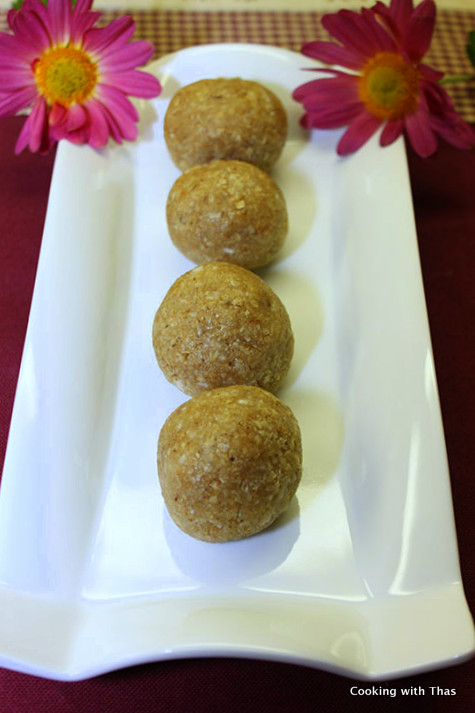 Instant Oats turned into ladoos or rolls, delicious sweet rolls with heart healthy oats…
Recipes that I create instantly are usually the best. This is one such recipe that I made without much thought and effort. I browsed through the sweets that can be made for Diwali on my blog and shared the post on my FB cooking page. After a few minutes, I was struck with the idea of making oats ladoo or rolls. I couldn't resist that thought, I hopped into the kitchen right away and started making oats rolls or ladoo. It only took me less than 15 minutes to whip up these delicious oats rolls.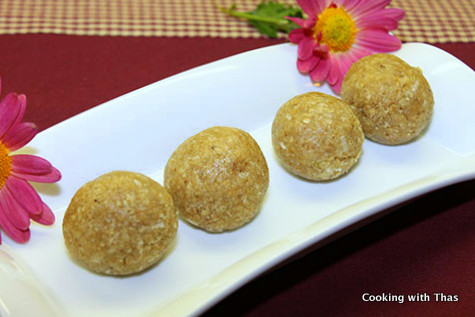 Oats Ladoo or Oats and Walnuts Rolls
Ingredients
Ghee or Butter- 1½ tbsp
Instant Oats- 1 cup
Walnuts, chopped- ¼ cup
Grated coconut- ¼ cup
Sugar- ½ cup
Milk- ¼ cup
Cardamom powder- ⅛ tsp
Instructions
Heat a non-stick pan over medium heat.
Add ½ tbsp ghee, let it melt.
Add instant oats and walnuts, roast for about 4 to 5 minutes.
Remove the pan from the heat.
In a food processor, coarsely grind the roasted oats and walnuts together.
To the same pan placed over medium heat add the ground oats and walnuts.
Add coconut, sugar and cardamom powder, combine well and saute for 3 to 4 minutes.
Add the remaining 1 tbsp ghee, mix well.
Slowly add milk and mix well, cook for a couple of minutes.
Remove the pan from the heat, let the mixture cool down completely.
Make medium sized balls.
Enjoy the delicious oats ladoo or rolls. You can store these rolls in an air tight container for a few days, or place it in the refrigerator.
Notes
Make sure to use Instant Oats.
You can replace walnuts with any other nuts of your choice.