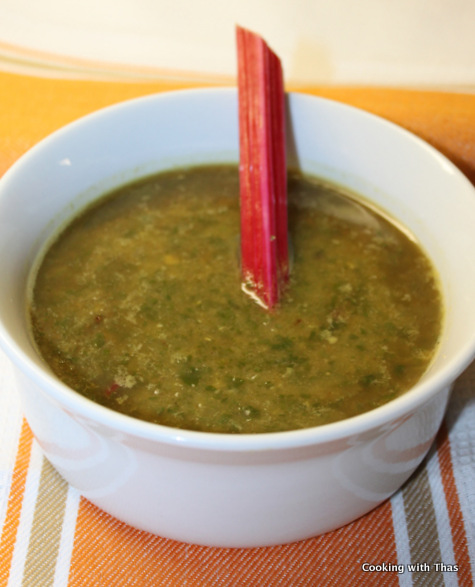 A bowl of this soup is so comforting and is made with healthy ingredients…
I am back home after a getaway trip. I'd been eating out for the past 3 days. I love dining at restaurants and trying different food, however after a couple of days I will start craving for home cooked and healthy food. Though I was a bit exhausted, I still managed to cook a healthy and comforting dinner.
The weather has started getting better, it was unbelievably windy today but warm. In the evening, I spent some time outside enjoying the breeze and the sunshine. After that, I felt like sipping a bowl of warm soup, so made this swiss chard and red lentil soup. I love adding red lentil to most of my soups as it adds texture to the soup, also it cooks fast. I had a bunch of red swiss chard in my refrigerator, hence I combined swiss chard along with the red lentil. It turned out to be a very comforting, healthy and tasty soup…
Preparation Picture
Cooking swiss chard and red lentil
Swiss Chard and Red Lentil Soup
Ingredients
Oil- 1 tbsp
Ginger, minced- 2 inch slice
Dry red chili flakes- ½ tsp
Onion, chopped- 1
Red lentil- 1 cup
Chicken stock or vegetable stock- 2 cups (use low-sodium)
Red Swiss chard, chopped very small- ½ bunch ( I chopped it in a food processor)
Ground cumin- ¾ tsp
Garam masala- ½ tsp
Coriander powder- 1 tsp
Ground pepper- ⅛ tsp
Salt- more if needed
Water- 2 cups
Instructions
Place a soup pan or a large saucepan over medium heat, add oil.
Add minced ginger, saute for a few seconds.
Add red chili flakes, saute for a couple of seconds.
Add onion, season with salt and saute till onions turn translucent.
Add red lentil and chicken stock, cook covered till lentils are partially cooked.
I chopped the swiss chard in a food processor, hence it was finely chopped.
Add the chopped swiss chard to the lentils.
Add ground cumin, garam masala, coriander powder and ground pepper, combine well.
Add 2 cups of water and cook covered for a few minutes till the lentils and the swiss chard have cooked.
Taste and add more salt if needed.
Remove the pan from the heat and let cool down.
Using a hand blender coarsely puree the soup to a thick constituency. Or puree in a blender.
Serve to a soup bowl and enjoy this healthy soup.