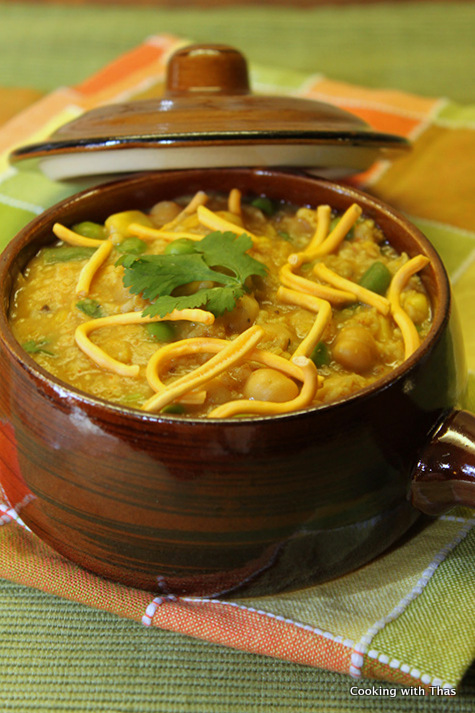 Instant oats combined with mixed veggies and chick peas, an easy to make hearty soup to keep you warm and cozy…
We didn't have any snow in December, so we enjoyed a green Christmas and New year's eve. I knew that something big was in store for us. As expected, last night it's started to snow and it is continuing to snow even today. I love snow and I don't complain about it as along as my Man does the snow blowing 😉
I cannot resist clicking the pictures of snow, sharing a couple of them with you all.
Snow capped Bird Feeder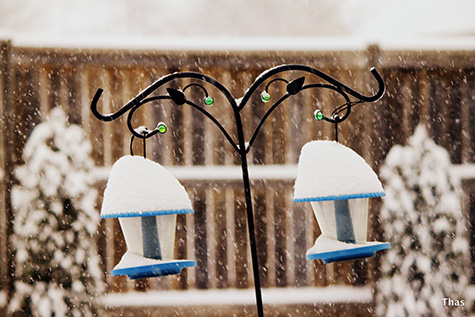 Looking through the backyard glass door, it's all white and beautiful…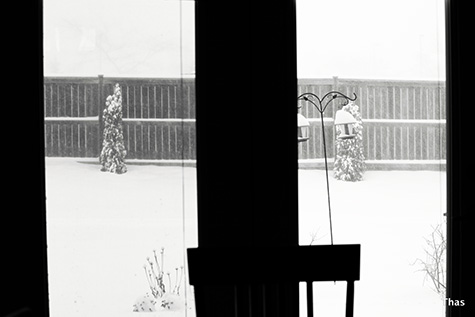 Last weekend, I felt extremely lazy to do the grocery shopping and even more lazy during the week. For that reason, my refrigerator and freezer is empty now. I don't have any meat nor any fresh veggies. All I have is frozen veggies and canned chick peas/beans etc. That didn't stop me from making dinner last night, I made a hearty and delicious soup with oats, mixed veggies and chick peas. I had some leftovers and I'm enjoying it for today's lunch as well.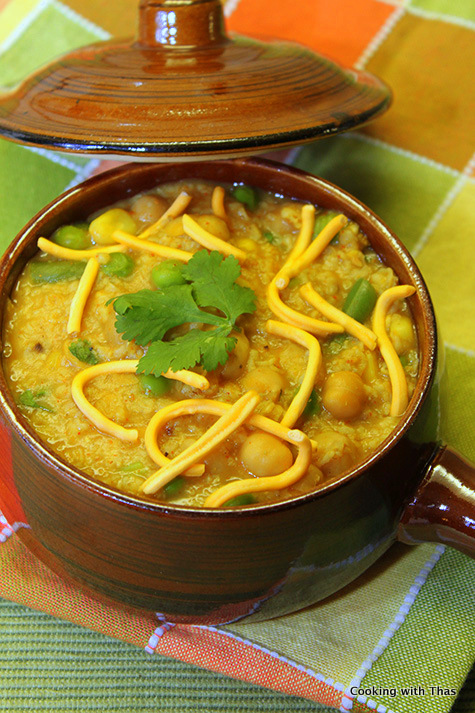 Easy Oats and Veg Soup- With Mixed veggies and Chick peas
Ingredients
Instant oats- 2 cups
Oil- 1 tbsp
Mixed veggies, frozen or fresh cut small- 2 cups (carrot, peas, corn, beans)
Chick peas, canned- 1 large can, rinsed
Water- 4 cups
Cilantro, chopped- ¼ cup
Fried onions or crispy chow mein noodles- 1 cup
Salt- to taste
Spices
Chili powder- 1½ tsp (or add according to your needs)
Turmeric powder- ⅛ tsp
Garam masala- ¾ tsp
Coriander powder- 1½ tsp
Ground cumin- ½ tsp
Ground pepper- ¼ tsp
Instructions
Place a large soup pot over medium heat, add oil.
Add mixed veggies, season with salt, saute till they turn tender. Add ⅛ cup water while cooking the veggies.
Add chick peas, combine well to the veggies and cook covered for 5 minutes. If it's very dry, add some more water and cook.
Add all the spices, combine well and cook for a couple of minutes.
Now, add instant oats, saute for 2 minutes.
Season with salt.
Add water, combine well and cook for 3 to 4 minutes.
Taste and add more salt and chili powder if more spice is needed.
If adding fried onions, you could add that and cook for a few seconds.
Finally, add cilantro, combine well.
Remove the pan from the heat and serve the soup immediately.
If adding crispy chow mein noodles, add that while serving. I love the crunch from the noodles. Adding it is just optional.
As this soup sits, it will thicken. Leftover soup can be refrigerated, while having this soup the next day, add some more water and heat it up and enjoy.
Notes
You could even add 2 tsp of chicken masala (store-bought) along with the spices.