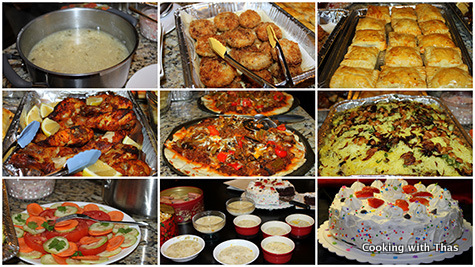 My complete menu and recipes to host an awesome dinner party; sharing my experience, tips and tricks…
Last weekend, I had hosted an awesome holiday party for my friends. This was the first time I'd ever cooked for 10 to 12 people. It did involve a lot of planning, prep work, and cooking. When I saw everyone enjoying my food, especially the kids, I felt content and extremely happy.
In this post, I'm going to share how I planned the menu, what all prep works were involved, and the cooking process. I hope this might help you in planning a party menu.
This was my Party Menu
Soup
Appetizer
Main
Sides
Salad with Ranch dressing- recipe towards the end of this post
Raita- Yogurt and veggies- recipe towards the end of this post
Dessert Menu
All the prep work should be done on the previous day and on the party day it should be just frying, baking, and mixing.
My party was on Saturday evening so I did all the prep work on Friday. On Thursday night, I made the chocolate cake and Macarons.
Making Macarons: Can be made well in advance, a week prior to the party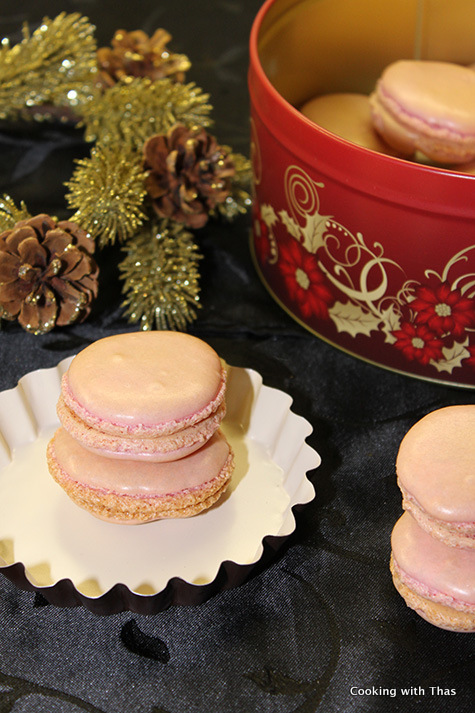 Macarons can be made up to a week prior to the party and can be kept in the freezer. Tastes better when frozen.
I made 2 separate batches, there were around 35 Macarons. I didn't fill them with the filling served as it is.
Making Chocolate Cake: Make the cake 2 days before the party and keep in the refrigerator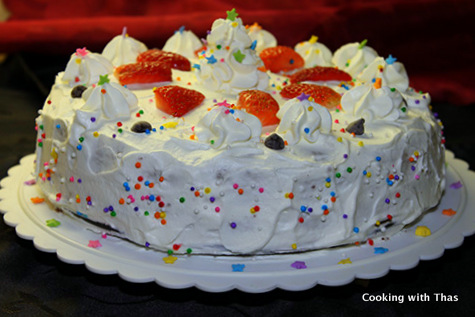 Just the chocolate cake (without the filling and frosting) can be made 2 days before the party. On the previous day, you can layer the cake with the strawberry filling and frost it with whipped cream.
Prep work on the day before the party:
1- Make Tuna cutlet mix and make it into balls
For making 24 cutlets- Add 6 onions, 3 cooked potatoes, and 3 canned tuna, and follow the recipe.
Make the cutlet mix, make it into balls and flatten them. Place them in an air-tight container and refrigerate.
2- Make Beef filling for puff Pastry- Recipe here
Follow the recipe for making the beef filling, this recipe can be used for filling 24 puff Pastry. Keep the filling in an air tight container and refrigerate.
3- Make Chicken Masala for Biryani- Recipe here
For making for 12 people-  Slice the onions in the food processor, this saves a lot of time. Cook the chicken masala in a large non-stick pan.
For marinating Chicken
Chicken, bone-in pieces- 15 large pieces
Ginger-Garlic paste- 1 tbsp
Turmeric powder- 1/2 tsp
Chili powder- 2 to 3 tsp
Fennel powder- 1 tbsp
Garam Masala- 2 tsp
Lemon juice- 1/2 tbsp
Salt- to taste
For making Masala
Yellow Onion, cut thin lengthwise (slice in the food processor)- 15
Ginger-Garlic paste- 2 tbsp
Green chilies, halved- 4, or depending upon your spice level
Tomatoes, chopped- 3, large sized
Curry leaves- 1 sprig
Fresh Mint leaves, chopped- 8 leaves
Prepared Fried Chicken- 15 pieces
Garam Masala- 2 tsp
Fennel powder- 1 tbsp
Coriander powder- 1 tbsp
Chili powder- 2 to 3 tsp (based on your spice level)
Salt- to taste
Yogurt, beaten- 1/2 cup (use not sour yogurt)
Lemon juice- 2 tsp
Coconut oil-  5 tbsp
Ghee- 3 to 4 tbsp
Spread the prepared chicken Masala in a large aluminum foil tray, let cool down. Cover tightly with aluminum foil and refrigerate till the next day.
4- Making Pizza dough and Ground beef Pizza filling
I made 2 large Pizzas (16 slices).
Make 2 pizza bases- it's good to make 2 separate doughs rather than combining everything into one, recipe here.
Make 2 large Pizza doughs, let rise for an hour and then place the dough in ziploc bags and refrigerate the dough till the next day.
Making Ground beef filling for pizza
After the filling cools down, place the filling in an air-tight container and refrigerate till the next day.
Also, cook the veggies slightly and refrigerate them in a separate airtight container.
5- Marinating the Chicken legs- Recipe here
Chicken legs- 16
Yogurt- 1 tbsp/chicken legs
Ginger-Garlic paste- 2 tbsp
Chili powder- 3 tsp or according to your spice level
Paprika- 1 tsp
Ground pepper- 1/2 tsp
Garam masala- 1 1/2 tsp
Cumin powder- 1 tbsp
Coriander powder- 1 1/2 tbsp
Dried Fenugreek leaves or dried curry leaves – 1 tbsp (optional)
Lemon juice- juice of half lemon
Salt- to taste
Olive oil or Vegetable oil- 4 tbsp
Put the chicken legs in a large ziploc bag, add all the above-mentioned marinade ingredients, close the bag and combine well to coat the chicken legs evenly. Refrigerate the chicken legs till the next day.
6- Pistachio Saffron Pudding- recipe here
For making for 12 people
Milk, whole or skim- 5 cups
Sweetened condensed milk- 1, 300 mL can + 100 mL
Pistachios, unsalted and shelled- ¼ cup
Saffron- 2 pinches, soaked in 1 tbsp water
Agar-agar strands (china grass), 1 inch strands- 1/2 cup cooked in 1 cup water.
Follow the preparation method, pour into individual bowls and refrigerate.
7- Decorating the Cake- Make the strawberry filling, spread it on the cake, and frost it with whipped cream
1- For making strawberry sauce
Fresh Strawberry, halved- 2 cups
Sugar – 2 tbsp
Preparation

In a saucepan, add the halved strawberries along with the sugar.
Cook over medium heat, stirring occasionally for about 20 minutes till it's mashed up and the sauce has thickened. Let it cool down.
2- Spreading the strawberry filling
Cut the chocolate cake horizontally into 2 equal halves.
Spread the strawberry filling on one of the halves, top with the other half.

3- For making whipped cream

Heavy Whipping cream, cold – 2 1/2 cups
Confectioners sugar or powdered sugar – 3 tablespoons
Preparation
Using a hand mixer or stand mixer, whip the heavy whipping cream along with sugar until stiff peaks form. Do not over beat it.

Spread the whipped cream over the cake, you could decorate according to your creativity, top with strawberries, chocolate chips, sprinkles etc. 

Place the cake in the refrigerator. 
These are the prep work you should do on the previous day so that on the party day you won't have way too much work. You will be exhausted after all the prep work, have a good sound sleep and wake up fresh the next day.
On the Party Day
If the party is at night, then you have all day to do the rest of the work.
1- Cook Basmati Rice for making Biryani in the rice cooker and layer the rice and Chicken Masala
Cook the Rice
Fry the onions (fry 4 thinly sliced onions in oil till golden brown)
Fry cashew nuts in ghee or oil (3/4 cup)
Chop cilantro (1/4 cup) and mint leaves (8)
Soak saffron in water for 5 minutes ( 2 pinches in 2 tbsp water)
For making biryani for 12 people:
Total 8 cups of basmati Rice is needed.
If you have a small rice cooker cook the rice in 3 batches- 3 cups rice +3 1/2 cups water and add the rest of the ingredients (ginger- 1 tsp, garlic- 1 tsp, turmeric powder- 1/4 tsp, Garam masala- 1 tsp, Ghee- 2 tbsp and salt).
If cooking in a large rice cooker:
Basmati Rice- 8 cups
Ginger, minced- 2 1/2 tsp
Garlic, minced- 2 1/2 tsp
Turmeric powder- 3/4 tsp
Garam Masala ( ground cardamom, cloves and cinnamon)- 1 tbsp
Ghee- 5 tbsp
Water- 10 cups ( less water is needed in rice cooker)
Salt- to taste
You could layer the rice and chicken masala a couple of hours before the party.
Take the chicken masala out of the fridge, let stand for 15 minutes. Place the tray with the chicken masala in the oven (preheated at 350 F or lowest temperature) and heat for 10 to 15 minutes, this is just to heat up the chicken and masala. Do not overcook or overheat it.
In another large aluminum foil tray, grease the bottom of the tray with ghee, layer half of the chicken masala on it. Layer half of the cooked rice over it. Spread fried onions, mint leaves and cilantro, drizzle half of the saffron, drizzle 2 tbsp ghee. Again layer with chicken masala, rice and top with fried onions, mint, cilantro, saffron and ghee.
Cover the tray tightly with aluminum foil, place in the preheated oven (350 F) or at the lowest temperature and keep it for 15 minutes. After 15 minutes, take the tray out of the oven (wear gloves and be very careful as it's heavy) and let stand for some time.
Before serving, you could warm up the biryani in the oven (at the lowest temperature for 10 minutes).
2- Fry the tuna cutlets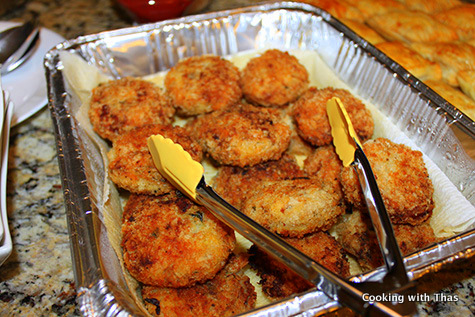 Take the tuna mix out of the refrigerator, let stand for 15 minutes. Then, dip the cutlet balls in egg, and breadcrumbs and then deep fry till golden brown. Place on an aluminum foil tray lined with kitchen paper towel. Keep it covered.
You could slightly warm up before serving.
3- Make Pizza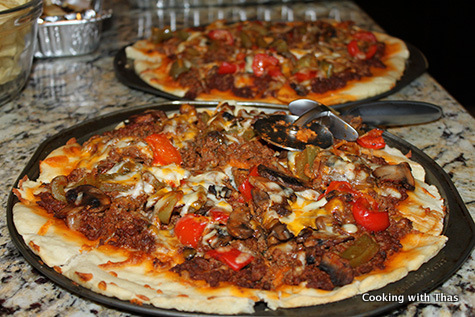 Start baking the pizza 30 minutes before you serve the food so that it will be warm.
Take the pizza dough, filling and the veggies out of the refrigerator. Let stand for 15 minutes.
Spread the pizza dough on 2 pizza pans. Spread the dough with ground beef filling, top with veggies, spread cheese over it. Bake at 425 F for 20 minutes.
4- Baking Chicken legs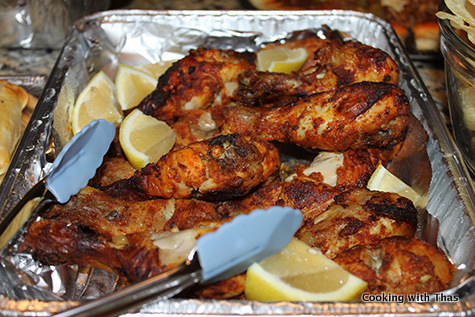 This can be done an hour before the party.
Line a large baking pan with aluminum foil, arrange the marinated chicken legs, spray non-stick cooking spray over the chicken. Bake at 400 F for 45 minutes or until chicken has cooked well- half way through flip over the chicken legs and bake again.
5- Make Sweet corn chicken soup- Recipe here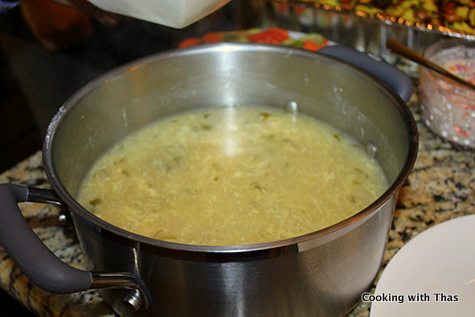 First, cook the boneless chicken breasts- 2 breasts (cut small) along with ground pepper and salt. Make the soup an hour before the party and Keep aside.
15 minutes before serving- Turn on the stove to low heat and keep the soup pot over it. This will keep the soup warm.
Chicken stock, homemade or store-brought- 6 cups
Cream style sweet corn, canned- 1 can
Chicken, cooked and shredded- 1 1/2 cups
Egg, beaten- 2
Soy sauce- 2 tbsp
Rice Vinegar- 1 tbsp
Ground pepper- 1/4 to 1/2 tsp or depending upon your needs
Green onions, diced small- 2 stalks
Corn Starch, dissolved in water- 5 tbsp dissolved in 1/4 cup cold water
Sesame oil- 1 tsp
6- Bake the Puff Pastry
4 puff pastry sheets can be used for making 24 Puffs.
Place the prepared beef filling on to the puff pastry, close the pastry, brush with beaten egg and bake at 400 F for 20 to 25 minutes till golden in color.
7- Making Raita
Carrot, shredded- 1
Cucumber, shredded- 1/2 cucumber
Tomato, chopped small- 2
Green chilies, chopped- 1 or 2 (optional)
Cilantro, chopped- 2 tbsp
Yogurt, beaten- 2 cups
Salt -to taste
Combine all the ingredients in a bowl and keep it refrigerated.
8- Making a quick Salad
Lettuce, chopped- 2 stalks
Cucumber, sliced round or diced- 1
Carrot, sliced round or diced- 1 or 2
Cherry tomatoes- 1 cup
Fried Crispy Chow Mein noodles (store bought)- 1 cup
Ranch or Caesar dressing (store bought)- 1/4 cup
Mix all the ingredients and keep aside for 30 minutes.
Get ready to Party
Now, you are good to go. After all the work, take a shower, dress up well and put a smile on your face.
Arrange all the dishes on the kitchen island or on a large table. Of course, get help from your Man and kids, team work is great.
Start with soup, then go with appetizers, main course and side dishes.
Desserts can be served towards the end.
PS: If this post has helped you in planning your party menu, don't forget to send me your feedback 🙂