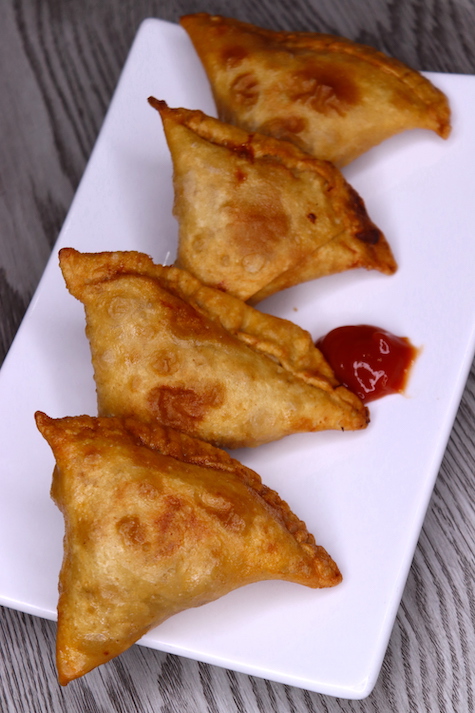 Homemade Samosas, crispy & delicious…
On a rainy day or any day, warm samosas with chai will elevate your mood. For making this samosa, I've used beef stuffing. Cooked the beef in the Instant Pot & made the stuffing. Made the samosa pastry from scratch, stuffed with the beef filling & deep fried. Btw, making samosa pastry from scratch is not that hard.
Making samosas from scratch can be turned into a family activity, include your spouse & kids. It will turn to be fun and everyone can enjoy the warm crispy samosas for all the effort.
Any kind of stuffing can be used: chicken stuffing, beef stuffing, or veg-potato stuffing.
Easy Homemade Crispy Samosas | With Beef Filling | Instant Pot Cooked Beef
Ingredients
For Marinating Beef
Beef, stew cut- ¼ kg or ½ lb
Ginger- Garlic paste- ½ tbsp
Kashmiri Chili powder- 2 tsp
Turmeric powder- ¼ tsp
Garam masala- 1 tsp
Coriander powder- ½ tbsp
Salt- 1 tsp
Making Stuffing
Oil- 2 tbsp
Onions, chopped small- 3
Ginger-garlic paste- ½ tbsp
Green chilies, chopped- 1 or 2 (or add ½ to 1 tsp chili powder)
Garam masala- 1 tsp
Potatoes, cooked- 2 (small potatoes)
Cooked shredded beef
Cilantro, chopped- ¼ cup
Salt- 1 tsp
For making dough
All-purpose flour- 1 cup
Wheat flour- 1 cup
Salt- ¼ tsp
Water- ¾ cup + 2 tbsp
Oil- 1 tsp
Other ingredients
Egg, beaten- 1
All-purpose flour or wheat flour - 2 tbsp mixed with 2½ tbsp water
Oil- to deep fry
Instructions
In a bowl, combine beef with all the spices mentioned 'for marinating beef'. Let marinate for 15 minutes.
I've pressure cooked the beef in the Instant Pot. If you don't have Instant Pot, pressure cook in a regular pressure cooker.
Add the marinated beef to the stainless steel pot, place the pot on the main pot.
Close with the lid.
Select Pressure cook. Set time to 25 minutes at high pressure.
After 25 minutes of pressure cooking, let the pressure release naturally for 10 minutes. After that do a quick pressure release.
There will be some liquid in the pot.
Separate the liquid & the cooked beef.
Liquid can be used for making soups. We will be only using the cooked beef.
The beef will be cooked perfectly & fork tender.
Using a fork, shred the beef. Keep it aside.
Cook 2 small potatoes in the microwave till soft. Or cook in boiling water.
Let cool down & peel off the skin. Keep aside.
Making Stuffing
Place a wide saucepan over medium heat.
Add oil, add onions, season with salt.
Add ginger-garlic paste & green chilies; combine well.
Instead of green chilies, you can ½ to 1 tsp chili powder for heat.
Cook the onions till they turn light golden in color.
Add garam masala.
Add the cooked potatoes, slightly mash using a wooden spoon.
Add the cooked shredded beef, combine well.
Taste & add salt if required.
Add cilantro, combine well & cook for a minute.
Remove the pan from the heat, let cool down.
Making pastry from scratch
In a large bowl, combine all-purpose flour & wheat flour, salt and add water little by little as you knead the dough.
Add water till you get a soft and smooth dough. Knead for a few minutes. I've added close to 1 cup for 2 cups flour.
Add 1 tsp oil over the well-kneaded dough, spread the oil evenly. Let rest for 5 minutes.
Make medium-sized balls out of the dough.10 balls can be made.
Place the dough ball on a wooden board or a clean surface, sprinkle some flour over the dough, using a rolling pin roll the dough to a thin round shape. Repeat with other dough balls.
Place a non-stick pan over low heat, place the flattened dough onto the pan, slightly warm up the flattened dough for a few seconds, don't let it cook. This is not to cook the dough it's just to warm it up. The warmed flattened dough should be soft, don't let it firm up or turn hard.
Keep them aside.
Make a paste using 2 tbsp flour and with 2½ tbsp water.
Using a knife, cut the warmed-up flattened dough into 2 equal halves.
Make a cone shape out of one of the halves, spread the flour paste along the edges of the cone and seal it.
Add 2 to 3 tbsp beef stuffing into the cone, don't over stuff it.
To close the cone, spread the flour paste on the edges and glue it together.
Press the edges with a fork for a nice pattern.
In a small bowl, beat the egg well.
Using a pastry brush, evenly coat the beaten egg over the samosa pastry.
By coating with egg, fried samosas will have a beautiful golden color.
Place a frying pan over medium heat. Add enough oil for deep frying.
Place the stuffed pastry into the oil. It should be submerged in the oil.
Fry over medium heat till the samosas turn golden brown in color.
Do not fry over high heat, the inside of the pastry will be uncooked.
Transfer to a kitchen paper towel.
Serve warm along with tomato ketchup or your favorite dipping sauce.