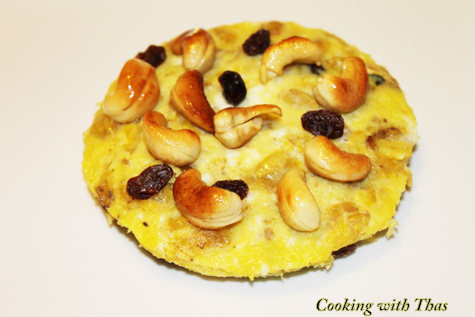 Kaipola is a delicious sweet dish made with ripe plantain…
Kaipola or steamed plantain cake is an authentic Malabar dish which is often served as an evening snack and also during Ramadan. Ripe plantain when shallow fried tastes delicious and will impart the needed sugar to this dish. It tastes rich and extremely yummy. Whenever I have plantains I am tempted to make this and I serve for breakfast or as an evening snack.

Kaipola or Steamed plantain cake
Ingredients
Plantain, ripe-2, diced small
Eggs- 3 or 4
Sugar, white or brown- ¼ cup
Cardamom powder-1/2 tsp
Raisins- 1 handful
Cashew nuts-2 handfuls
Ghee/butter-1 tbsp
Oil- for shallow frying
For Garnish:
Raisins, roasted in little ghee/butter-1 handful
Cashew nuts roasted in little ghee/butter-6
Instructions
Cut the plantains lengthwise and slice into small pieces.
Shallow fry the plantains in oil until golden brown and keep aside on a paper towel.
Take a medium sized heat proof glass bowl, grease the inside with 1 tbsp ghee/butter.
Whisk the eggs well.
Combine beaten eggs with sugar, cardamom powder, raisins, cashew nuts.
Add the fried plantains to the egg mixture.
Pour the mixture into the bowl.
Steam cook this mixture for 20 to 25 minutes or till a fork inserted into the center comes out clean.
How to steam cook:
If you don't have a steamer, don't worry, follow this method.
In a large vessel, fill ¼th with water.
Cover the top of the glass bowl in which the plantain mixture is taken tightly with aluminum foil.
Place the glass bowl into the water in the vessel, cover the vessel with its lid. Now turn on the stove to medium flame and steam cook for 20 to 25 minutes, until the egg has cooked well and gets fluffy.
After it has cooked, remove from the water bath and let cool down.
Run a knife along the side of the cake in the bowl.
Cover the bowl with a plate and turn it upside down, the cake would fall onto the plate.
Garnish the cake with roasted raisins and cashew nuts.
Notes
Don't forget to grease the bowl, otherwise the cake would stick to the bottom of the bowl.