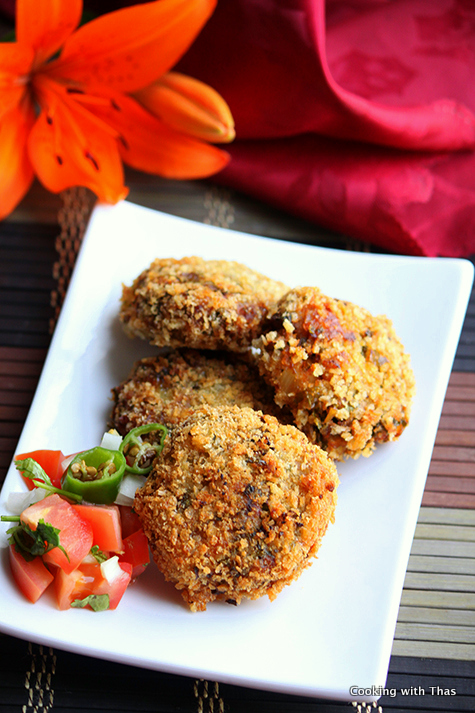 Chicken and kale made into cutlets…
I can enjoy chicken cutlets almost every day. I deep fry 'em or pan fry 'em, add different ingredients, coat with breadcrumbs or with panko crumbs; the options are endless.
The other day, I added kale leaves to the chicken filling and made into patties. Coated with egg whites and then dipped in panko crumbs- crunchy chicken kale cutlets are ready to be devoured.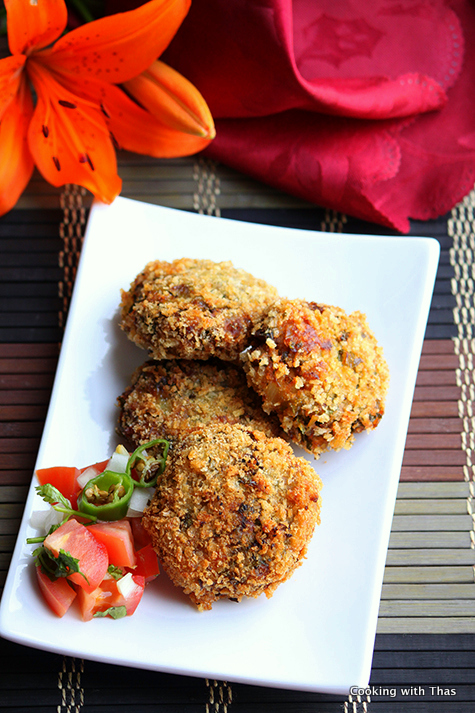 Preparation picture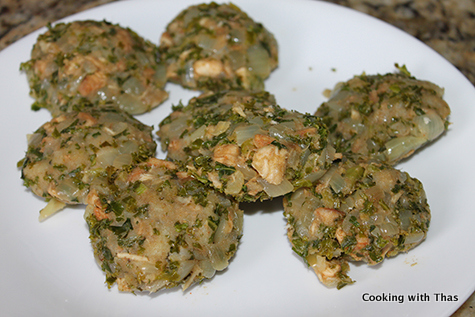 Chicken Kale Cutlets
Ingredients
For cooking Chicken
Chicken breast, diced-1
Chili powder- ¾ tsp
Turmeric powder- ⅛ tsp
Garam masala- ¾ tsp
Salt- a few pinches
For making cutlet filling
Oil- 1 tbsp
Onions, chopped- 3
Ginger garlic paste- 1 tbsp
Kale leaves, shredded- 3 leaves (shred in food processor)
Fennel powder- 1 tsp
Coriander powder- 1 tsp
Potatoes, cooked- 2
Cilantro, chopped- 2 handfuls
Salt- to taste
While frying cutlets
Egg white- of 2 eggs
Panko crumbs or Breadcrumbs
Oil- enough for deep frying
Instructions
In a saucepan, combine the chicken along with chili powder, turmeric powder, garam masala and salt. Cook covered till the chicken has cooked and the water that oozed out of the chicken has dried.
Remove the pan from the heat, let cool down.
Shred the chicken using a fork or using your fingers. Keep aside.
Place a wide non-stick pan over medium heat. Add oil.
Add onions, season with salt and cook till translucent.
Add ginger garlic paste, combine well and cook for a few minutes.
Add shredded kale leaves, season with fennel powder and coriander powder. Combine well and cook for a few minutes.
Add the cooked shredded chicken.
Add cilantro and combine well.
Cook 2 large potatoes in the microwave for 4 to 5 minutes or till fully cooked. Or cook in boiling water.
Mash the cooked potatoes and add to the chicken kale filling, combine well.
Taste and add more salt if needed.
Remove the pan from the heat, let cool down.
Combine the filling well and make round shape patties. Flatten the patties between the palm of your hands. Keep aside.
In a frying pan, heat enough oil for deep frying.
Dip the patty in egg white and then dip it in panko crumbs or breadcrumbs.
Drop the patties into the oil and deep fry till they turn golden brown in color.
Transfer to a kitchen paper towel and let cool down a bit.
Serve with ketchup or sweet chili sauce.