Delicious and filling cracked wheat or bulgar pilaf…
I don't get it why do rain always triggers the craving for fried snack in me??? Today it was all about heavy rainfall, it wasn't drizzling or pouring it was more like waterfall. The rain was a bit mild during the day, as I started my drive back to home the rain got heavier and crazier. I witnessed a few car crashes in the downtown and also ambulance rushing to save those injured ones. Aren't we all risking our lives every single day???
Cracked wheat is raw wheat that's broken into tiny pieces. Bulgar wheat on the other hand, is cracked wheat too, however the wheat kernels are steamed and toasted before cracking it. I used cracked wheat to make this pilaf, you could use bulgar instead. This is a very easy to make one pot dish, it tastes delicious and is quite filling too. I first cooked chicken and mixed veggies, added the spices and then combined the cracked wheat to it. You get to enjoy this dish in less that 30 minutes.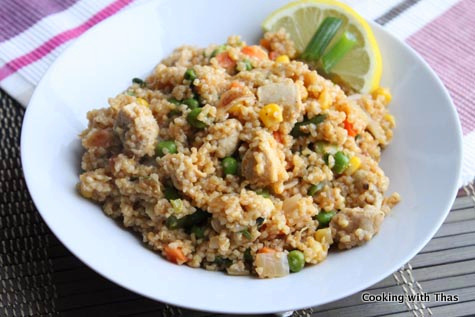 Cracked Wheat Chicken Pilaf - Bulgar Pilaf
Ingredients
Oil- 2 tbsp
Onion, chopped small- 1
Mixed veggies, cut very small- 2 cups (use frozen mixed veggies: carrots, beans, corn)
Cooked chicken- 1 chicken breast diced and cooked with ground pepper and salt
Garam masala- ½ tsp
Cumin powder- 1 tsp
Kashmiri red chili powder- 1 tsp (for more spice add regular chili powder)
Fennel powder- ½ tsp
Coriander powder- 1 tsp
Water- 2½ cups + some more
Cracked wheat or bulgar wheat- 1½ cups
Cilantro, chopped- 2 handful
Instructions
Dice the chicken into small pieces, combine with ½ tsp ground pepper and salt, cook covered till chicken has cooked well. Keep aside.
Place a non-stick saucepan over medium heat, add oil.
Add onions and a couple of pinches of salt, saute till onions turn translucent.
Add the mixed veggies, saute till it turns golden in color.
Add the cooked chicken, combine well.
Add garam masala, cumin powder, Kashmiri red chili powder, fennel powder and coriander powder, combine well.
If you want it to be spicy add ½ tsp of regular chili powder as well.
Add water and let it come to a slight boil.
Add the cracked wheat to the boiling water, combine well into the water.
Cover and let cook till the cracked wheat turns tender.
Add cilantro, combine well. Cook for a couple of minutes.
If the water has dried off, add more water little by little till the wheat has cooked well.
Don't add too much water as the wheat would be over cooked and will turn mushy.
When the wheat has cooked to perfection, remove the pan from the heat and keep covered for 10 minutes. The pilaf will be set well as it cools down.