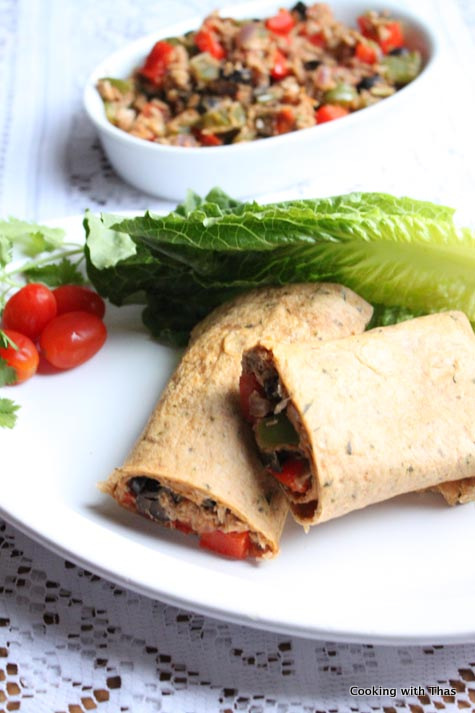 Perfect tuna rolls ups for Summer…
It was a hot day today, hope the temperature is not going to drop tomorrow. I don't want the temperature to shoot up too much either, I prefer mildly hot weather. Does the weather is going to care about what I prefer? My garden is in almost full bloom now, eagerly waiting for a bunch of aster buds to bloom as well. Sharing the collage of the flowers and plants from my graden.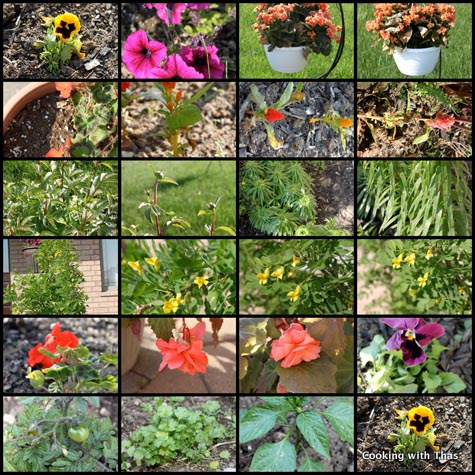 Tuna roll up or wraps is served in most of the events and conferences. Usually, tuna rolls up would be my pick instead of chicken or beef wraps as it's light and healthy. The other day, I tried to recreate tuna rolls up in my kitchen. I wasn't disappointed, these roll ups tasted delicious. The tuna stuffing can be made ahead of time and can be refrigerated. While serving, just heat up the stuffing in the microwave and wrap it in a tortilla or chapati or even bread. If you are going to a picnic or any outdoor get together, wrap the rolls up in an aluminum foil and take it with you. Enjoy the Sun, the warmth and this tuna roll ups.
This recipe was published in London Link Magazine's May issue
Tuna Tortilla Roll ups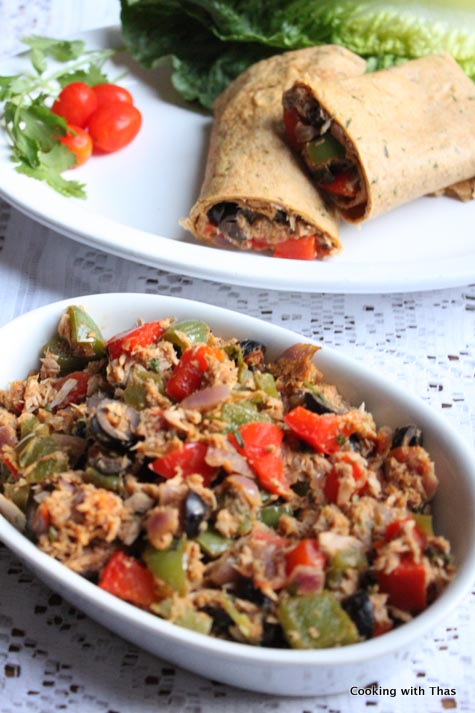 Step by Step Pictures:
Cooking veggies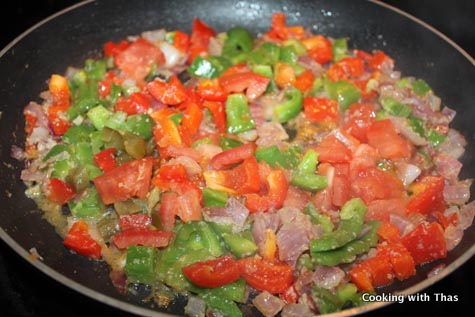 Combine with Tuna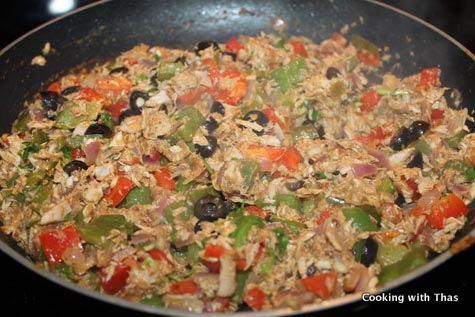 Wrapping up in tortilla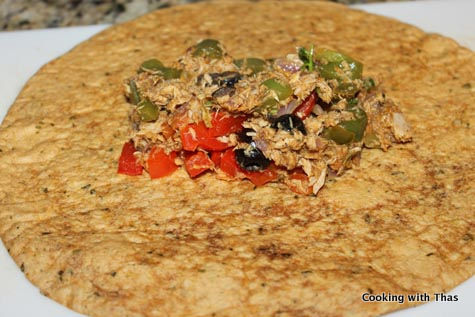 Tuna Tortilla Rolls ups or Tuna Wraps
Ingredients
For making Tuna stuffing
Oil- 1½ tbsp
Red onion, chopped- 1
Ginger- Garlic paste- 1 tbsp
Green pepper chopped- 1
Red pepper, chopped- 1
Tomato chopped- 1
Jalapeños, pickled- 5 slices chopped
Tuna, canned- 2 cans
Ground Cumin- 1½ tsp
Paprika- 1 tsp
Garam masala- ½ tsp
Ground black pepper- ½ tsp
Olives canned, black or green, chopped- ¼ cup
Cilantro, chopped- ¼ cup
Cheddar cheese- ½ cup (optional)
Salt- to taste
Tortilla- to make the rolls (or use chapati)
Instructions
Place a large pan over medium heat, add oil.
Add onion, and a few pinches of salt, saute for a few minutes.
Add ginger-garlic paste, saute for a couple of minutes.
Cook the onions till it turns translucent.
Add green pepper and red pepper, cook for a few minutes.
Add the chopped tomato, cook for a few minutes.
Add jalapeños, combine well.
Add the canned tuna (drain the liquid), combine well.
Add ground cumin, paprika, garam masala, ground pepper, combine well and cook for a few minutes.
Add chopped olives and cilantro, cook for a couple of minutes.
Finally, add cheese, combine well and cook for a minute.
Taste, add more salt or ground pepper if needed.
Remove the pan from the heat and let the tuna mixture cool down a bit.
Place 3 to 4 tbsp of prepared tuna mixture on one end of the tortilla.
Roll it tightly along with the mixture and tuck in the ends.
Cut the rolled tortilla in half and serve.
You could even use chapati instead of tortilla. Or use bread and make sandwich.