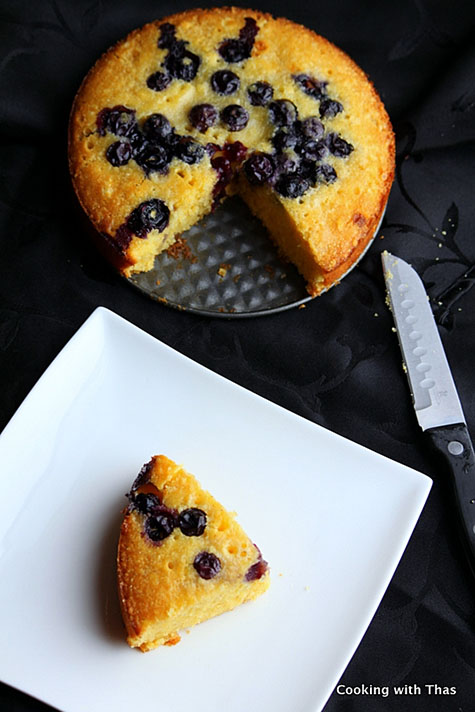 Cornmeal cake topped with blackberry…
I've been always a lazy morning cook, I literally cannot cook in the morning. So, I always go with either cereal or instant oats or microwaved eggs for breakfast. Sometimes, during weekends I surprise my Man with pancakes or waffles for brunch. At times, I do get tired of the usual instant breakfast dishes, that's when I make something different the previous night and enjoy it the next morning.
A couple of days ago, I made this eggless cornmeal blueberry cake in the evening with the intention of saving it for breakfast the next day. After the cake was taken out of the oven, my Man and I had a slice for taste testing. We kept tasting and tasting until we finished the entire cake. So, what did we have for breakfast? Same old same old 🙂
I love the crunchy chewy texture of cornmeal and my favorite waffle is cornmeal waffles. This cake is not like a soft sponge cake, it has a dense texture. I topped the cake batter with blueberries and it tasted really good. Instead of vanilla extract, I added orange blossom water which made this cake taste and smell incredible. While serving, maple syrup or honey can be drizzled over this cake, Yum!
Recipe adopted from here.
Cornmeal Blueberry Cake- Eggless Cornmeal Cake
Ingredients
Yellow Cornmeal, finely ground- 2 cups
All purpose flour- ½ cup
Sugar- ¾ cup
Unsalted Butter or Vegetable shortening, melted- 2 tbsp
Salt- ¼ tsp
Orange blossom water or Vanilla extract- 1 tsp
Baking powder- 1½ tsp
Milk- 2 cups
Blueberries- 1 cup
Maple syrup or honey- to drizzle while serving
Instructions
Preheat oven to 350 F.
in a bowl, sift together cornmeal, flour, sugar, baking powder and salt.
Melt the butter or shortening in the microwave.
Add the melted butter or shortening into the flour mix and combine well using a whisk.
Add the milk slowly and whisk well till a smooth batter is formed.
I added orange blossom water, you could use any kind of flavoring- vanilla extract, almond extract etc.
Grease a 8 inch cake pan with non-stick cooking spray, line with parchment paper.
Pour the batter into the cake pan.
Top the cake batter with blueberries.
Bake in the preheated oven for 55 to 60 minutes till the cake turns golden in color and a fork inserted into the center of the cake comes out clean.
Remove the cake from the oven, let cool down.
While serving, slice the cake and you could drizzle maple syrup or honey over it and enjoy.
Notes
For making a small cake, you could half the recipe.