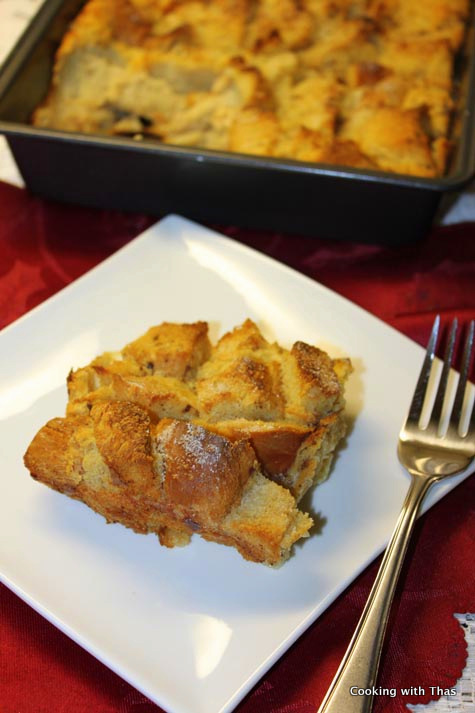 What to do with leftover bread??? Make bread pudding, it's easy to make and is yummy…
It's been a very busy week for me, Yesterday was the craziest. First, I got pulled over for parking at the wrong place, luckily the cop let me go with a warning. I still have no clue from where did he come from, as soon as I put the parking gear I heard the siren. First thought that I had was to offer him a delicious dinner, anyway he was so kind enough to just give me a warning. I truly apologized to him and assured him that I wouldn't do it again. Well, my joy faded after a few hours when I saw the parking ticket on my car's window panel for exceeding the parking time. Going to the downtown is truly crazy! I am so glad that I live away from the hustle and bustle of the city and I don't have to deal with the downtown commute that often.
For the past couple of days, the weather has been warmer and it feels like Spring is here. Today, it was such a beautiful day, all the snow has started to melt and the grass is finally starting to look green. 12 days and 20 hours until the first day of Spring. I adore the change in season, I am so looking forward to start my gardening. This year, I am planning to grow a lot of veggies, herbs and flowers, I cannot wait.
Last weekend, I had a bread baking spree and had made 2 white breads and 3 challah breads. I shared it with my dear friends and some I devoured for breakfast. I had some leftover bread and wanted to finish it off before it became stale. I didn't have to put on my thinking cap to figure out what to make with leftover bread. Bread pudding it is!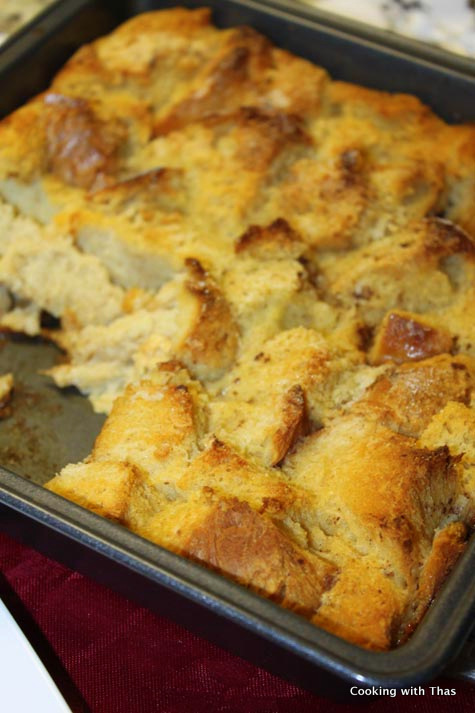 Making bread pudding is very easy, you just have to combine milk/sugar/eggs, pour the mixture over the bread taken in a baking pan and bake it for an hour till it gets golden in color. Bread pudding can be enjoyed warm or chilled, chilled bread pudding tastes much better. You could make it fancy by adding nuts, raisins or serve the bread pudding with one or two scoops of ice cream. Yummy breakfast!
Do you want to make white bread fromm scratch in your kitchen? Here is the recipe for making soft and tasty white bread.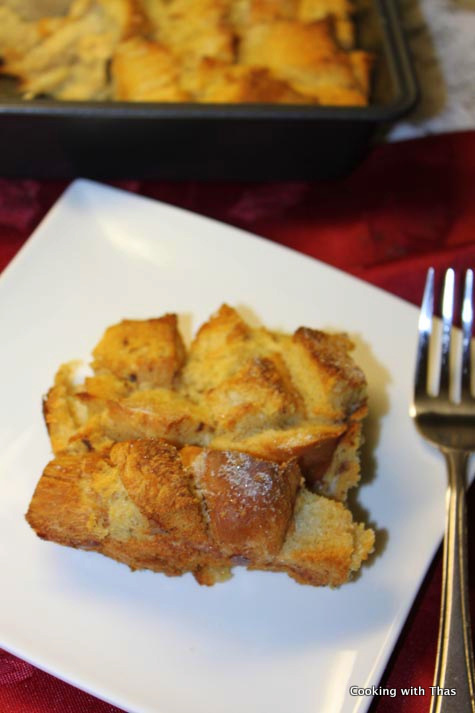 Easy Bread Pudding - Using Leftover bread
Ingredients
Bread, leftover or fresh, chopped- 4 to 5 bread slices
Granulated or coarse sugar- 2 to 3 tbsp
Making mixture
Milk- 2 cups
Eggs- 2
Brown sugar or white sugar- ½ cup
Condensed milk, sweetened- 2 tbsp
Vanilla extract- ½ tbsp
Ground cinnamon- ½ tsp
Raisins or nuts (optional)- ¼ cup raisins/2 tbsp cashew nuts or almonds
Instructions
Preheat oven to 350 F or 175 C.
Chop the bread slices into 1 inch pieces. (I used 2 white bread slices and ½ of the small challah bread which equalled 4 to 5 bread slices)
In a large bowl, beat the eggs using a whisk
Add milk, brown sugar or white sugar, condensed milk, vanilla extract and ground cinnamon, combine well using the whisk.
If you are adding raisins and nuts, add that too.
Take the chopped bread in a greased medium baking pan, pour the milk mixture over the bread, let the bread pieces soak in the mixture. Let stand for 15 minutes.
After 15 minutes, the milk mixture gets absorbed into the bread.
Sprinkle the coarse or granulated sugar over the bread mixture.
Place the pan in the oven and bake for an hour or till the top turns golden in color.
Remove from the oven, let cool down for 15 minutes.
Serve when it is slightly warm or chill it in the refrigerator for an hour.
Enjoy this delicious bread pudding.