Chocolate waffles are a delicious variation of traditional waffles that incorporate cocoa powder, melted chocolate, or simply add chocolate chips into the batter, resulting in a rich and indulgent treat. They are a popular choice for breakfast or brunch, as well as a delightful dessert option.
To make chocolate waffles, the batter typically includes ingredients such as flour, sugar, eggs, milk, baking powder, and cocoa powder or melted chocolate. Instead of cocoa powder or melted chocolate, I added chocolate chips. To make the waffles crispy, the ingredient I add is semolina, 1/4 cup semolina along with the flour will do its magic & will make the waffles super crispy.
The preparation of chocolate waffles follows a similar process to regular waffles. First, the dry ingredients are mixed in a bowl followed by the wet ingredients & add a generous amount of chocolate chips, which could be dark, milk, or white chocolate chips.
Once the batter is ready, it is poured onto a preheated waffle iron or waffle maker. The waffle iron cooks the batter, creating crispy, golden waffles with a soft interior. The cooking time may vary depending on the waffle iron and personal preference.
Waffles can be enjoyed in various ways. I drizzled maple syrup & chocolate syrup over the hot waffles, topped with fresh fruits like strawberries & apples.
Waffles can also be served with a dusting of powdered sugar, a drizzle of maple syrup, or a dollop of whipped cream. For an extra touch of decadence, you can add toppings like fresh berries, chocolate chips, chopped nuts, or a scoop of ice cream.
These delectable treats offer a delightful combination of the comforting texture of waffles and the bite of melted chocolate chips. A great way to satisfy a sweet tooth in the morning or as a dessert option.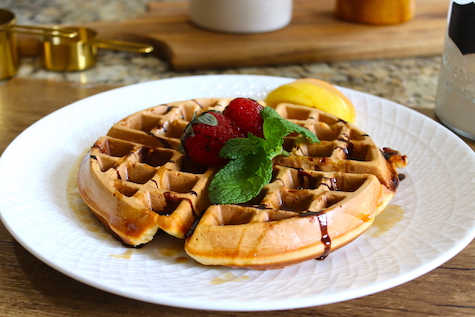 Chocolate Chip Waffles Recipe | Crispy & Delicious Homemade
Ingredients
All-purpose flour- 1¾ cups
Semolina- ¼ cup
Baking powder- 1½ tsp
Sugar- 2 tbsp
Salt- ⅛ tsp
Egg- 1
Vanilla extract- 2 tsp
Milk- 1½ cups
Chocolate chips- ½ cup (dark, milk or white chips)
For topping
Maple syrup
Chocolate syrup
Strawberries or berries
Sliced apples
Mint leaves
Instructions
To a large bowl, add flour, semolina, baking powder, sugar & salt, combine well.
Adding semolina will make the waffles crispy, ¼ cup semolina should be good enough, adding more than ¼ cup semolina will make the waffles very hard so only add ¼ cup.
Crack an egg into the dry ingredients, combine well using a fork.
Add vanilla extract & milk, beat well using the fork without any lumps.
Add the chocolate chips & fold well into the batter.
Heat a waffle iron, and grease with butter.
Pour the batter onto the waffle iron, close with the lid.
Cook till waffles have turned golden brown & crispy.
Transfer to a plate.
Drizzle with maple syrup & chocolate syrup.
Top with strawberries or berries, sliced apples & place fresh mint leaves.
For an extra touch of decadence, you can add a scoop of ice cream- Yum!
Enjoy while the waffles are warm.