Chettinad style sambar, yet another South Indian vegetarian delicacy…
Chettinad cuisine is popular in Tamil Nadu, they are known for using a variety of fresh and roasted spices along with coconut. Their dishes are aromatic, flavorful and finger licking delicious.
I've tried a few Chettinad style dishes and I loved them so much. During my India visit this year, I'd visited Coorg, it's a beautiful hill station in Karnataka. We stayed in a cottage and on one of the days they served Chettinad style sambar and Idli for breakfast. The sambar tasted so delicious that I ended up eating a lot, literally a lot 😀 The amazing cook who made the breakfast shared the recipe with me and I promised him that I'll post the recipe on my blog and share with the world 🙂
So, here I'm sharing the recipe for making Chettinad style sambar. I used drumsticks as the vegetable to make this sambar. You could use mixed vegetables like eggplant, potatoes, lady's finger, small onions, carrot etc etc.
Chettinad Recipes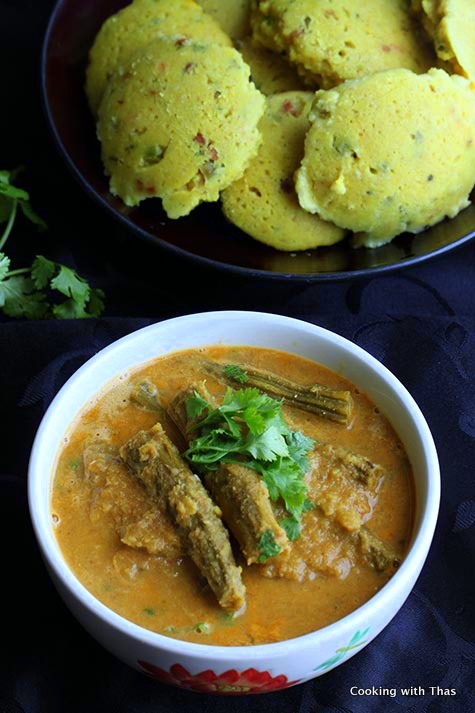 Chettinad Style Sambar- with Drumsticks
Ingredients
For Roasting
Oil- 1 tbsp
Fenugreek seeds- ½ tsp
Cumin seeds- 1 tsp
Garlic, chopped- 2 cloves
Small onions- 6
Coconut grated- 1 cup
For cooking vegetables
Oil- 1 tbsp
Mustard seeds- 1 tsp
Whole dry red chilies- 2
Curry leaves- 1 sprig
Toor Dal or Pigeon pea- ½ cup
Drumsticks- 15 (or use mixed veggies like carrot, potatoes, eggplant, lady's finger, small onions)
Turmeric powder- ¼ tsp
Chili powder- 1 tbsp
Coriander powder- 2½ tbsp
Salt- to taste
Water- 1½ cups
Other Ingredients
Asafoetida- 2 pinches
Cilantro, chopped- 2 handfuls
Tamarind extract, freshly squeezed- 6 tbsp (3 inch slice soaked in 6 tbsp warm water)
Instructions
Roasting Coconut
Place a pan over medium heat, add oil and let turn hot.
Add fenugreek seeds and cumin seeds, saute for a few seconds. Be careful not to burn the fenugreek seeds.
Add garlic, saute for a few seconds.
Add small onions and coconut, roast till coconut turns golden brown in color.
Remove the pan from the heat, let coconut cool down for a bit.
Add to a blender along with ¼ cup water and grind to a smooth paste.
Cooking vegetables
Soak 3 inch slice fresh tamarind in 6 tbsp warm water for 3 minutes, squeeze the tamarind in water and extract the juice, strain the juice.
Place a pressure cooker over medium heat. Add oil, let turn hot.
Add mustard seeds, let it splutter.
Add whole dry red chilies and curry leaves, saute for a few seconds.
Add toor dal, saute for a minute.
Add drumsticks, combine well.
Add turmeric powder, chili powder, coriander powder and salt. Combine well.
Add 1½ cups water, combine well.
Cover the pressure cooker with its lid, place the whistle and cook for 15 to 20 minutes or till 2 whistles.
Let the pressure subside and open the lid.
Combine the cooked lentil and drumsticks.
Add Asafoetida and combine well.
Add the ground roasted coconut paste, combine well.
Add tamarind extract, combine well.
Add ½ cup to ¾ cup water to thin down the gravy and cook till gravy starts to boil.
Taste and add more chili powder if more spice is needed and salt for taste.
Add chopped cilantro, combine well and cook for a minute.
Remove the pan from the stove, keep it covered for sometime.
Serve with rice, idli, oats idli, dosa etc