One-pot chicken and rice meal that's perfect for a lazy or busy day. This dish is not only easy to make, but it's also hearty, nutritious, and packed with flavors that your whole family will surely love.
You get to enjoy finger-licking delicious chicken roast and the flavorful aromatic basmati rice in one wholesome dish.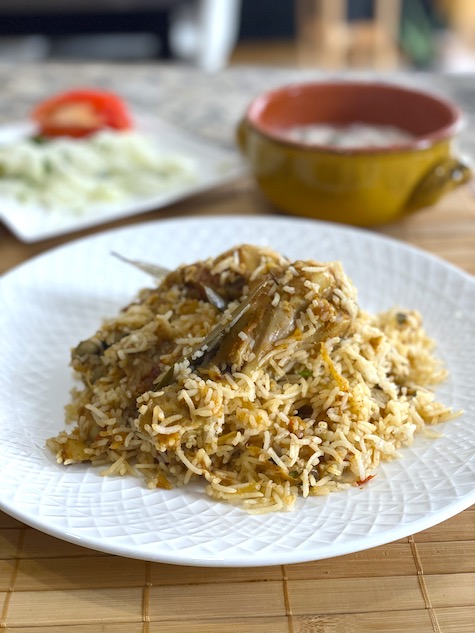 Chicken and Rice- One Pot Meal
Ingredients
For marinating chicken
Chicken legs- 8
Kashmiri chili powder- 2 tsp (for more heat add regular hot chili powder)
Turmeric powder- ¼ tsp
Coriander powder- 1 tbsp
Fennel powder-1 tbsp
Garam masala- 1 tsp
Ginger- garlic paste- 1 tbsp
Salt- 1½ tsp
Curry leaves- 8 leaves
For cooking chicken
Yellow onions, sliced thin- 4
Tomatoes, chopped- 2
Dried bay leaves- 2
Cilantro, chopped- ¼ cup
Mint leaves, chopped- 2 tbsp
Water- enough to cook chicken
To cook rice
Ghee- 2 tbsp
Dried bay leaves- 2
Whole green cardamom- 2
Whole cloves- 2
Whole cinnamon- 2-inch slice
Mace- 1
Star anise- 1
Fennel seeds- 1 tsp (optional)
Salt- 1½ tsp
White basmati rice, rinsed- 2 cups
Water- 3½ cups
Instructions
In a large bowl, take chicken legs or use bone-in chicken pieces.
If using chicken legs, score the meat or add a couple of lines over the meat, this way all the spices will get into the meat.
To the chicken, add all the above-mentioned spices for marinating chicken and combine well. Let marinate for 30 minutes.
In a bowl, soak basmati rice in water for 15 minutes.
After 15 minutes, take the rice in a strainer & rinse in water; keep it aside.
To a large & wide saucepan, add the sliced onions, tomatoes, dried bay leaves and marinated chicken. Combine well.
Cover the pot with its lid and cook covered for 35 to 40 minutes till the chicken has cooked well & the gravy has thickened.
Halfway through, open the lid & combine the chicken well & add some water if the gravy is getting dry.
Garnish the chicken roast with cilantro & mint leaves.
Rice can be cooked in a rice cooker or in a saucepan over the stovetop.
Place a large saucepan over medium heat, add ghee.
Add dried bay leaves, whole aromatic spices & fennel seeds; saute for a minute till aromatic.
Add the rinsed basmati rice, saute for 2 minutes.
Add the water & salt, combine well.
Note: for cooking 2 cups basmati rice, 3½ cups water should be good enough. 4 cups of water will make the rice mushy.
Cook covered for 12 to 15 minutes till the rice has turned soft & fluffy. Don't overcook the rice.
Add the cooked aromatic basmati rice to the chicken roast and give it a fabulous mix.
Enjoy with raita, pickle & pappad.
This dish tastes absolutely delicious the next day.