Cappuccino flavored biscotti makes a perfectly crunchy evening snack…
Who wouldn't love something sweet and crunchy along with a cup of coffee or tea??? This cappuccino biscotti is perfect with a cup of coffee or cappuccino or even tea.
The difference between a cookie and biscotti is that biscottis are double baked, that's what makes it crunchy and crispy. A few years ago, I had tried chocolate almond coconut biscotti, in this biscotti I got to enjoy too many flavors.
I am a cappuccino fanatic and for that reason this cappuccino biscotti has turned into my favorite. You just have to add espresso or strong coffee to the biscotti mixture. As the biscotti was baking in the oven, the aroma of espresso spread the entire house and I was seen taking deep breaths in.
The biscotti tasted phenomenal and I was mesmerized by the amazing aroma.
Chocolate Almond Coconut Biscotti Recipe
Cappuccino Biscotti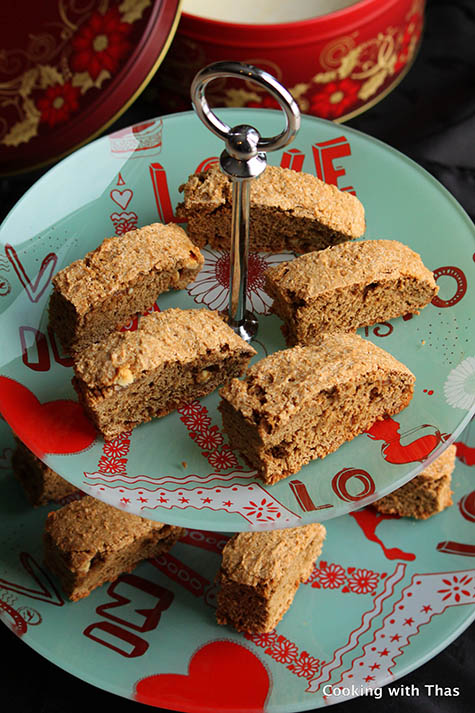 Recipe courtesy: Joy of Baking

Cappuccino Biscotti
Ingredients
Dry Ingredients
All purpose flour- 2 cups
White sugar- 1 cup
Baking powder- ½ tsp
Baking soda- ½ tsp
Salt- ½ tsp
Ground cinnamon- ½ tsp
Wet ingredients
Espresso or strong coffee- 1½ tbsp espresso or instant coffee combined with ¼ cup water
Milk- 1 tbsp
Egg- 1
Vanilla extract- 1 tsp
Other ingredients
Semisweet chocolate chips- ½ cup
Instructions
Preheat the oven to 350 F or 177 degrees C.
Use a stand mixer or an electric hand mixer to make the biscotti dough.
In a bowl, whisk 1½ tablespoons of espresso or instant coffee along with ¼ cup water.
Add egg, milk and vanilla extract to the coffee and whisk well. Keep aside.
Add all the above mentioned dry ingredients to the stand mixer bowl, beat them at low speed for a couple of minutes till combined well.
Add the prepared wet ingredients to the dry ingredients. Beat at medium speed until a dough is formed.
Add the chocolate chips and beat for a few seconds.
Transfer the prepared dough on a lightly floured surface.
Divide the dough into two equal halves.
Shape each dough half into a log shape.
Place the logs on a baking sheet lined with parchment paper. Leave some space between the logs as they will spread while baking.
Bake for 35 minutes and then remove the baking sheet from the oven.
Place the logs on a cutting board and let cool down for 10 minutes.
Very important Reduce the oven temperature to 300 F.
Using a sharp knife, cut the baked logs into diagonal shapes (2-inch width).
Place the cut slices on the baking sheet and again bake at 300 F for 5 minutes.
Taking the baking sheet out of the oven.
Flip the biscotti over and bake for another 5 more minutes.
Take the baking sheet out of the oven and let the biscotti cool down for a few minutes.
Enjoy the biscotti with coffee or tea.
These biscottis can be stored in an air tight container for a month.