Cherry tomatoes, feta cheese & pasta goodness…
I've tried a few TikTok viral recipes, one of the recipes I've made a few times is this baked feta cheese. It's such a simple recipe & tastes absolutely delish.  The best part is don't need any meat to make this dish a complete meal. It's just amazing without any meat.
Cherry tomatoes and feta cheese have to be added, don't replace them with any other tomato variety or cheese, wouldn't taste the same.
I love feta cheese in my salads & with watermelon. I've never thought of baking feta cheese though, it's the baked feta cheese & the baked cherry tomatoes took this dish to a totally different level.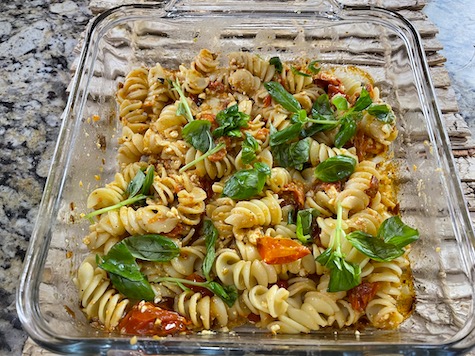 Baked Feta Pasta- Viral Recipe
Ingredients
Cherry tomatoes- 1 pint or 2 cups
Italian seasoning- 1 tbsp
Dried red chili flakes- 1 tsp
Ground black pepper- a few pinches
Olive oil- 1 tbsp
Feta cheese- 1 block or 400g
Olive oil- 1 tbsp to drizzle over feta cheese
Cooked pasta- 3 cups, penne or fusilli
Fresh basil, chopped- 3 tbsp
Instructions
Preheat the oven to 400 F or 200 C.
To an oven-proof baking dish, add the cherry tomatoes, Italian seasoning, dried chili flakes, ground black pepper & 1 tbsp olive oil.
Toss everything.
Place feta cheese at the center, drizzle with 1 tbsp olive oil.
For making this dish, cherry tomatoes & feta cheese have to be added, don't replace them with other tomato varieties or cheese wouldn't taste the same.
Bake for 45 minutes.
In the meantime, cook pasta in boiling water seasoned with salt till al dente.
Save ¼ cup of the pasta water.
Drain the water & keep aside the cooked pasta.
After 45 minutes, take the dish out of the oven.
Feta cheese will turn golden & the cherry tomatoes will be bursting.
Gently combine the feta cheese & tomatoes.
Add the cooked pasta, combine well.
Add ¼ cup of the pasta water, combine well.
Garnish with chopped fresh basil.
Enjoy this delicious baked feta cheese pasta. Absolutely yum.