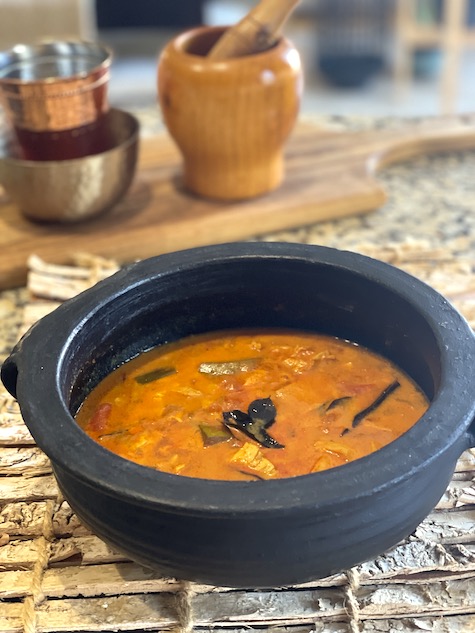 Kerala-style fish curry with canned tuna…
One of the ways of making fish curry in Kerala is by adding raw mangoes instead of tamarind & coconut milk to make the curry rich & creamy. Usually, shrimp is added to make this curry.
The other day, while making Kerala-style lunch I wanted to make a fish curry & I didn't have any fish in my freezer instead I had canned tuna, I didn't think much added canned white tuna for making this curry.
The curry turned out delicious, coconut milk added will make this curry rich & creamy, along with the raw mangoes, absolutely delish.
Canned Tuna Fish Curry With Raw Mango & Coconut Milk - Kerala Recipe
Ingredients
Coconut oil- 1 tbsp
Fenugreek seeds- 1 tsp
Garlic, sliced thin- 2 cloves
Ginger, sliced thin- 2-inch slice
Green chilies, halved- 2
Curry leaves- 1 sprig
Shallots, chopped- 2 large shallots or 6 small onions
Tomato, chopped- 1
Raw mango, diced- 6 pieces
Kashmiri chili powder- 1 tsp
Turmeric powder- ¼ tsp
Coriander powder- 2 tsp
Cumin powder- ½ tsp
Salt- 1½ tsp
Warm water- 1 cup
Canned white tuna chunks- 1 can, should be tuna chunks
Coconut milk- ½ cup
Instructions
I've added canned white tuna chunks for making this, tuna in water, drain the water.
You can add any kind of fish like sea bream, sea bass, salmon, king fish, or shrimp for making this curry.
Place a clay pan or saucepan over medium heat, add coconut oil.
Add fenugreek seeds, saute for a few seconds.
Add garlic, ginger, green chilies & curry leaves, saute till ginger-garlic turns golden in color.
Add shallots, season with ½ tsp salt & cook till shallots turn translucent.
Add chopped tomato, cook till tomato has mashed up.
Add raw mango & cook for 2 minutes.
Add all the spices & salt, combine well.
Add warm water, let the water come to a slight boil.
Add the canned tuna or any fish or shrimp, combine well.
Cook covered for a few minutes till the fish has cooked through. Don't overcook the fish.
Open the lid & add coconut milk, cook for a minute.
Take the pan off the heat & keep it covered for some time.
Enjoy this curry with rice, chapati, appam, idiyappam, puttu, etc.