Healthy breakfast to start your day…
It's not black berry season yet I'd bought a lot of black berries the other day and had been making smoothies out of it. This morning, my hubby requested a really good break fast, he did mention that anything other than the black berry smoothie or microwaved eggs would be great for him. Well, myself being a lazy morning cook had to first work hard on overcoming my laziness.
Pancakes it is! I made a gluten free version of pancakes. I had to finish the blackberries, so ended up making blackberry pancakes. This is a very healthy pancake, I added gluten free flour and corn meal, skipped adding eggs as well. The pancake tasted good and my man was seen happy after having a good healthy breakfast.
I assume everyone buys tomato ketchup that comes in squeezable bottles, if so don't thrash the empty bottles. You can pour the pancake batter into the empty tomato ketchup bottle and just squeeze it onto the pan, isn't it so easy and a kool idea? I just adore this idea, goodbye to all the mess that's caused while making pancakes.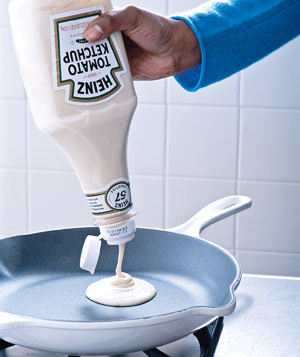 Pic courtesy: Mark Lund
Blackberry-Cornmeal Pancake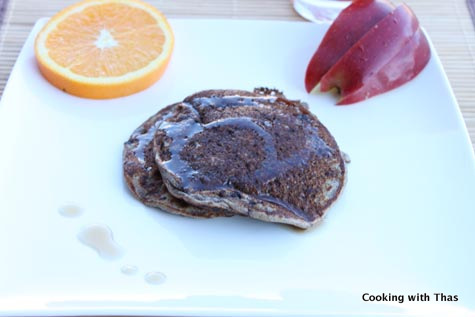 Ingredients
All-purpose flour or Gluten free all-purpose flour - ½ cup
Cornmeal, yellow- ½ cup
Yogurt- 2 tbsp
Blackberries, ripe- 16
Baking soda- ¼ tsp
Baking powder- ¼ tsp
Milk, skim- ½ cup
Maple syrup or Honey- 3 tbsp
Instructions
In a large bowl, combine all the above mentioned ingredients using a whisk to a smooth slightly thick batter.
Place a non-stick pan over medium heat, spray the pan with non-stick cooking spray. Or add 1tbsp of butter for each pancake.
Pour ¼ cup of of batter onto the pan.
Let the bottom side of the pancake cook and turn golden, flip it over and let the other side turn golden.
Remove the pancake from the pan, place it on a plate.
Serve warm, drizzle more maple syrup or honey over the pancake and enjoy.