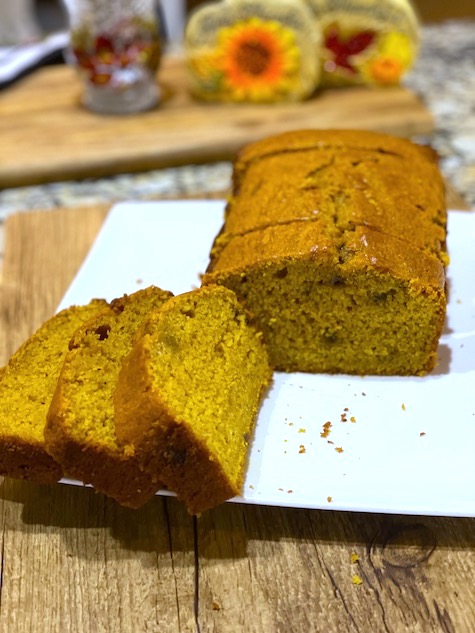 A simple, comforting, and delicious cake…
I cannot put into words how much I loved this cake or loaf cake. Turning pureed pumpkin into this cake was the best transformation ever. I can definitely without any doubt affirm that this is one of my favorite cakes and I'll make it again. A very simple cake with an outstanding taste. Not just the taste, but the flavor and the texture were great too.
The pureed pumpkin, brown sugar, and the spices added made this cake taste, smell, and look phenomenal. I tell ya it's so hard to stop with a couple of slices, you will get greedy and will be tempted to hide some just for you to devour later. It's that delicious!!!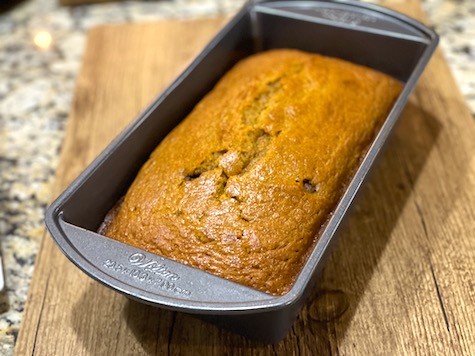 Pumpkin Loaf Cake or Pumpkin Cake
Ingredients
Dry ingredients
All purpose flour-1⅔ cups
Baking powder- ½ tsp
Baking soda- ½ tsp
Ground cinnamon- 1 tsp
Pumpkin spice- ½ tsp (or use ¼ tsp ground nutmeg & ¼ tsp dried ginger)
Salt- ¼ tsp
Wet ingredients
Butter, room temperature- 1 stick or ½ cup
Granulated white sugar- 1 cup
Brown sugar- ¼ cup
Eggs, room temperature- 2, large
Pumpkin Puree, canned- 1 cup
Milk- ½ cup
Chocolate chips- ½ cup (white or milk), optional
Instructions
Preheat the oven to 350 F or 175 C.
Use a 9 inch loaf pan or round pan or spring foam pan.
Line the bottom of the pan with parchment paper, grease the pan with unsalted butter.
If you don't have pumpkin spice, combine ¼ tsp ground nutmeg & ¼ tsp dried ginger & add this.
To a bowl, sift together all the "dry ingredients" mentioned above. Keep it aside.
In a stand mixer, using the paddle attachment cream the butter. Or use an electric hand mixer.
Add white sugar & brown sugar, cream at high speed for 3 minutes.
Add eggs, one at a time and beat till well combined.
Add pumpkin puree, beat it for a couple of minutes.
Add flour mixture in 2 additions, alternating with milk.
At low speed combine until well incorporated. Don't over beat the batter.
I've also added ½ cup chocolate chips, this is optional.
Gently combine using a silicone spatula.
Pour the batter into the prepared loaf pan or cake pan.
Smoothen the top using a silicon spatula.
Place on the middle rack in the preheated oven and bake for an hour or until a fork inserted into the middle of the cake comes out clean.
If the middle of the cake hasn't cooked well after an hour, place the cake pan on the top rack and bake for another 10 more minutes.
Take the pan off the oven, let cool down completely.
Run the sides of the cake with a knife and slide it to a platter.
Using a bread knife, cut into loaves.
Enjoy this absolutely moist, delicious and comforting cake with a cup of tea or coffee.
Leftover cake can be refrigerated for a few days or freeze it for a few weeks.
Notes
Instead of pumpkin spice you could add dry ground ginger and nutmeg mix.
I used canned pumpkin puree without any seasonings added to it.