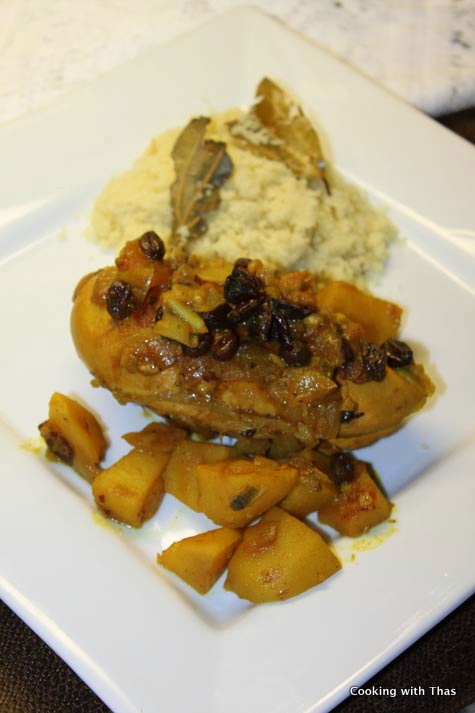 Slow-cooked chicken with raisins and potatoes, very mild, slightly sweet, slightly tangy, delicious Moroccan dish…
Yesterday, wasn't a great day for me even after trying so hard to make it great. After coming home, I wanted to have some fun, so I decided to make something different and exciting. I'd been thinking of cooking Moroccan dishes for so long, I'd tasted a few dishes at an international food festival. I really loved the flavors used in those dishes.
Some of the spices used in Moroccan cuisine is similar to Indian cuisine, the spices commonly used are cumin, coriander, turmeric powder, dried ground ginger, cinnamon, star anise, saffron, etc. You will also find dried fruits like dates, plums, raisins being added to chicken or meat dishes, this imparts the sweetness to those dishes. The addition of olives and lemon imparts the tanginess.
One of the popular Moroccan dishes is tajine or tagine. Tagine is actually the name of the earthenware pot used for slow cooking chicken, beef and lamb. Here is a picture of pretty tagine: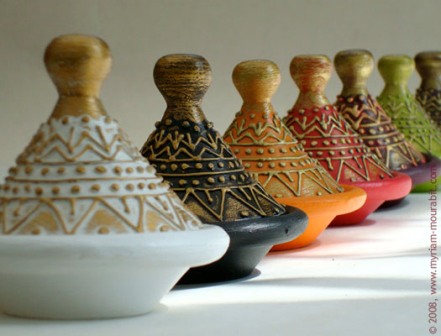 Tagine Picture courtesy: Emily Avila
It's made of clay and the outside is usually glazed and painted. It has two parts: the base dish and a dome-shaped lid which is used to cover the base while slow cooking.
I don't have a tagine so I used a non-stick cooking pot, I'll be getting one soon though I am so much in love with pretty tagines. If you have a tagine go ahead and cook this dish in it. Usually, bone-in chicken or beef or lamb is used for cooking. I used bone-in chicken breasts. It's very easy to make, you just have to first brown the chicken and then add all the other ingredients and cook it covered.
I really loved the addition of raisins, which imparted the slight sweetness to this dish. I thought it would be very sweet, but it wasn't that intense. Also, lemon gave the mild tanginess to this dish. Overall this dish tasted very mild and really delicious.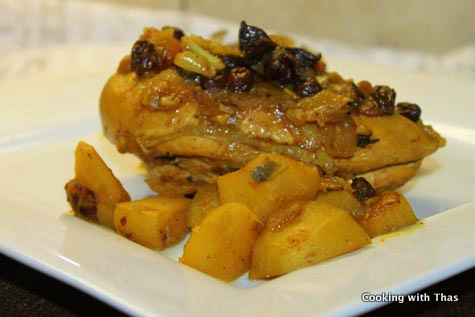 Moroccan Chicken
Ingredients
Chicken breast, bone-in- 3 breasts
Onion, chopped- 1
Garlic, chopped- 3 cloves
Ground cumin- 1 tsp
Turmeric powder- 1 tsp
Ground dried ginger- 1 tsp
Ground pepper- ½ tsp
Whole cinnamon- 2 inch stick
Star Anise- 2
Bay leaves-2
Chicken stock- 1 cup (or use chicken cube)
Tomato, chopped-1
Potatoes, diced- 3
Raisins- ½ cup
Lemon- ½ of the lemon quartered
Cilantro- 2 handful
Olive oil- 3 tbsp
Instructions
Heat a tajine or large dutch oven or crock pot or non-stick cooking pot over medium-high heat, add olive oil.
Place chicken breasts over the oil, cook at high heat till both sides of chicken turn golden brown in color, about 10 minutes.
Add all the other ingredients mentioned above to the chicken, combine well.
Turn the heat to medium-low.
Cover the pot with its lid and slow cook for 30 minutes.
After 30 minutes the chicken will turn tender.
Remove the chicken from the pot and place it on a plate.
Heat the gravy to medium-high till it thickens.
Return the cooked chicken to the gravy in the pot, turn off the heat and keep it covered.
While serving- discard the lemon, bay leaves, whole cinnamon and star anise.
Serve the chicken on a plate and spread the gravy over it.
This dish goes well with couscous or rice.