Stuffed dosa or masala dosa, yet another South Indian specialty dish…
Dosa is a crepe, the batter is made out of rice and urad dal or black lentil. This is a popular South Indian breakfast dish. If you own an Instant Pot, fermenting dosa batter is a breeze. Ground rice & urad dal batter can be kept in the Instant pot in yogurt setting for 8 to 10 hours. After 10 hours, you will have beautifully fermented dosa batter and you can make crispy dosas.
In this recipe for making dosa batter, I've added 3 cups rice and 1 cup urad dal. More rice will make the dosas crispy, 1:3 urad dal: rice ratio. However, 1:1 dal: rice ratio will make the dosa smooth.
For making masala dosa, you need to make a stuffing. Authentic stuffing is made with potatoes, in this recipe I've also added beetroot. It turned out really good and colorful. If you don't like beets, you can skip that and make the stuffing just with potatoes.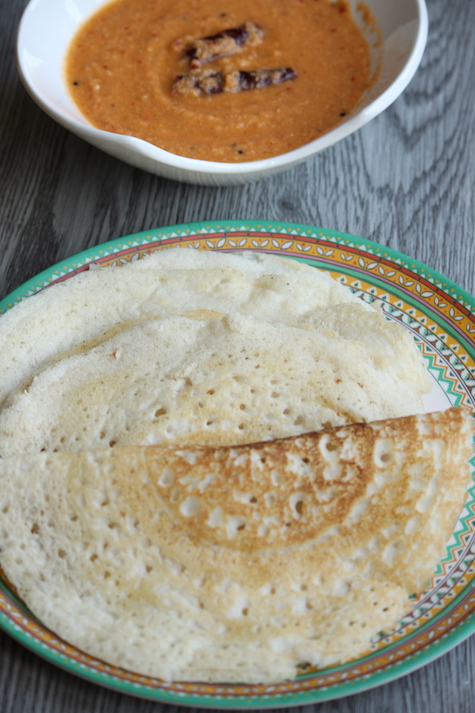 Cooking Video
Masala Dosa- Potato Beet Stuffed Dosa- Instant Pot Fermented Dosa Batter
Ingredients
For Making Dosa Batter
Long grain raw rice- 3 cups (ponni or sona massori rice)
Urad dal or Black lentil skinned- 1 cup
Fenugreek seeds- 1 tsp
Water- to grind the rice & urad dal
Salt
Ghee
For Making Stuffing
Oil- 1 tbsp
Mustard seeds- 1 tsp
Onion, chopped- 1
Ginger, chopped- 1 tbsp
Green chilies, chopped- 2
Beetroot, grated- 2, small
Potatoes, cooked- 3
Water- ½ cup
Turmeric powder- ½ tsp
Cumin powder- ½ tsp
Coriander powder- 1 tsp
Salt- 1½ tsp
Cilantro, chopped- ¼ cup
Lime or Lemon juice- 1 tbsp
Instructions
Making Dosa Batter and Fermenting in the Instant Pot
In a bowl, add rice and add enough water to cover the rice.
In another bowl, add urad dal and fenugreek seeds; add enough water to cover urad dal.
Let rice and urad dal soak in water for 5 hours.
After 5 hours, rinse the soaked rice & urad dal taken in a strainer.
Grind the rice & urad dal separately in a blender or grinder. Add just enough water to grind into a smooth batter. I've added 1 cup water to grind urad dal and 2 cups water to grind rice.
Pour the batter into stainless steel pot.
Using your hand, beat the batter well this will help to aerate the batter.
Place the stainless steel pot into the main pot.
Close the pot with the lid.
Sealing ring is not required, you can remove that.
Select YOGURT Setting. Set time to 8 or 10 hours. Temperature should be Medium.
After 8 or 10 hours of fermentation, open the lid.
The batter will be well fermented.
Add required batter for making dosa into a bowl and add ½ tsp salt, combine well.
Remaining batter can be kept in the refrigerator for a week.
Place a cast iron skillet over medium high heat.
Let the skillet turn hot.
Grease with some ghee.
Pour 2 spoonful of dosa batter, evenly spread using the back of the spoon to a round shape.
Drizzle some ghee.
Let bottom side cook well and turn golden in color.
Flip it over and let other side cook as well.
Transfer to a plate.
Making Stuffing
Place a sauepan over medium heat, add oil.
Add mustard seeds, let splutter.
Add onion, saute for 3 minutes.
Add ginger and green chilies, saute till onions turn golden in color.
Add beetroot grated, cook for a few minutes, add ¼ cup water to cook beets.
Add cooked potatoes, mash using a wooden spoon.
Combine well and cook for a few minutes.
Add ¼ water if the mixture is getting dry.
Add turmeric powder, cumin powder, coriander powder and salt, combine well.
Cook for 3 minutes.
Add cilantro and lemon juice, cook for 2 minutes.
Stuffing is ready.
Spread the stuffing onto hot dosa on one of the ends, fold it.
Serve Masala dosa along with chutney, sambar, etc.
Notes
**If you don't have an Instant Pot and if you live in a cold place: dosa batter can be fermented in the oven. Preheat the oven to the lowest temperature for 5 minutes, turn off the oven and place the dosa batter in the oven for 8 to 10 hours or overnight. It will be well fermented the next morning.
**If you live in a warm place, place the dosa batter on the counter top overnight.