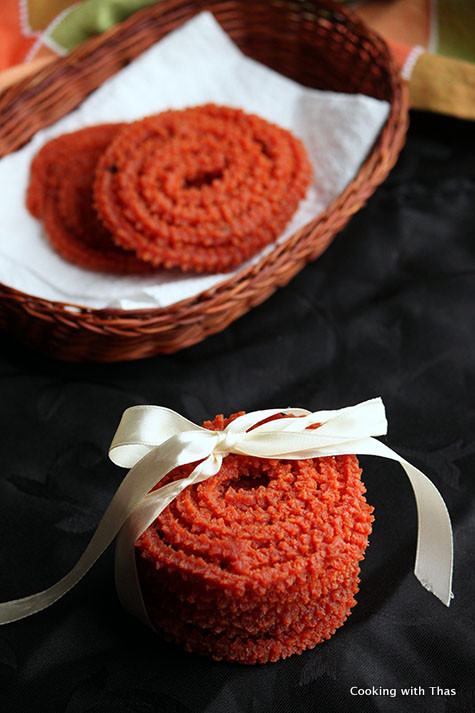 Murukku is a South Indian crunchy snack, by adding beetroot puree it got colorful and tasted great…
Diwali is around the corner and my FB news feed has been bombarded with pictures of Diwali snacks posted by my fellow food bloggers, celebrity Indian chefs and other food enthusiasts. I love all kinds of Indian sweets and snacks, especially burfis, pedas and murukku.
During Diwali, sweets and snacks are made from scratch in most houses and are shared with family, friends and neighbours. My neighbours in India used to celebrate Diwali to the fullest and we used to be a part of their celebration too. Of course, I used to thoroughly enjoy the homemade sweets and snacks, yummy! Miss those days now.
One of the popular snacks in South India is murukku which is a crunchy snack made using rice flour dough. There are several variations of murukku, the ingredients used can vary and the shape of the murukku can vary too. However, the main ingredient for making the murukku dough is rice flour. Other ingredients like ground urad dal, semolina, gram flour, potato puree etc can be added based on the kind of murukku that's being made.
I'd been thinking of making murukku for so long and I wanted my murukku to be colorful so I went behind beetroot. Added beetroot puree to the rice flour and kneaded the dough, the dough had a gorgeous reddish purple color. I used the star shaped disc in the mould and pressed the dough and fried it to perfection.
Gorgeous and crunchy beet root murukku tasted really good and we munched on them non-stop.
For more Diwali sweet/snack recipes, please click here.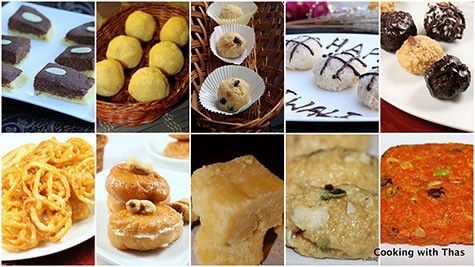 Recipe for Murukku made with rice flour and urad dal, click here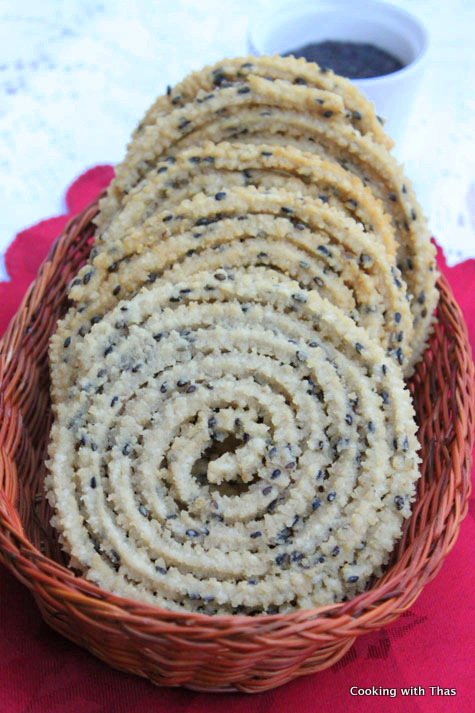 Beetroot Murukku
Preparation Pictures
Beetroot murukku dough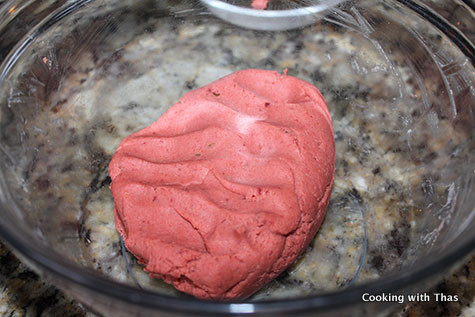 Star shaped disc
Press the dough onto a slotted spoon and make coiled shape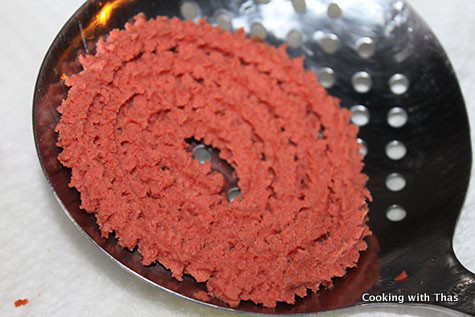 Frying the dough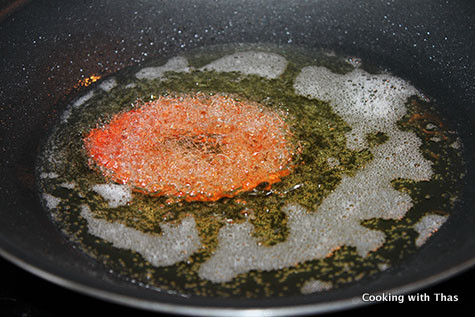 Fried murukkus placed on a paper towel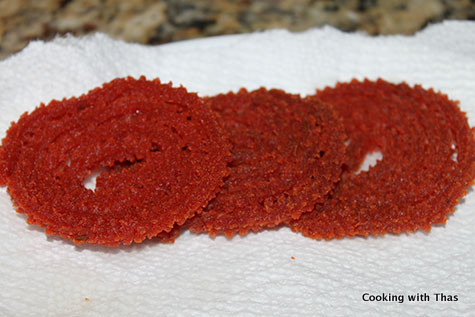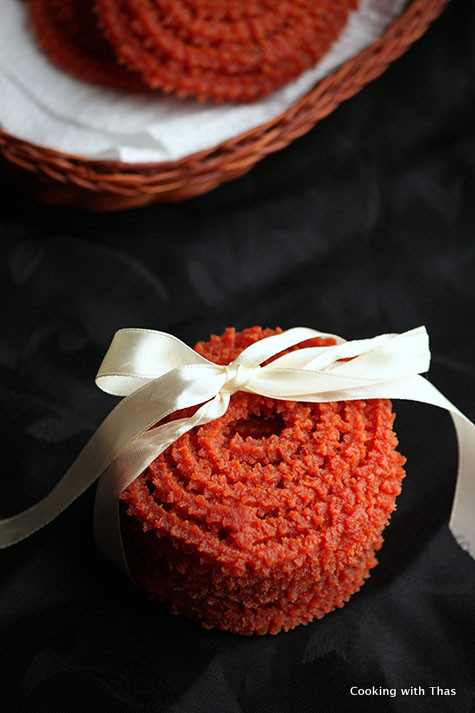 Beetroot Murukku - South Indian Crunchy Snack
Ingredients
Rice flour, roasted- 1 cup (you could use rice flour that's used for making Idiyappam)
Beetroot- 1 medium sized
Melted butter- 1 tbsp
Cumin seeds or jeera- 1 tsp
Chili powder- ½ tsp (or more if you need it to be spicy)
Asafoetida- 2 pinches (optional)
Salt- to taste
Water- less than ¼ cup to make the dough
Oil- enough for deep frying
Instructions
Dice the beetroot to small pieces and cook with ¼ cup water till the beetroot has turned fork tender. Let cool down.
Puree the cooked beetroot with ¼ cup water to a smooth paste (if there is any water left in the pan after cooking the beetroot, you can use that water to puree).
In a large bowl, combine roasted rice flour, cumin seeds, chili powder, asafoetida, salt and melted butter.
Add the pureed beetroot and combine well.
Add water little by little and knead the dough till it turns soft. (I added less than ¼ cup of water).
Do not add too much water and make the dough too soft and watery.
Heat enough oil for deep frying in a frying pan over medium heat.
I've a hand held mould that has to be rotated (used for making idiyappam )and I used the star shaped disc in it.
Place a handful of dough into the mould and close with its lid.
Rotate or press the top part of the mould based on the kind of mould you are using.
Let the dough fall on a slotted spoon greased with non-stick cooking spray or oil.
When the dough falls onto the slotted spoon keep rotating and make coil or round shapes.
First, test if the oil is ready- by dropping a small piece of dough into the oil, if the oil makes the sizzle sound when you drop the dough, the oil is ready.
Dip the slotted spoon into the hot oil, and gently slide the coiled dough into the oil.
Deep fry by fully submerging the dough and let it turn crispy.
Transfer to a kitchen paper towel and let cool down.
Enjoy, leftovers can be stored in an air tight container.
Notes
When you press the dough-if the dough is breaking and not falling continuously, then you need to add little more flour ( 2 tbsp) and water (1 to 2 tbsp) and knead well to form a soft dough.

You could replace beetroot puree with potato puree.