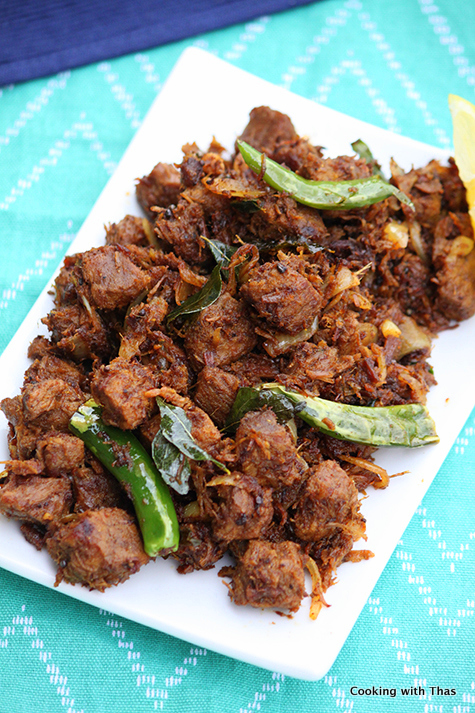 Dry beef stir fry or beef chukka- Kerala style…
This is my favorite dish made with beef, totally Kerala style dry beef stir fry. Marinated beef is cooked in a pressure cooker and then fried in oil till it turns brown. Fried beef is then stir-fried with mustard seeds, ginger, garlic, green chilies, lots of curry leaves, and onion. I use coconut oil to stir fry, makes it aromatic and flavorful. Curry leaves also impart a nice aroma and flavor to this dish.
Try this dish, I tell ya you are gonna love it and will make this often.
This can be served as an appetizer or along with chapati or poori.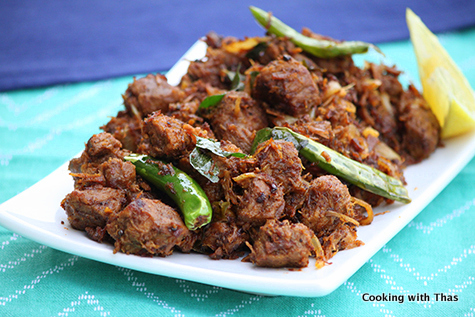 Beef Chukka or Kerala Beef Stir Fry
Ingredients
For marinating Beef
Beef, stew cut- 2 lb or 1 Kg
Ginger-Garlic paste- 1½ tbsp
Chili powder- 2 tsp
Coriander powder- 2 tsp
Turmeric powder- ¼ tsp
Garam Masala- 1 tsp
Curry leaves- 1 sprig
Salt- 1 tsp
For Frying
For Stir frying
Coconut oil- 1 tbsp
Mustard seeds- 1 tsp
Ginger, minced- 2 inch slice
Garlic, minced- 2 cloves
Green chilies, halved- 3 or 4
Curry leaves- 2 sprigs (must add)
Onion, sliced thin- 2
Ground pepper- ½ tsp
Salt- ½ to 1 tsp
Lemon juice- juice of half lemon
Instructions
In a bowl, combine the beef with all the above mentioned ingredients "for marinating beef" and let marinate for 1 to 2 hours in the refrigerator.
Add the marinated beef to a pressure cooker, add ¼ cup water and cook over medium heat till 2 to 3 whistles or 25 minutes.
Or cook covered in a saucepan till the beef has cooked well- add water accordingly.
After the pressure subsides, open the lid. Combine the cooked beef well.
If there is any liquid left, cook over high heat till the liquid dries off.
Transfer the cooked beef to a plate.
Place the same pressure cooker over medium heat, add oil for frying.
Add cooked beef and fry till browned ( fry in 2 batches).
Transfer the fried beef to a plate lined with kitchen paper towel.
You could use the pressure cooker to stir fry. Or use a non-stick pan for stir frying.
Place the pressure cooker over medium heat, add any oil left after frying the beef & 1 tbsp coconut oil and let the oil turn hot.
Add mustard seeds, let splutter.
Add minced ginger and garlic, halved green chilies, stir fry till golden.
Add curry leaves, stir fry for 30 seconds.
Add sliced onions, season with salt and stir fry till onions turn slightly brown.
Add the fried beef.
Turn the heat to high and stir fry for 5 minutes.
Add ground pepper and lemon juice, stir fry for a minute.
Take the pressure cooker off the heat and keep it covered for a few minutes.
Serve warm as an appetizer or can be served with poori or chapati.
I also drizzle ½ tbsp white vinegar just before serving, combine well- gives that nice kick, YUM.
Notes
Don't skip curry leaves.

Coconut oil imparts a nice aroma and nutty flavor.