Scrumptious chicken tikka masala, cooked in the Instant Pot…
Chicken Tikka Masala is a popular Indian dish, tender chicken cooked in a rich, delectable, flavor-packed sauce.
In North America, two popular Indian dishes that are served in almost all Indian restaurants are butter chicken and chicken tikka masala. Making restaurant-style chicken tikka masala is not that hard, follow this recipe & you'll be seen enjoying this dish; it's finger-licking delish.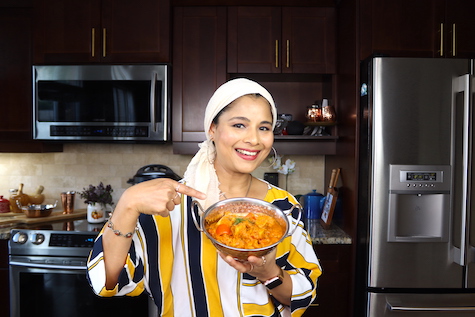 Cooking Video
Instant Pot Chicken Tikka Masala | Popular Indian Dish | Restaurant Style Recipe
Ingredients
For making marinade
Yogurt- ½ cup
Ginger-Garlic paste- 1 tbsp
Kashmiri chili powder- 1 tbsp
Turmeric powder- ⅛ tsp
Coriander powder- 2 tbsp
Cumin powder- 1 tsp
Garam Masala- 1 tsp
Salt- 1 tsp
Lemon juice- 1 tbsp
Boneless Chicken, cubed- 2 chicken breasts or thighs
Red pepper, diced- 1
Onion, diced- 1
For Cooking
Oil- ¼ cup for shallow frying chicken
Oil- 1 tbsp
Onion, chopped- 1, large
Tomatoes, chopped- 3
Chili powder- 1 tsp (for less spice add Kashmiri chili powder)
Coriander powder- 1 tsp
Garam Masala- 1 tsp
Tomato paste- 2 tbsp
Salt- ½ tsp
Dried Fenugreek leaves- 1 tbsp
Cilantro, chopped- ¼ cup
Instructions
For marinating chicken & veggies
In a large bowl, combine yogurt, ginger-garlic paste, Kashmiri chili powder, turmeric powder, garam masala, coriander powder, cumin powder, salt and lemon juice. Combine well.
Add cubed chicken, red pepper, and onion to the yogurt mix and combine well.
Let marinate for 30 minutes.
Turn on the Instant Pot, select Saute setting , temperature should be normal.
Let the stainless steel pot turn hot.
Add ¼ cup oil, add the marinated chicken and veggies; shallow fry till the chicken turns golden in color. Flip over a few times.
There will be 1 to 2 tbsp marinade left in the bowl, save that.
Keep aside the cooked chicken and veggies.
After shallow frying the chicken in the Instant Pot saute setting, the pot will turn brown.
Here is an easy way to clean the stainless steel pot: Add 1 cup water to the pot, let heat up in saute setting, using a wooden spoon scrape off the particles, discard the liquid & wash the pot with dish soap.
Place the pot back into the main pot.
Select Saute setting, temperature should be normal.
Add 1 tbsp oil.
Add onion, season with salt; cook for 2 minutes.
Add tomatoes, cook for a few minutes.
Transfer the cooked onion and tomatoes to a blender jar, add 1 cup water and puree till smooth.
Pour the onion-tomato sauce back into the pan. Cook for 2 minutes.
Add chili powder and coriander powder, combine well.
Add tomato paste, combine well.
Add the leftover marinade that's left in the bowl used for marinating chicken and veggies.
Season with salt and mix well.
Cook for a few minutes.
Add the cooked chicken and veggies, combine well.
Cover the pot with a glass lid & cook covered for 5 minutes.
Taste and add more salt if needed.
Add garam masala, dried fenugreek leaves, and cilantro, combine well and cook for a minute.
If you prefer you could add ¼ cup cream to make the sauce creamy, I didn't add the cream.
Take the pot out of the main pot, keep it covered.
Serve in a bowl and enjoy with basmati rice, naan, chapati or roti.