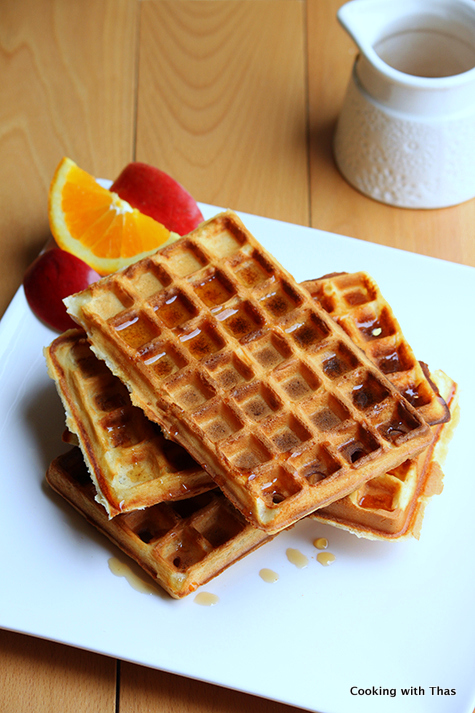 Crispy homemade waffles and easy to make…the best tasting waffles…
Waffles has been our favorite weekend breakfast. I'd tried a few different kinds of waffles: cornmeal waffles, nutella waffles and french toast waffles.
The other day, my Man made a delicious breakfast for me, he got up early and had some fun in the kitchen making waffles. I was still in bed and the nice aroma of crispy waffles tempted me to be out of the bed. I was so touched to see the crispy and delicious waffles ready on the dining table. What more do you need on a weekend? I gobbled up with a big smile on my face.
These waffles are crispy and tasted delicious, be sure to have it as soon as it's out of the waffle maker. Leftovers can be refrigerated. Pour your favorite syrup on top of the waffles and enjoy. My favorite is Maple syrup.
Recipe Courtesy- Allrecipes.com
Making the best tasting Waffles Cooking Video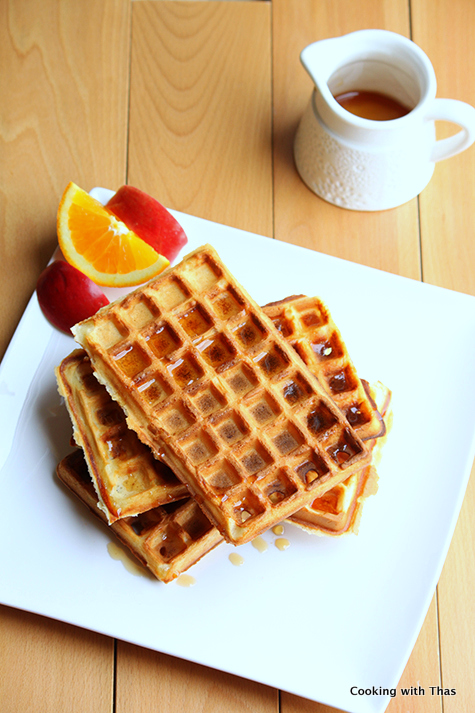 Easy Waffles Recipe
Ingredients
All purpose flour- 2 cups
Eggs- 2
Sugar- 1 tbsp
Baking powder- 4 tsp
Salt- ¼ tsp
Milk- 1½ cups
Oil- ½ cup (I used light olive oil or use vegetable oil)
Vanilla extract- 1 tsp
Instructions
In a large bowl, beat the eggs well using a whisk or egg beater.
Add all purpose flour, sugar, baking powder, salt and vanilla extract, combine well using the whisk.
Add milk slowly and whisk well.
Add oil and whisk till you get a smooth batter.
Heat the waffle maker.
Grease the inside with non-stick cooking spray.
Pour one large spoonful of batter and cover the waffle maker, let cook till waffles turn golden brown.
Transfer to a plate, drizzle maple syrup or any of your favorite syrup over them and enjoy while it's warm it will be crispy.
Notes
You could reduce the amount of oil to ¼ cup, it will be still good. Use light olive oil.