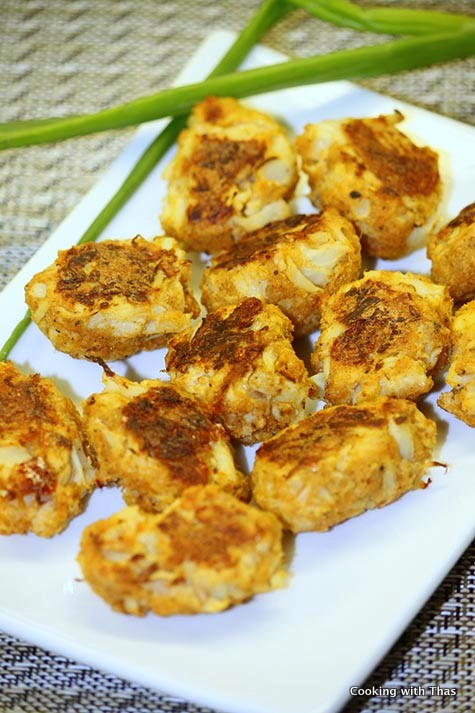 Tots made with cauliflower and it's baked, a healthy snack.
I mostly make Indo-Chinese dishes with cauliflower, and most of the recipes call for frying cauliflower. Last time, I tried not to fry cauliflower and ended up making an Indo Chinese cauliflower stir fry by boiling the cauliflower, tasted delicious. Here is the recipe.
The other day, I made this tots with cauliflower and baked them. Turned out to be a perfect crunchy snack and quite healthy too.
I even made pita wraps with these tots: placed a few tots on a pita bread, added greens, hummus and drizzled with salad dressing and wrapped them, this was my lunch. You can also make sandwiches with these tots. So many options and  everything tastes delish.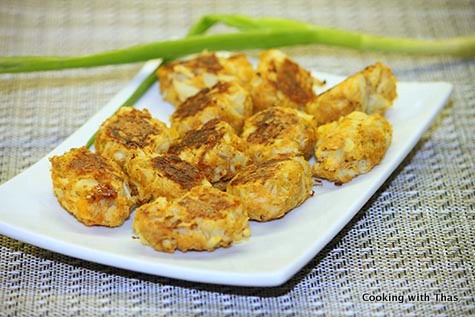 Baked Cauliflower Tots
Ingredients
Cauliflower- 1 medium sized
Egg- 1
Paprika- ¾ tsp
Cumin powder- ½ tsp
Ground pepper- ¼ tsp
Dried oregano- 1 tsp
Cheddar cheese, grated- 1 cup
Breadcrumbs- 1 cup
Salt- ½ tsp
Instructions
Preheat the oven to 400 F.
Remove the florets from a medium sized cauliflower.
Boil water in a cooking pot, season with a few pinches of salt and add the cauliflower florets.
Cook till cauliflower till it turns soft and tender. Drain the water and place the cooked cauliflower in a large bowl. Let cool down.
Using the back of a wooden spoon, coarsely mash the cauliflower. Do not make into a paste.
Add egg, combine well.
Add paprika, cumin powder, ground pepper, dried oregano, cheddar cheese, breadcrumbs and salt.
Combine well.
Place the prepared cauliflower mix in the refrigerator for 15 minutes.
Make small cylinder shapes out of the cauliflower mix and place them on a baking sheet lined with aluminum foil.
Place the baking sheet in the preheated oven and bake for 20 minutes.
Remove the baking sheet from the oven, let cool down a bit.
Enjoy the crunchy cauliflower tots.