Arikadukka or Fried Rice Dough stuffed mussels, a Malabar speciality snack…
Yes, I am a huge fan of Malabar dishes and I am glad to have tasted some of the dishes cooked by my mom and my aunts while growing up. I have to tell you that all the dishes I have tried tasted so good that I would crave for those quite often. I have already shared the recipes for making some my favorite Malabar dishes. I love all the dishes and so hard to pick my most favorite among them.
One of the dishes I'd been wanting to try in my kitchen was arikadukka or fried stuffed mussels. I've not tasted this before, have seen some videos and pictures online and got curious. Mussels have always been my favorite among shell fish, especially mussel fry.
I have heard that in Malabar, this snack is sold by street vendors and everyone devours it with so much enthusiasm. Well, to visit Malabar and to enjoy their delicacies are on my top travel-eat list, hopefully soon.
For making the authentic arikadukka, you need to have the fresh mussels in the shell. The shells with the mussels are boiled so that the shells gets opened. Rice dough is made by adding coconut and other ingredients in it and is stuffed into the shell. The shells with the mussel and rice dough are steam cooked. After steam cooking, the mussels will be stuck into the rice dough, they are scooped out of the shell, dipped in masala paste and deep fried.
I only had the mussels in half shell, that didn't stop me from making this snack. If you love mussels, then this is going to be one of your favorite dishes using mussels.
Recipes for other delicious Malabar dishes, click here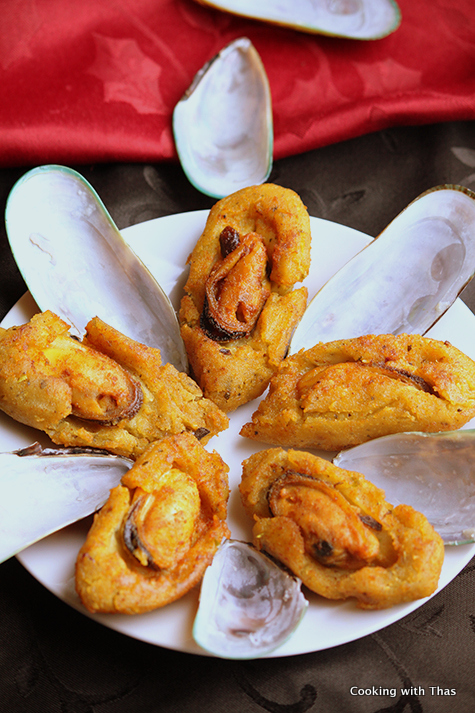 Preparation Pictures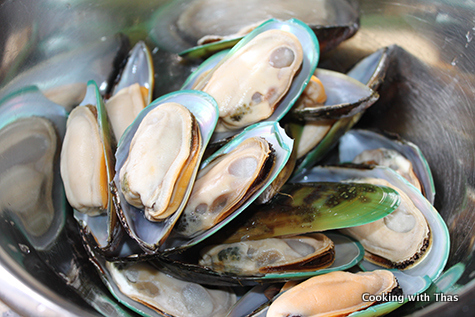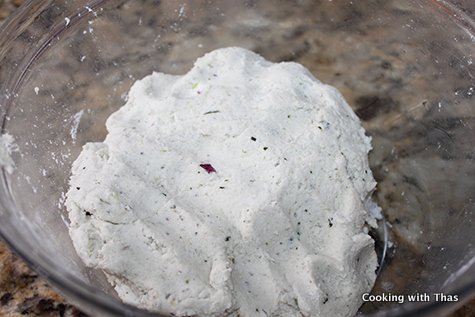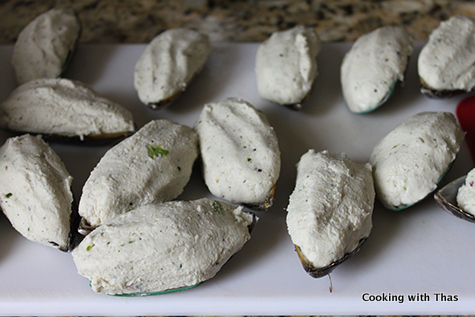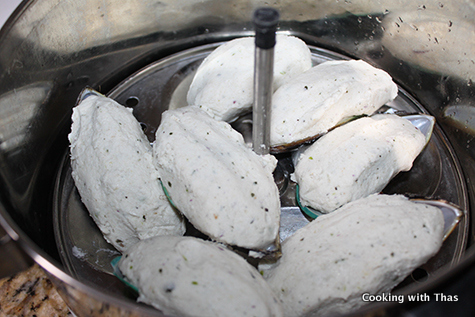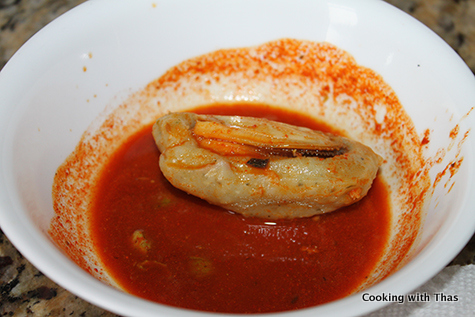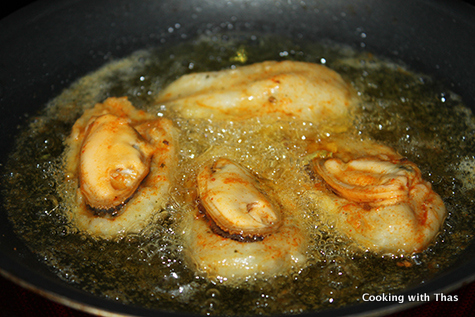 Arikadukka or Fried Stuffed Mussels- Malabar Recipe
Ingredients
Fresh Mussels, in shells- 15
For making Rice dough
Rice flour- 2½ cups
Coconut, grated- ¾ cup
Small onions or pearl onions, chopped- 4
Cumin seeds- 1 tsp
Ginger, chopped- 1 inch slice
Green chilies, chopped- 2
Curry leaves- 10 leaves
Fennel powder- 1 tsp
Coriander powder- 1½ tsp
Salt- to taste
Water- enough to make a soft dough
For making masala paste
Kashmiri red chili powder- 2 tbsp
Turmeric powder- ¼ tsp
Garam masala- ¾ tsp
Salt- a few pinches
Water- 3 to 4 tbsp
Other ingredients
Oil- enough for deep frying
Instructions
If using fresh mussels in shells- first clean the shells under running water, place them in a saucepan filled with water and boil them till the shells are opened. Discard the shells that are not open.
I used the mussels in half shells, so I didn't boil them. I removed the mussels from the shell and stuffed them with rice dough.
In a blender, coarsely grind coconut, small onions, cumin seeds, ginger, green chilies, curry leaves, fennel powder and coriander powder along with ¼ cup water.
In a large bowl, combine rice flour and salt. Add the ground coconut and knead the flour by adding hot water little by little. Knead into a soft dough and keep aside.
If you are using mussels in the shell that's been steam cooked and opened- stuff a handful of rice dough into the shells.
If using mussels in half shells- Remove the mussels from the half shell, cover the mussels with the rice dough, make sure the mussels are not fully inside the dough. Place the stuffed mussels onto the half shells.
Steam cook the stuffed mussels for 5 minutes- you could either use idiyappam cooker to steam cook or a pressure cooker- pour ½ cup water into cooker, place the stuffed mussels on a steel plate, keep this inside the pressure cooker and steam cook.
After steam cooking the mussels, let them cool down completely.
Open the shells completely and remove the mussels stuffed with rice dough out of the shells. The mussels will be stuck onto the rice dough.
Heat oil for deep frying in a frying pan.
In a small bowl, combine Kashmiri chili powder, turmeric powder, garam masala, salt along with 3 tbsp water to a paste.
When the oil turns hot, dip each steam cooked and stuffed mussel in the masala paste and coat evenly.
Place it in the oil and deep fry till it turns golden brown in color.
Transfer to a kitchen paper towel and let absorb the excess oil.
When the fried stuffed mussels have cooled down a bit, serve along with tea and enjoy this Malabar delicacy.
Notes
If you only have the mussel meat- without shells- Cover the mussels with the rice dough (don't place the mussels fully into the dough, it should be partially visible), steam cook them, dip them in masala paste and then deep fry.