Easy to make & tasty mixed vegetable curry…
I had a few eggplants & green peppers harvested from my vegetable garden and I turned them into a delicious curry. Served with wheat dosa or crepes.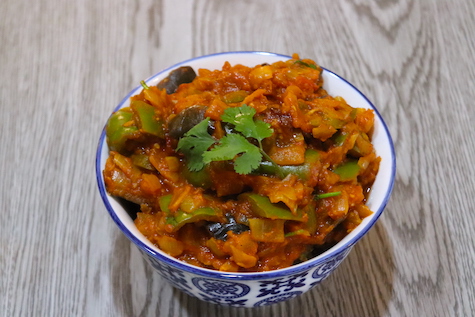 Easy & Tasty Mixed Vegetable Curry | Indian Recipe
Ingredients
Oil- 1 tbsp
Cumin seeds- 1 tsp
Onions, chopped- 2
Ginger-Garlic paste- ½ tbsp
Tomatoes, chopped- 2
Eggplant, diced- 2 or 3 small sized
Green peppers, diced- 2
Chili powder- 1 tsp
Turmeric powder- ¼ tsp
Cumin powder- 1 tsp
Coriander or Fennel powder- 1½ tsp
Garam Masala- ½ tsp
Salt- 1½ tsp
Tomato paste- ¼ cup
Water- 1 cup
Cilantro, chopped- ¼ cup
Instructions
Place a saucepan over medium heat.
Add oil, let turn hot.
Add cumin seeds, saute for a few seconds.
Add onions, season with ½ tsp salt & ginger-garlic paste.
Cook till onions turn translucent.
Add tomatoes & eggplant, combine well.
Cook covered for a few minutes.
If it's getting dry, add ½ cup water & cook covered.
Add green peppers, cook till peppers turn slightly soft. Do not overcook the peppers till they turn mushy.
Add all the spices & 1 tsp salt; combine well.
Add tomato paste, combine well.
Add ½ cup water, cook for 3 minutes.
Finally, garnish with cilantro.
Serve to a bowl, enjoy with rice, chapati, or dosa.
Notes
Any kind of mixed vegetables can be added- mushrooms & green peppers, cauliflower & green peppers make a great combo.