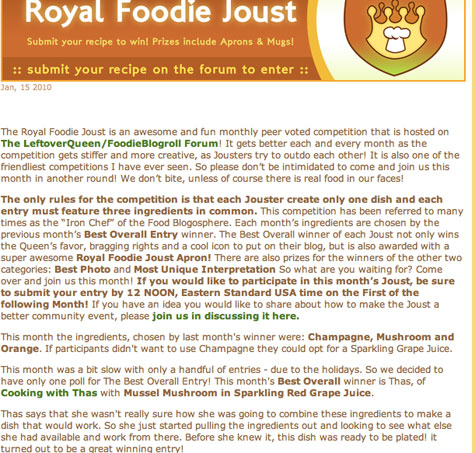 I had participated in the January Joust and the 3 ingredients with which I had to create an original recipe, chosen by the previous winners were Mushroom, Orange and Wine or Sparkling Grape Juice. As soon as I read about the ingredients, I had the urge to participate in this joust, though I wasn't quite sure about the recipe I would come up with these ingredients. I only cared about being a part of this contest and to have some fun with these ingredients in my kitchen. I entered my kitchen with a blank mind and before I knew I combined these three ingredients with the Mussel, found in my freezer and in no time the dish was ready on the dining table. I had a lot of fun making this dish and didn't expect this would turn out to be a winner.
Here is my recipe that won: Mussel Mushroom in Sparkling Red Grape juice.
My heart felt Thanks to all the fellow bloggers who voted for my recipe, Foodie BlogRoll, Leftover Queen and all the other participants who inspired me to participate in this contest.
I can't wait to receive the award which is an awesome Royal Foodie Joust Apron. The 3 ingredients that I had chosen for the next month's Joust are Fish, Nutmeg and Coconut Milk. Honestly, I had a hard time choosing the ingredients than coming up with an original recipe:) Hoping to participate in many more Jousts  in the future.
Thanks to all my friends and family who constantly support me and encourage me, I am fortunate to have such friends and a great family.