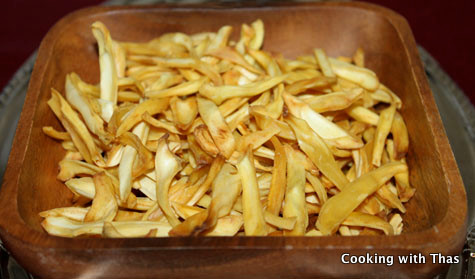 Crispy, crunchy Jack fruit chips fried by my mom in a different continent, packed well and saw off at the Trivandrum airport, waited in many lines to go through the security clearance in couple of airports, after 24 hours of flying, finally it reached me safe and sound in another continent…
I lack words to describe how much pleasure I had while devouring each one of these chips. None of the food I had in the past 4 years can stand face to face with this jackfruit chips fried by my mom. While having each fries I felt the love and care with which my mom had fried it. There wasn't even a single burned or limp chips. All of the chips were fried to perfection and tasted way better than the store bought ones. That's what happens when you do with love and care, you'll never go wrong.
Jack Fruit chips is my favorite fried snack. If you are in Kerala and if you get the craving for jackfruit chips, you don't have to rush to any nearby store to get it. You could pluck the raw fruit from the tree, which is found in almost every backyard and then fry it in your kitchen. In less than an hour, you will be seen sitting among the jackfruit chips and the melodious sound of chewing the crispy chips will break any silence in the house and brings a festive mood.
During jackfruit season, home made jack fruit chips are found in almost every house, stored in an airtight container. Knowing this is my favorite snack, my grandma used to fry whenever she finds the right jackfruit for frying. It never lasted even for a day, I would snatch the bags and will devour it even after my tongue gets stiff by over chewing. And I turn into a selfish eater when jackfruit chips are in front of me. Homemade chips always tasted well than the store bought ones. So, in my house we never bought these from the store, all you get in my house is home made fresh and crispy jack fruit chips fried by my mom:)
More about Jack Fruits: an excellent vegetarian substitute for meat. In fact, canned jackfruit (in brine) is sometimes referred to as "vegetable meat".
For frying, you need to have the right raw jackfruit, especially raw firm ones which are suitable for frying. There are many varieties of jackfruit, two general types are soft fleshed and firm fleshed. The firm fleshed type is highly tasty, sweet and crisp. In South India, they are called Koozha chakka (the fruits of which have small, fibrous, soft, mushy, but very sweet carpels) and Koozha pazham (more important commercially, with crisp carpers of high quality known as Varika) respectively.
In Asia, jackfruits ripen principally from March to June, April to September, or June to August, depending on the climatic region, with some off-season crops from September to December, or a few fruits at other times of the year. In the West Indies, many ripen in June; in Florida, the season is late summer and fall.
This blog post is extra special to me, as these jack fruit chips are fried by my mom and I am honor-bound to share the recipe of this simple yet tasty jack fruit chips to all my dear readers and foodie friends.
Mom's Jackfruit Chips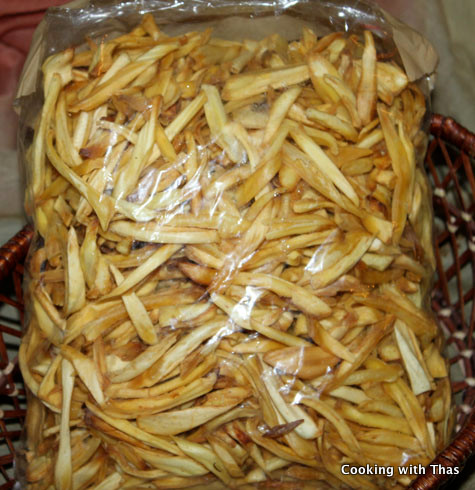 Ingredients:
Raw jack fruit- 1 whole fruit or half (depending upon your needs)
Turmeric powder- 1/2 tsp
Salt- to taste
Water- 3 tbsp
Vegetable oil- enough for deep frying
Instruction:
If using fresh jackfruit, it's a good idea to oil your knife and hands first before cutting, as the fruit has sticky latex in it.
First cut the fruit into half and remove the central core from it.
Pull out the flesh bulbs from the rag and remove the seeds from it.
Cut the fruit into thin long wedges; make sure to cut all the fruits evenly for better frying.
Combine the turmeric powder, salt and water in a small bowl and keep aside.
Heat a deep fryer or a frying pan in medium-high, add enough oil for frying, wait till the oil is heated through, add the cut fruits and fry it stirring constantly.
While frying, add about 1/2 tsp of turmeric, water, and salt mix and give it a stir.
When adding the turmeric mix, step back as the oil will bubble up making a slight sound; don't panic, it will settle down soon.
Fry until the chips turn golden brown and transfer it to a platter with paper towel on it.
When it cools down, don't even wait for another second, grab a handful and start chewing the crispy chips.
If you find that you are being selfish and feel like emptying the chips ASAP – it's quite natural, it happens to me all the time : P
Mom's JackFruit Chips
Ingredients
Raw jack fruit- 1 whole fruit or half (depending upon your needs)
Turmeric powder- ½ tsp
Salt- to taste
Water- 3 tbsp
Vegetable oil- enough for deep frying
Instructions
If using fresh jackfruit, it's a good idea to oil your knife and hands first before cutting, as the fruit has sticky latex in it.
First cut the fruit into half and remove the central core from it.
Pull out the flesh bulbs from the rag and remove the seeds from it.
Cut the fruit into thin long wedges; make sure to cut all the fruits evenly for better frying.
Combine the turmeric powder, salt and water in a small bowl and keep aside.
Heat a deep fryer or a frying pan in medium-high, add enough oil for frying, wait till the oil is heated through, add the cut fruits and fry it stirring constantly.
While frying, add about ½ tsp of turmeric, water, and salt mix and give it a stir.
When adding the turmeric mix, step back as the oil will bubble up making a slight sound; don't panic, it will settle down soon.
Fry until the chips turn golden brown and transfer it to a platter with paper towel on it.
When it cools down, don't even wait for another second, grab a handful and start chewing the crispy chips.
If you find that you are being selfish and feel like emptying the chips ASAP - it's quite natural, it happens to me all the time : P