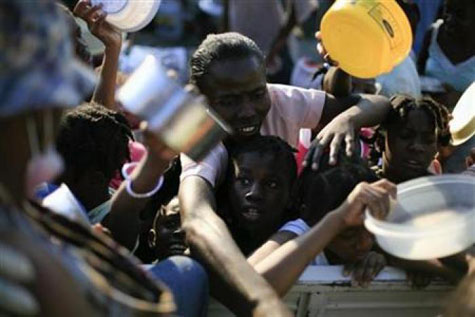 [People try to get food at a food distribution center in Port-au-Prince, January 17, 2010. Credit: REUTERS/Kena Betancur]
All we can now think and talk about is Haiti…
The bitter pain and sufferings of the Haitians are beyond our imagination and defies any description. It's indeed heart breaking to see fellow humans in Haiti are going through so much unimaginable pain. On the other hand, I am inspired and touched to see that people from different countries have united in helping Haiti in all way possible. During these hard times, we people are seen sticking together irrespective of race, color, language, religion etc. It's a great thing and makes me feel that everyone is blessed with a good, kind heart. So why can't we stay united as one forever and make this world a better place to live in.
Let us hope that peace and tranquility will restore and prevail in every human heart!
I had written a post on Thursday saying that I will be donating $100 to Haitian relief and if I get 250 fans by Sunday I'll be donating an extra $100 on behalf of the fans of Cooking with Thas. Many of my dear friends, fellow bloggers and others have suggested my blog to their friends and as of now I have 142 fans( it was 79 on Thursday). Even though I haven't reached 250, 142 is something huge and I've decided to donate $100 on behalf of all my fans. This is for a great cause and I feel blessed that I could help the people of haiti in my small way. My heart felt thanks to all my friends, fellow bloggers and my fans for your support, encouragement and motivation. Without you people I wouldn't be keeping up with this blog.
Here is the receipt:
If you haven't helped Haiti yet, Please help them, even if it is $1 it still counts. Your donation will help disaster victims rebuild their lives and their communities, please go here to donate: http://www.google.com/relief/haitiearthquake/
My prayers to Haiti…