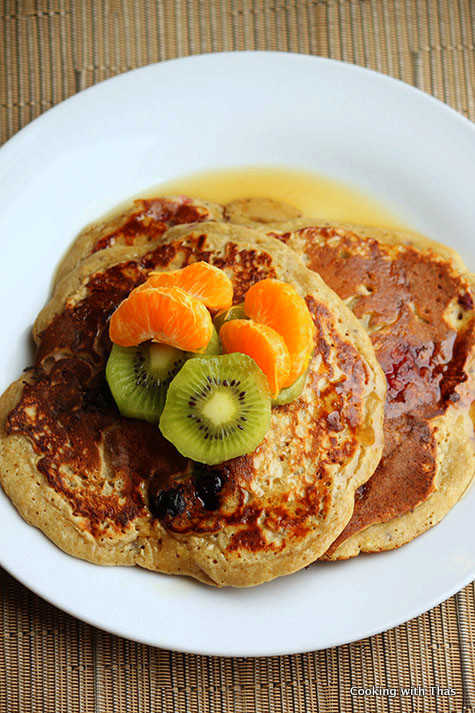 Healthy pancakes made with whole wheat flour…
If you are into whole wheat and want to make pancakes out of whole wheat instead of all purpose white flour, this is a must try recipe. Whole wheat has much intense taste so I added mixed berries and orange zest to make it flavorful. The bite of mixed berries and the aroma of orange zest made this pancake tastes delicious. Top the pancakes with fresh fruits and drizzle maple syrup and enjoy.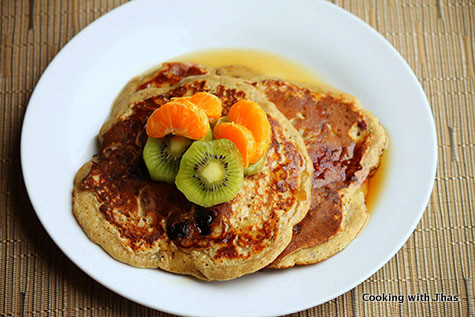 Cooking video
Whole Wheat Pancakes with Mixed Berries
Ingredients
Whole Wheat flour- 1½ cups
Egg- 1
Sugar- 3 tbsp
Baking powder- ½ tsp
Vanilla extract- 1 tsp
Milk- 1¾ cups
Mixed berries- 1 cup (strawberries chopped, blueberries, raspberries and black berries)
Orange zest- zest from 1 small orange
Butter - ½ tbsp/pancake
Maple syrup and fresh fruits while serving
Instructions
In a large bowl, combine together whole wheat flour, egg, sugar and baking powder.
Add vanilla extract, milk, combine well using a whisk till smooth.
Add mixed berries and orange zest, combine well.
Place a non-stick pan over medium heat, add ½ tbsp butter.
Add a large spoonful of batter onto the pan, spread the batter using the back of the spoon to a round shape.
Let cook and bottom side turn golden.
Flip it over and let other side turn golden as well.
Transfer to a plate.
While serving top with fresh fruits of your choice and pour maple syrup over the pancakes.