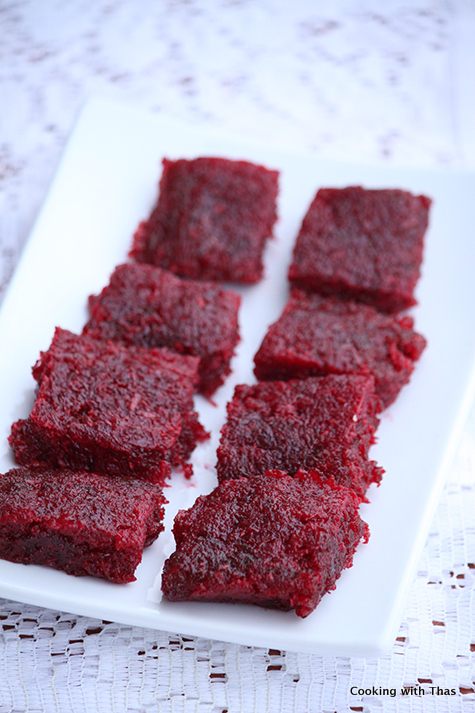 Turn beetroot into a delicious sweet…
Burfi is a sugar based Indian sweet, there are different variations of burfi and can be made with several ingredients. I had made burfi with carrot before, so this time I went with beetroot. My man frowned when I told him this was made with beetroot, he took a tiny bite did a taste test and then he gobbled up. It was pretty darn delicious…
This can be made effortlessly in just 20 minutes, as soon as it's served it will disappear in no time…
Khoya Burfi- made in the microwave
Cooking Video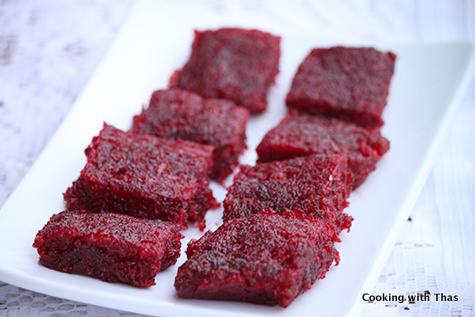 Beetroot Burfi- Indian Sweet
Ingredients
Ghee- 2 tbsp
Beetroot, grated- 1 cup
Coconut, grated- 1 cup
Sugar- 2 cups
Whole cardamom, crushed- 2
Ghee- 1 tsp, to grease the plate
Instructions
Place a non-stick pan over medium heat, add 2 tbsp ghee, let it melt.
Add grated beetroot, combine well in ghee.
Add grated coconut, combine well and roast for 5 minutes till the raw smell goes away.
Add sugar, combine well till sugar melts.
Add crushed cardamom, combine well.
Cook and stir frequently till the mixture thickens- about 10 to 15 minutes.
Grease a plate with ghee.
Spread the beetroot mixture evenly on the plate and smooth the top.
Let cool down and set for an hour.
Using a sharp knife, cut into squares.
Enjoy the delicious beetroot burfi.