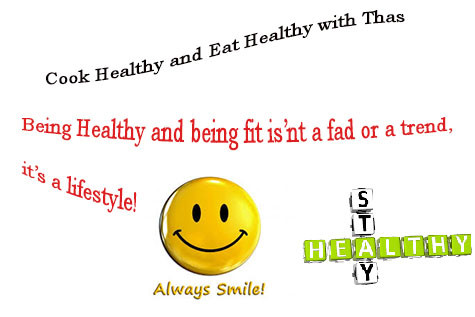 I'm starting a new series: Cook healthy and Eat healthy with Thas. As part of this series, I'll be sharing weekday meal ideas, dishes you can plan and cook ahead of time or on the day after you are back from work.
It's very important to eat a healthy, balanced and nutritious meal. Eating healthy is not that hard, with a little bit of planning, with right ingredients and by following my recipes you could tackle this.
With a full time job, I used to find it difficult to prepare food from scratch every single day. It didn't take that long for me to realize that taking care of my health and eating right should be my top priority. Honestly, I'm not into bulk cooking and storing food in the freezer for weeks. I'm a sucker for fresh food. Hence, I cook after I'm back from work for dinner and pack the same meal for next day's lunch as well. Mostly, I go with easy one pot meals on week days. It's during the weekends, I try something fancy and different dishes; that's what gets into my blog.
Remember: It's all about priorities and no time for cooking is not a valid excuse. So, prioritize your daily activities. Yes, your health and your wellness should be on the top list. Everything else can wait, literally. Ignore all those people and activities that don't add any value to your life and learn to say "No" if your heart says No- follow your heart. If you follow a few simple rules like these life will be much happier and less complicated. I swear!
Besides eating healthy, yet another important factor towards wellness is dedicating 30 minutes or so for yourself everyday and focus on some kind of workout: could be yoga, zumba, pilates or running. If you cannot hit the gym, turn on the youtube group workout videos and you are good to go.
In this post, I'll share some of the recipes you can make effortlessly that will make an awesome weekday meal. Some of the vegetarian recipes, you can add diced up boneless chicken breast if you want to have the bite of chicken in it- my Man needs that 🙂 I try to add different kinds of lentils, mixed vegetables to most of the non-veg dishes I make- that way it will be rich in protein, fiber and other nutrients.
If you have been thinking of making a healthy lifestyle change that you desire, stop thinking- seriously and get into action today.  No more procrastination!
Hello week- I'm ready to rock!
Monday Motivation- "Monday is a fresh start. It's never too late to dig in and begin a new journey of success"  Let's do it together!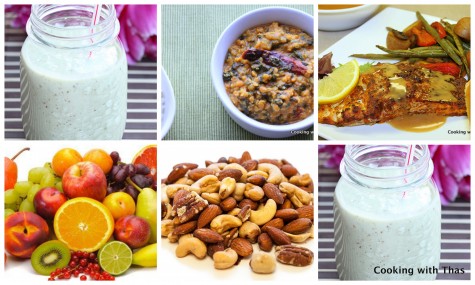 Breakfast
On the go Smoothie- Healthy tips: You can make this smoothie with mixed fruits, replace milk with coconut milk, add natural sugars like honey, maple syrup or add dates that will sweeten up.
Lunch
Healthy Tips: this curry is packed with protein and fiber.
Spinach and Red Lentil Curry : Serve with Quinoa, Brown Couscous, Brown Rice, Whole Wheat Roti etc. If you prefer you can add diced up chicken breast while making this curry.
Afternoon snack
Have fresh fruits, vegetables like carrot, red pepper, steamed sweet potato, broccoli, chick peas or nuts.
Dinner
This can be made after you are back from work. Leftovers can be packed for next day lunch.
Tuesday Thoughts: "It's Tuesday and I choose to make a difference"- Put that smile on your face and get going.
Breakfast
Lunch
Dinner
Tips: You can make wraps or rolls with this broccoli roti: use mixed steamed or roasted veggies or shredded chicken- this will make an awesome lunch for the next day.
Vegetarian version: 
Wednesday Wisdom- "We make a living by what we get but we make a life by what we give"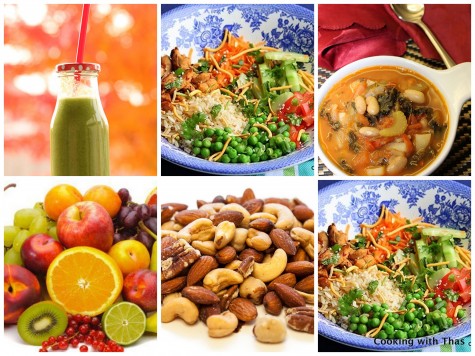 Breakfast
Healthy Tips: This smoothie is an instant energy booster and high in fiber- you can add different kinds of nuts.
Lunch
Dinner
Tips: you can add shredded chicken to make this non-veg.
Thursday Temptation: "Imperfection is beauty, madness is genius and it's better to be absolutely ridiculous than absolutely boring"
Breakfast
Lunch
Dinner
Friday Fulfillment: "Let your freak flag fly high, there's nothing more attractive and successful that being yourself"
Breakfast
Tips: you could add mixed berries instead of banana to the pancake batter.
Lunch
Tips: Different kinds of noodles can be used.
Dinner
Healthy Tips:
I make most of my chicken dishes healthy by adding boneless chicken breast. Add different kinds of veggies, greens and lentils. I always go with whole wheat pasta and brown rice. To beat the afternoon energy slump- have mixed nuts, smoothies that will make you feel energized and focused.
Hope you guys liked the Series 1, please do let me know your feedback. If you have tried these recipes, don't forget to click a picture and share with me.
Stay tuned for the Series 2, until then Stay awesome!!!