Whole Turkey marinated with fresh herbs, cooked and grilled; aromatic and flavorful Turkey…
I cook Turkey only on Thanksgiving. Every year, my only intention is to make the turkey taste delicious and flavorful. This Thanksgiving I totally nailed it by grilling it. In Canada, we celebrate Thanksgiving in October, and this time it was a gorgeous warm day and I took full advantage of it by grilling outdoors. While in the US , it's celebrated in November. As Americans are geared up to celebrate Thanksgiving, I thought of sharing this recipe.
Here is a mini Thanksgiving spread that I had prepared.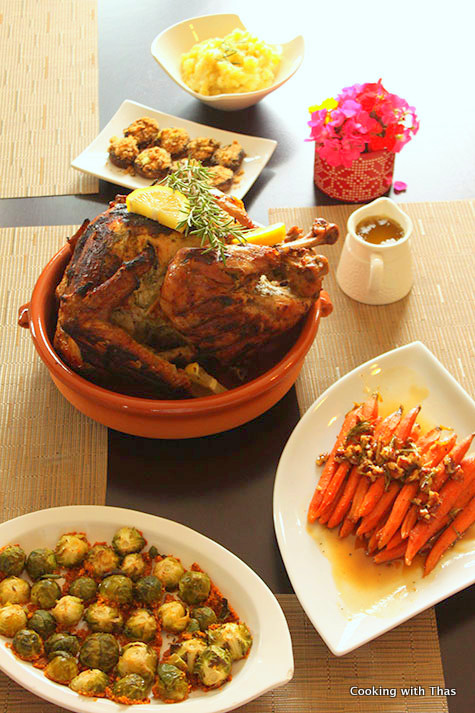 I made the herb marinade by combining fresh cilantro, mint leaves along with a few other ingredients, marinated Turkey was let to rest for a few hours so that the flavors are absorbed well and then it was cooked in the pressure cooker for an hour and then grilled to perfection.
The turkey tasted flavorful, my Man gave his approval by eating more than usual…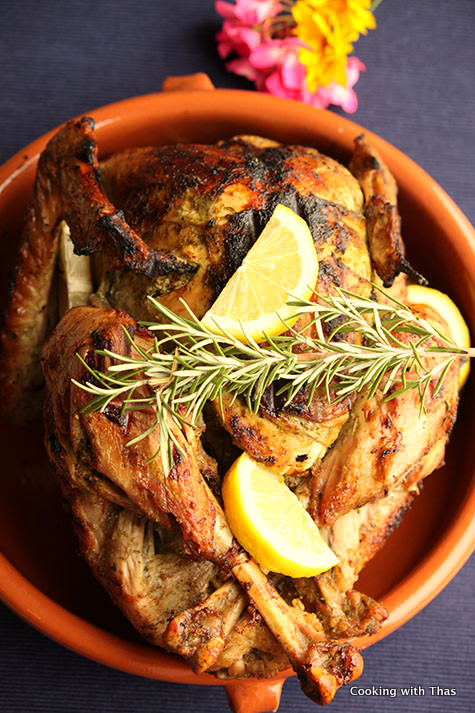 Grilled Whole Turkey Recipe
Ingredients
Whole Turkey- 8 to 10 lbs or 5 Kg
Non-stick cooking spray
For making Marinade
Ginger, roughly chopped- 3 inch slice
Garlic cloves- 6 cloves
Green chilies- 5 to 7
Fresh Cilantro, roughly chopped- 1½ cups
Fresh Mint leaves- 20
Curry leaves- 2 sprigs (optional)
Whole black pepper corns- 2 tsp
Whole Cardamom- 5
Turmeric powder- ½ tsp (optional)
Salt- 2 tsp (or to taste)
Lemon juice- juice of 1 lemon + more lemon juice wile grilling
Water- enough to make a paste
Instructions
Frozen whole Turkey has to be thawed in the refrigerator for 24 hours. After that place the turkey with the skin in cold water for a few hours till it has completely thawed.
Squeeze lemon juice all over the turkey and inside the cavity, give a good massage and rinse under running water.
Into a blender, add all the above mentioned ingredients 'for making the marinade' and add enough water to make a smooth paste.
Spread the marinade all over the turkey and inside the cavity as well. Place it in a large bowl, cover with plastic wrap and keep aside for 3 to 4 hours or overnight.
Place the whole turkey into a large pressure cooker and close the lid. I didn't place the whistle.
Save the marinade that's left in the bowl- while grilling we will use this to spread on the turkey.
Let cook for 1 hour and 15 minutes or till the turkey has almost cooked well.
Take the cooked turkey out of the cooker.
Save the liquid in the pressure cooker- turkey broth, can be used for making gravy (heat the liquid and add 2 tbsp corn starch combined with 1 tbsp cold water, keep stirring and cook till gravy thickens).
Have the grill ready, grease the grill with non-stick cooking oil.
Spread some marinade from the bowl on the turkey, spray non-stick cooking oil over it.
Place it on the grill, cover the grill and let grill.
After 10 to 15 minutes of grilling, flip over the turkey- spread some more marinade, salt if required, drizzle lemon juice, spray non-stick cooking oil and grill. If you want, sprinkle some ground pepper as well.
Grill while flipping often, till all the sides have turned slight brown.
Transfer to a large platter, garnish with lemon wedges and fresh herbs and serve.
Enjoy with family and friends.