Tres Leches cake or milk cake, it just melts in your mouth…
Let me introduce my new favourite cake, Tres Leches. It's an ultra-soft, light, fluffy & absolutely divine cake. A popular cake in Mexico & Latin America, that has stolen the hearts of many around the world.
I baked this cake for my birthday & I'm glad I picked this cake to celebrate my special day. My hubs & I couldn't stop with just one slice, so irresistible & divine.
What's amazing is the recipe only calls for simple ingredients that are always seen in our refrigerator & pantry. It's basically a sponge cake soaked in 3 kinds of milk & topped with whipped cream frosting.
I've soaked the cake overnight, soaking didn't make the cake soggy, it was moist yet firm. This cake is also perfect for those without a sweet tooth, not overly sweet. It's my kind of cake, incredibly yummy.
Perfect make-ahead cake for any special occasion or holiday.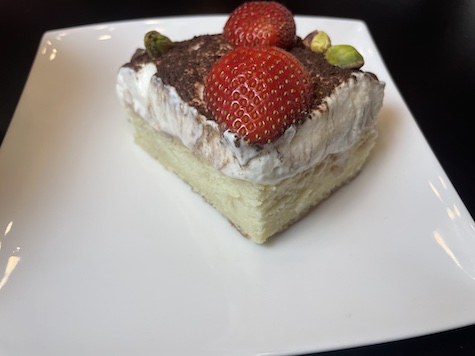 Baking Video
Tres Leches Cake Recipe | Melt in Your Mouth Three Milk Cake
Ingredients
For making cake batter
Egg whites- from 4 eggs
Lemon juice- ½ tsp (or add white vinegar or cream of tartar)
Sugar- ½ cup
Egg yolks- 2
Milk- ½ cup
Vanilla extract- 1 tsp
All-purpose flour- ¾ cup
Baking powder- 1 tsp
Salt- ¼ tsp
For making 3 milk mixture
Milk or heavy cream- ½ cup
Evaporated milk- ½ cup
Sweetened condensed milk- ½ cup
For making frosting
Heavy whipping cream, cold- 1½ cups
Powdered sugar- 2 tbsp
Vanilla extract- 1 tsp
For garnishing
Cocoa powder
Strawberries
Pistachios
Chocolate chips (optional)
Instructions
Preheat the oven to 350 F or 175 C.
In a bowl, beat at high speed- egg whites, sugar & lemon juice till soft peaks have formed. Keep it aside.
Instead of lemon juice, white vinegar or cream of tartar can be added.
In another bowl, beat egg yolks, milk & vanilla extract till pale & fluffy.
In a bowl, combine flour, baking powder & salt.
Add the flour mix to the beaten egg yolks, beat at low speed till well incorporated.
Gently fold in the beaten egg whites in 3 additions.
Do not over mix the batter.
Grease a square or rectangle 8-inch baking pan with butter, line with parchment paper.
Pour the cake batter to the pan.
Place in the preheated oven on the middle rack.
Bake for 25 minutes.
After 25 minutes, insert a knife or toothpick into the center of the cake, it should come out clean.
Take the cake pan out of the oven, let cool down completely on a wire rack.
Transfer the cake to a large square casserole.
In a bowl, combine the 3 kinds of milk & combine well.
Pour the milk mixture over the cake.
Refrigerate for 3 to 4 hours or overnight.
Whip cold heavy whipping cream at high speed, with sugar and vanilla extract till soft peaks have formed.
If there is milk mixture on top of the soaked cake, using a spoon remove the milk. Save it, tastes yum.
Frost the cake with whipped cream.
Sprinkle cocoa powder. This is optional.
Top with halved strawberries & pistachios.
On the sides place chocolate chips. This is optional.
Refrigerate for an hour, frosting will set well.
Absolutely decadent cake, it will just melt in your mouth. Divine!