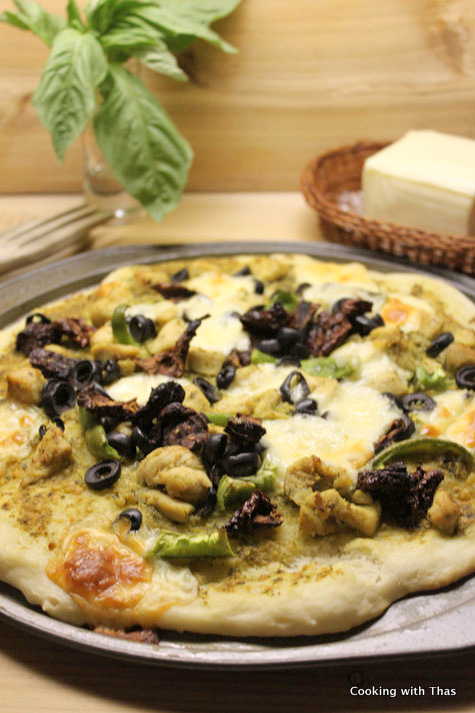 Delizioso…
When I make something that's really really really delicious, first I enjoy it with my man and the second thing I want to do is blog about it and share with you all. I've made this pizza a couple of hours ago for dinner, I don't think I can get over with this pizza for a very long time. It's one of the best pizzas I've ever had.
Last night, my man had a pizza craving, since it was too late we were a little lazy to drive to a pizza place. However, I promised him that I would make him a delicious pizza the next day. After I woke up my mind was loaded with pizza. I took a moment and flipped through all the different pizzas that I'd eaten over the years. Since I love variety I've enjoyed all kinds of pizzas. But there was one pizza that has made my taste buds go crazy: Italian pesto pizza. If I start talking about pesto I'll turn into a chatterbox. Pesto has become a staple for me, anything that's smeared with pesto is a delicacy for me. If you haven't tasted pesto yet, I would say it's big time you rush to a store and buy pesto.
The thought of spreading the pizza base with pesto itself excited me. I made a gluten free pizza version for my man and a regular version for me. I topped the pizza dough with sun dried tomatoes, pesto chicken, black olives and mozzarella cheese. First, I baked the gluten free version, as soon as it was put into the oven I saw my man peeping through the glass on the oven door. He literally couldn't wait and he acted no less than a kid. Pizza does bring out the kid in us, huh?
I used the store bought pesto, making homemade pesto is still on my to-do top list. Hopefully soon I will try in my kitchen and share the recipe with you all. If you know how to make pesto, go ahead and make it and use that to spread on pizza base. Else, get it from a store. We are making homemade pizza crust, so no need of getting the store bought crusts anymore. You could make the dough the previous day and keep it in the refrigerator. If you keep the dough in a warm place or inside a warm oven, it only takes an hour for the fermentation to take place. Literally, we are not doing any major work while making pizzas. Make the dough, top the pizza base and it goes into the oven. Before you know, it will be ready and you will scream delizioso…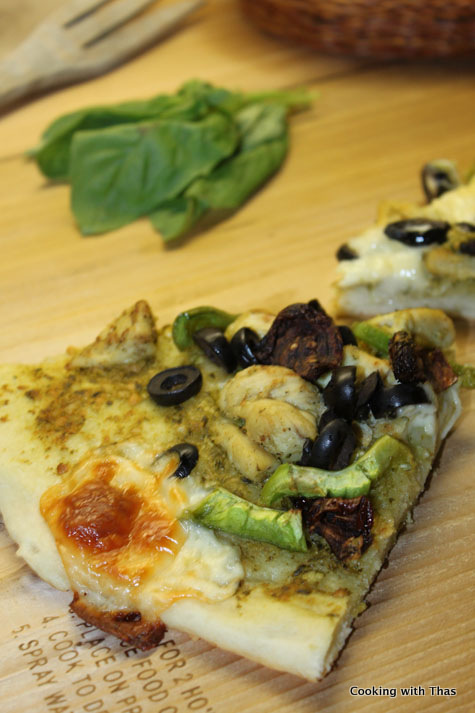 Italian Pesto Pizza
Ingredients
Making Pizza Dough, 1 large crust
All purpose flour- 2 cups + ⅙ cup
Dry active yeast- 1⅛ tsp
Brown sugar or white sugar- ¼ tsp
Warm water- ¾ cup
Salt- ½ tsp
Olive oil- 1 tbsp
For cooking chicken
Chicken breasts, diced- 2 breasts
Ground pepper- ½ tsp
Salt- to taste
Pesto- 2 tbsp
For topping
Pesto- to generously spread on pizza base
Mushrooms, sliced- ½ cup
Sun dried tomatoes, soaked in hot water for 2 minutes- 6 slices (optional)
Black olives- ¼ cup
Green pepper, chopped thin- 1 or add red pepper
Mozzarella cheese- to spread on pizza
Instructions
Making homemade pizza Crust:
In a small bowl, combine yeast, warm water and sugar, let stand for 10 minutes.
After 10 minutes, add the salt and oil to the yeast solution.
In a large bowl, pour the yeast solution, slowly add the flour and knead.
It will be sticky in the beginning, after you add the entire flour you'll find it easy to knead.
Knead the dough well, it should be soft and smooth, don't add too much flour and make it a hard dough.
Place the dough on a bowl greased with oil and cover the dough with a damp towel keep aside for in a warm place for 1 hour.
For better fermentation: Turn on the oven at low temperature for a few minutes. When it gets slightly warm, turn it off and place the dough in the oven for an hour.
Do not cover the dough with wet kitchen paper towels, after an hour it will be stuck to the dough and will be very hard to peel if off.
After an hour, the dough would have doubled in size.
Combine the dough once again and let it sit for a minute.
Cooking chicken:
Place the chicken along with ground pepper and salt in a pan and cook covered till it has cooked well.
Add 2 tbsp pesto and stir fry for a few minutes, Keep aside the cooked chicken.
Assembling Pizza
Preheat oven to 425 F or 218 C.
Spray a large round pizza pan with non-stick cooking spray.
Place the dough on the pan and using your hands spread it to a round shape, 1 inch thick.
Spread pesto generously over the dough.
Top with cooked chicken.
Top with sun dried tomatoes, olives, mushrooms, green pepper or red pepper and finally spread cheese all over the pizza.
Place the pan on the lower rack and bake for 20 minutes.
After 20 minutes, you could broil the pizza at low heat for a minute. Don't broil for more than a minute, the cheese will burn and the crust will turn crispy.
Remove from the oven, let cool down a bit, slice using a pizza cutter.
Indulge in this delicious pizza.
Notes
To make gluten free version: Use gluten free all purpose flour, 1 tsp Xanthan gum and follow the preparation method.
To make vegetarian version: Ignore the chicken.
Step by step Pictures