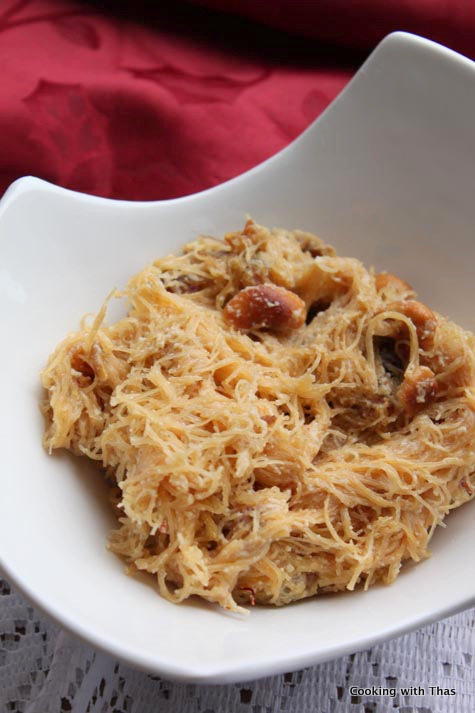 For your sweet cravings, an easy to make dessert…
I am enjoying my holidays, can't believe it's already Wednesday. Two more days and then the long weekend, after that I have to get back to work. By next week Ramadan will come to an end and we will be having Eid celebration most probably on Thursday or Friday. Looking forward to that.
The other day, when I had a sweet craving I made this easy to make sweet vermicelli or vermicelli in cream cheese. This is a very simple recipe, but will definitely sweeten up your taste buds.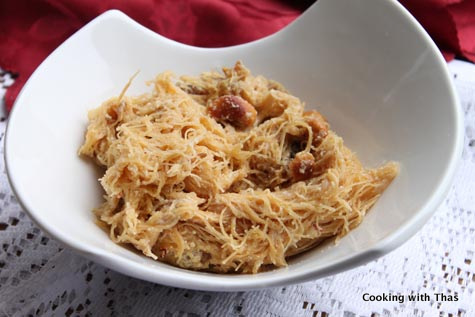 Preparation picture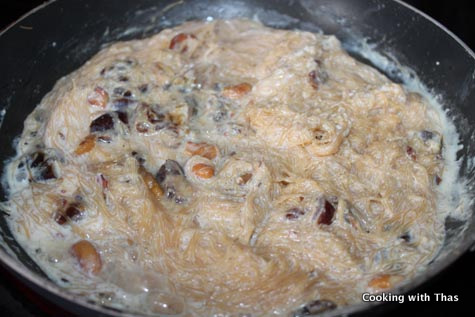 Sweet Vermicelli or Vermicelli with Cream Cheese
Ingredients
Ghee- 1 tbsp
Cashew nuts, unsalted- 2 tbsp
Dates- 6, pitted and chopped
Vermicelli, roasted- 100 g ( I used really thin roasted vermicelli)
Milk- 1 cup
Cream cheese- 2 tbsp
Saffron strands- 2 pinches soaked in ½ tbsp water
Sugar- 4 tbsp
Ghee- 1 to 2 tbsp to add at the end
Instructions
Place a non-stick pan over medium heat, add ghee.
Add cashew nuts and roast it till golden in color.
Add pitted, chopped dates, saute for a few minutes.
Add roasted vermicelli, (I used the really thin vermicelli, this will cook very fast and tastes good too), saute for a minute.
Add milk, cream cheese, saffron and sugar, combine with the vermicelli and cook for a few minutes till vermicelli has cooked well and the milk starts to thicken up.
Add 1 to 2 tbsp more ghee and combine well, cook for a minute.
Remove the pan from the heat.
Let the vermicelli cool down, serve.
If you want you can chill it in the refrigerator and serve.