Squid peera, cooked with coconut, Kerala recipe…
Kerala Peera is a traditional South Indian dish from the state of Kerala, known for its unique and rich flavors. It's a coconut-based curry typically made with seafood, and it's often flavored with spices like turmeric, cumin, and green chilies. The word "Peera" refers to the grated coconut that is an essential ingredient in this dish.
Peera can be prepared with fish like anchovies, sardines, or with squid.
This is a dry dish & is enjoyed with kerala matta rice.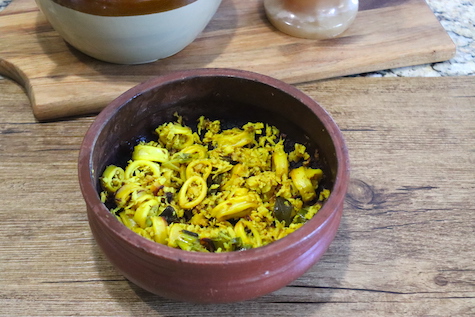 Squid Peera -Cooked With Coconut | Kanava Kerala Recipe
Ingredients
Squid rings- 30 rings
Garlic, minced- 1 tbsp
Ginger, minced- 1 tbsp
Green chilies, chopped- 2 or 3
Fresh tamarind- 2-inch slice
Cumin seeds- 1 tsp
Curry leaves- 10 leaves
Grated coconut- 1 cup
Turmeric powder- ½ tsp
Salt- 1½ tsp
Coconut oil- 2 tbsp
Instructions
You can either use squid rings or use both rings & tentacles.
The squid I used was frozen, add to slightly warm water for a few minutes & rinse well.
I cooked this in a clay pan or use a regular saucepan.
Add all the ingredients to the pan & combine well using your hand.
It's important to combine well.
Place the pan over medium heat & close with the lid.
Cook for 20 minutes, let the squid turn soft.
If it's getting dry add ¼ cup water & cook till squid has cooked well.
Open the lid & cook over high heat till the coconut turns golden brown & golden brown spots form on the squid.
This is a dry dish & tastes delish when the coconut turns golden brown.
Take the pan off the heat & keep it covered for some time.
This can be served as a side dish along with rice.