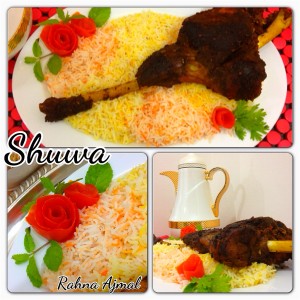 SHUWA is not just my family favorite recipe.. It's a whole Nation's favorite main course. Shuwa is a typical Omani delicacy prepared only on very special occasions. Eid is probably the most common occasion hence "" The meat festival "" The method of preparing shuwa is elaborate. The meat is marinated with spices and then wrapped in sacks made of dry banana or palm leaves. These sacks are then thrown into the underground sand oven, which is covered with a lid and sealed so that no smoke escapes. In some villages, the meat is cooked for 24 hours while in others it is believed that meat tastes better after 48 hours. The meat becomes extremely tender and it is impregnated with spices and herbs before cooking to give it a very distinct taste, usually served with rice.

SHUWA
Ingredients
INGREDIENTS FOR SHUWA
1 leg of lamb, from ( 1.5kg to 2.5kg with punched holes in a few places)
10 cloves garlic, crushed
2 tsp ground pepper
1½ tsp ground cumin
2 tsp ground coriander seeds
1½ tsp turmeric powder
1 tsp ground cloves
25-30 dry red chili powdered (adjust the spice level according to your needs)
4 tbsp cooking oil
3 tbsp vinegar
Juice of 1 Lemon.
Ingredients For cooking Rice:
2-3 cups Basmati Rice
Water ( according to the number of cups of rice you take )
1½ tsp cumin seeds
1 tsp pepper corns
3-4 cardamom pods
3-4 cloves
3 inch cinnamon
2 star anise
3-4 bay leaves
Salt to taste
Yellow food color
Orange food color
Instructions
Adjust the amount of dry red chili according to your spice level.
Thoroughly combine all ingredients, except lamb leg. Rub the spices on the lamb leg forcing some of the liquids into the punched holes.
Wrap the meat using dry banana leaves or palm leaves.
Marinate in refrigerator overnight.
Place the marinated meat wrapped up in the banana leaf in a roasting pan and cover, then roast in a 250 F pre-heated oven for 3 to 4 hours or until leg is well cooked, basting from pan juices every 30 minutes and turning over once or twice. Uncover and roast at 350 F for 20 minutes, turning over once.
If the banana leaf dries off, you could wrap it with aluminum foil.
Cook till done !!
You can also cook SHUWA in the traditional Omani way by cooking it on drum or by digging pit.
You have to burn the wood and coal till it is red hot and once the shuwa is in, just put the lid on without making the drum airtight.
Cooking the rice
Heat a heavy bottom pan,
Add oil. Add in the whole spices one by one. Sauté for nearly 30 seconds.
Add in the water.
When water starts to boil, add the soaked rice.
Cook till the rice has almost done, do not over cook it. ( Each grains separated ).
Separate the rice into two equal parts.
Spread them on two different plates.
Allow them to cool.
(Remove the star anise).
Once cooled down, mix one part of the rice with yellow food coloring.
And the other part with orange food coloring.
Serve Shuwa with Rice and Ghahwah (Arabic Coffee).