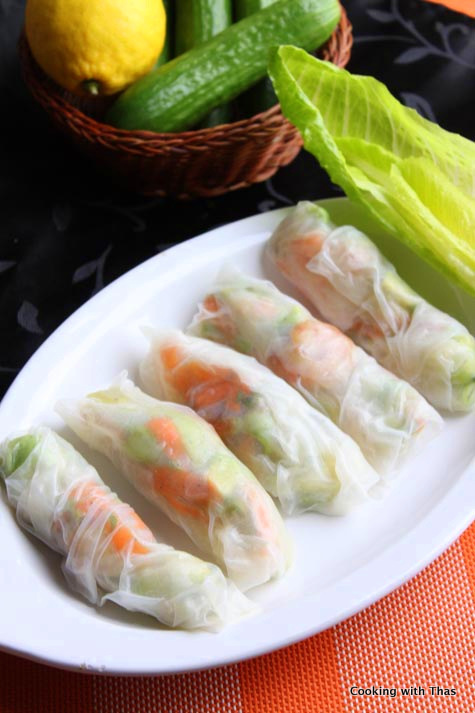 Refreshing rolls that has shrimp in it, perfect for seafood lovers…
This week feels like a drag to me, I know the week just started and it's not fair to murmur already. Can you believe that April has come to an end? Wasn't that pretty fast??? April showers bring May flowers, so I am eagerly waiting to see my garden in full bloom in May. This evening, I had a stroll in my garden and saw a few of the plants have sprouted out of the soil. That put a huge smile on my face and yes I clicked a picture or two as well. Here is a picture, I need to remove the snails in my front yard they look cute but they actually feed on the plants and destroy them. I am not going to let that happen. This weekend is going to be a gardening weekend for me, can't wait to get dirty in the yard.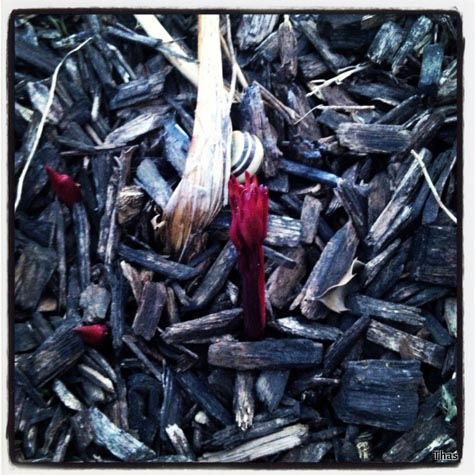 I'd been interviewed by Muslimah Media Watch a couple of days ago. The interviewer is one of my friends (we haven't met each other yet, we got connected on FB through a mutual friend) and a very talented writer, she writes under the nick name Izzie for this wesbite. This morning she shared the published article with me, that definitely made my day. I loved the questions as it was quite different and I had to put some thoughts on it. Sharing the interview article with you all, read the full article here.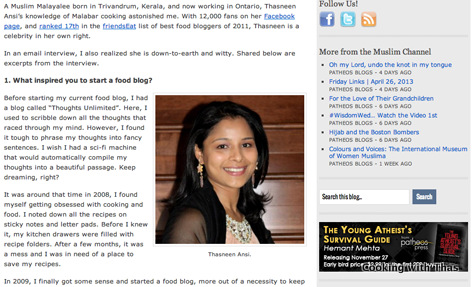 Talking about these shrimp rice paper rolls, they make a perfect appetizer for Summer. I wrapped the rice paper with shrimp and veggies. Any seafood lovers will fall for this and it's quite refreshing too.
Recipe for making: Thai Chicken Summer rolls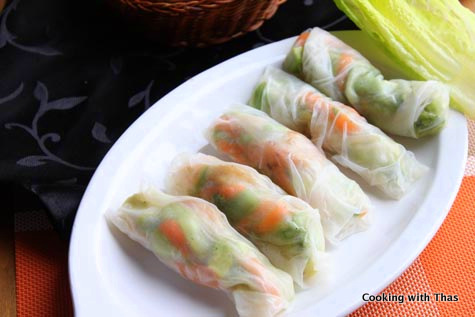 Step By Step Pictures
Recipe for making Dipping sauce, here

Shrimp Rice Paper Rolls - Refreshing Shrimp Rolls
Ingredients
To cook Shrimp
Shrimp, deveined- 10, large
Ground pepper- ¼ tsp
Soy sauce, low-sodium- 1½ tbsp
Honey- 2 tsp
For making Veggie Filling
Cucumber, julienned or peeled thin - 2, small salad cucumbers
Carrots, julienned or peeled thin- 1
Avocado, chopped small- 1(optional)
Cilantro, chopped- 2 handful
Lemon juice- 1 tbsp
Ground pepper- ⅛ tsp
Salt - a few pinches
Instructions
In a saucepan, combine shrimp along with ground pepper, soy sauce and honey. Cook over medium heat for a few minutes till shrimp has cooked. Keep aside.
In a bowl, combine the veggies along with all the above mentioned ingredients.
Fill a bowl or pan with warm water, place the rice paper in it and soak for a few minutes till it has turned soft.
Dry the soaked rice paper with kitchen paper towel.
Place the soaked rice paper on a cutting board.
On one end of the rice paper, add a couple of tablespoons of the veggies and one cooked shrimp.
Fold and wrap the rice paper tightly. Keep aside.
Repeat with other rice papers.
Serve with Thai chili dipping sauce or any of your favorite dipping sauce.