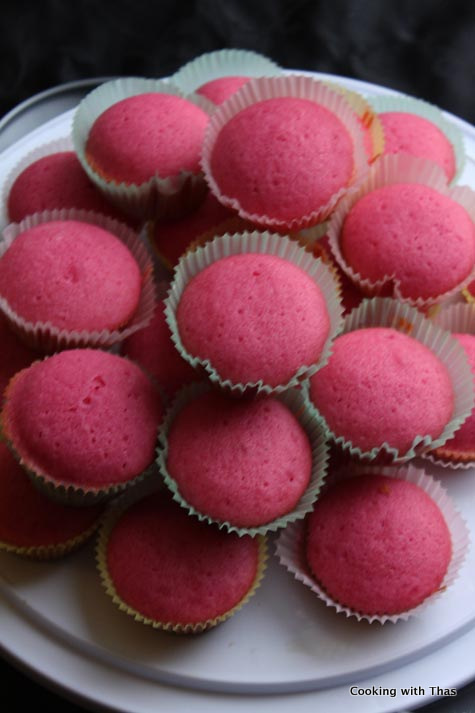 Celebrating my blog's 4th anniversary with these pink velvet cupcakes…
Happy 4th birthday to my blog. Yes, it's been 4 years since I've started my blogging journey. What an incredible journey it was! I did learn and improve a lot over the years whether it's cooking or blogging or food photography or connecting with people. One of my dreams was to be a food writer and I did work hard on making that dream come true. I feel content.
While one part of my mind was being nice to me and appreciated the things that I've done, all of a sudden I heard another part of my mind yelling at me  "you haven't done anything, you have a long way to go. Girl, wake up!". There started a huge conflict.
I closed my eyes and thought for a while, tried to make peace with the conflicting minds.
I am very aware about my weaknesses and that I have so much things to improve and I have long way to go, at times I also feel that I am nothing when compared to those people who make a lot of difference in others life. I can keep talking about the things that I haven't done yet. I believe this is one of the feelings most of us have "the not enough feeling".
However, today I am not thinking about the things I haven't done yet. I am not letting anyone and myself make me feel embarrassed. I am only looking at the bright side and I am appreciating myself for everything that I've accomplished over the years. I have no complaints whatsoever, I am happy with the way it is, even if it's my website or the way I am. Everything happens for a reason. Appreciate yourself, strengthen yourself, motivate yourself, and most importantly surround yourself with positive and good people. Learn to say NO to certain things and ignore people who make you feel worthless, if you start doing this you are on your way to happiness.
I believe that none can take all the credit and keep it to themselves. If we succeed in doing something, it's not just us and our effort but the support of a lot of people would be involved in that. Hence, on this day I would like to express my gratitude to my husband, my parents, my sis, my friends, my readers and everyone who take time to stop by my website. You all have helped me to grow this website to where it is today and motivates me to keep blogging. Heart felt gratitude!
Today, I had a small celebration with my friends with whom I did research in Chemistry for 2 years. They were total strangers 2 years ago, we belonged to different cultures, different backgrounds and different countries. All these differences melted away as we met and worked together, before we knew we became best friends. Now we live in different places, so today we had a reunion. I am so glad to have celebrated with my like minded friends with whom I can be myself. We 3 girls giggled, blabbered, cooked, ate, roamed around and had so much fun. My man over heard some of our talks and he couldn't help thinking how crazy we were 🙂 Yes, men should avoid listening to girls talk, they cannot handle it 😛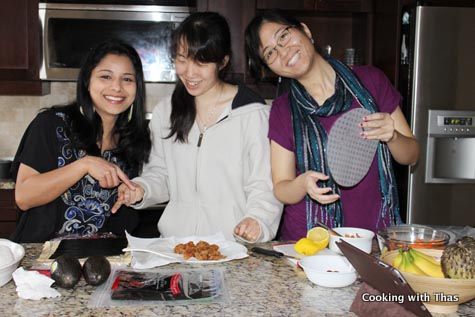 I made an Asian themed lunch, the dishes I made were: Shrimp Rice paper rolls, Shrimp tempura sushi, Dragon chicken, Egg fried rice and pink velvet cupcakes. I always make a cake when there is a celebration, today I made cupcakes instead. I made an easy pink velvet cupcakes. I topped the cupcakes with cream cheese frosting. I used icing sugar instead of powdered sugar and combined with the cream cheese. The frosting didn't turn thick, I guess it's the icing sugar which also had corn starch added to it caused the problem. I wasn't that happy about how the frosting turned out. However, the cupcakes by itself tasted delicious, not too sweet and very light.
Recipe for making Butterscotch frosting (half the recipe).
Step By Step Pictures
Pink Velvet Cupcakes
Ingredients
All purpose flour- 2½ cups
Sugar- 1½ cups
Eggs- 2
Baking powder- 1 tbsp
Salt- ¾ tsp
Light olive oil or vegetable oil- 1¼ cups
Buttermilk- 1 cup
Vanilla extract- 1 tsp
Pink color- 4 tsp (or add more accordingly)
Instructions
Preheat oven to 350 F.
Line the cupcake pans with the cupcake liners, spray non-stick cooking spray on it. Keep aside.
In a large bowl, combine the flour, sugar,baking powder and salt.
In another bowl, combine buttermilk and oil together using a whisk.
Slightly beat the eggs using a whisk and add to the flour mixture.
Add the buttermilk and oil to the flour, combine well using an electric hand mixer on low speed for a few seconds.
Add vanilla extract and pink color to the batter, combine well.
Pour the batter into the cupcake liners, fill only ¾ th of the liner.
Bake for 25 minutes or until a tooth pick inserted in the center of the cupcake comes out clean.
Let the cupcakes cool down completely.
If you prefer top the cupcakes with frosting.
Notes
Here is the recipe for making butterscotch frosting (Half the recipe):
https://www.thasneen.com/cooking/butterscotch-pecan-cake-butterscotch-frosting/