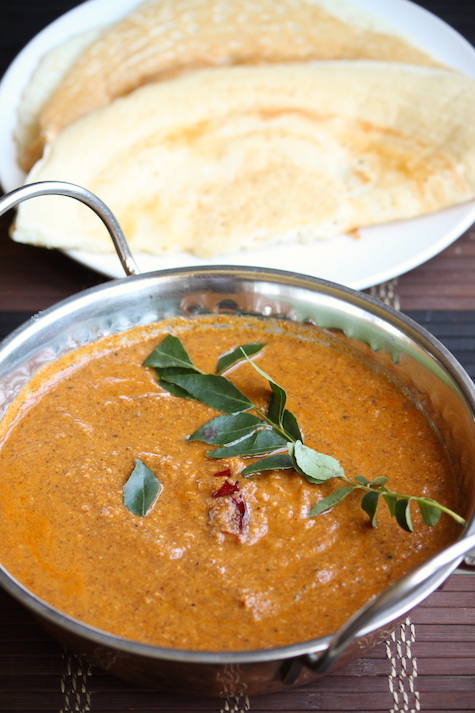 South Indian style chutney made with roasted coconut, dals and aromatic spices…
This one is a special chutney recipe made by pan roasting dals, grated coconut and whole spices, ground to a smooth paste and cooked along with tempering.
This is a flavourful and aromatic recipe, goes really well with dosa idli, appam etc.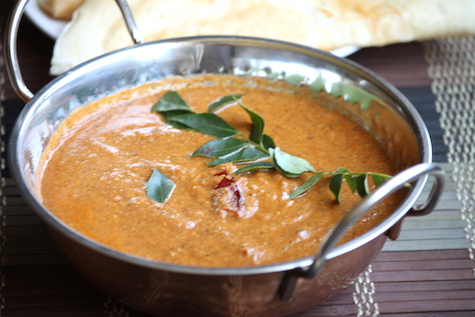 Cooking Video
Roasted Coconut Chutney- Varutharacha Thenga Chutney
Ingredients
For Roasting
Chana dal- 2 tbsp
Urad dal- 1 tbsp
Coriander seeds- ½ tbsp
Dried red chilies- 3
Cumin seeds- 1 tsp
Whole black peppercorns- ½ tsp
Curry leaves- 1 sprig
Grated coconut- 1½ cups
For Cooking
Oil- 2 tbsp
Mustard seeds- 1 tsp
Dried red chilies- 2
Curry leaves- 1 sprig
Fresh Tamarind- ½ cup ( 2 inch fresh tamarind soaked in ½ cup water)
Instructions
Place a pan over medium heat; add chana dal, urad dal, dried red chilies, coriander seeds, cumin seeds, whole black peppercorns and curry leaves; roast for 5 minutes.
Add grated coconut, roast till golden brown.
Let cool down.
Add the roasted ingredients to a blender, add 1½ cups water.
Grind till smooth.
Soak 2 inch fresh tamarind in ½ cup water for 5 minutes. Squeeze the tamarind to extract juice, strain juice and discard the skin.
Place a pan over medium heat. Add oil, let turn hot.
Add mustard seeds, let splutter.
Add dried red chilies and curry leaves, saute for a minute.
Add the ground paste, combine well.
Rinse blender with ½ cup water and add to the pan. Combine well.
Add tamarind juice, combine well.
Cook for 5 minutes.
Remove the pan from the heat, transfer to a bowl.
This chutney can be served with dosa, idli, appam etc.