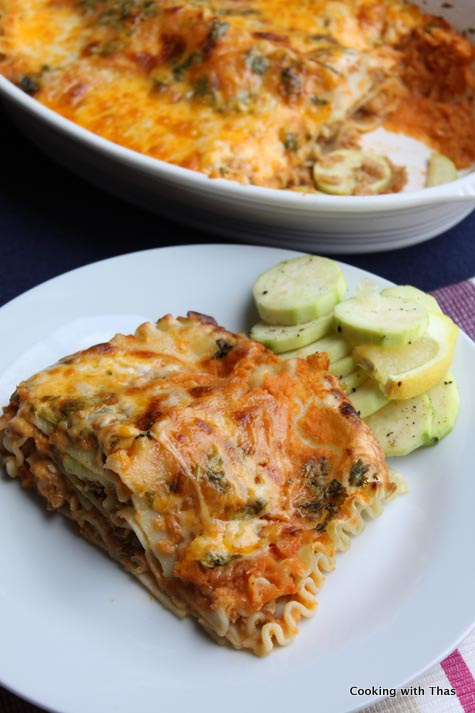 A great dish to trick any hard core non-vegetarians, they will fall head over heels…
Hope all my dear readers are doing great. Finally, the much awaited Summer is in its peak, now that everyone has only one thing to say "oh, it's so hottt". I say that too 🙂 Before we know summer will come to an end and we will be wrapped in winter jackets and boots. So, I am enjoying summer to the core by doing outdoor activities, gardening, embracing the beautiful Nature etc etc. Enjoy everything while it lasts, we never know when it's going to fade away as nothing is permanent.
Yesterday, when I came back from work I was greeted by something extremely beautiful and gorgeous. The lilies on my front yard bloomed, I couldn't stop admiring the beauty of those lilies. Sharing a picture: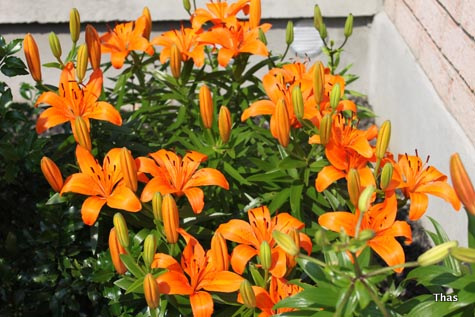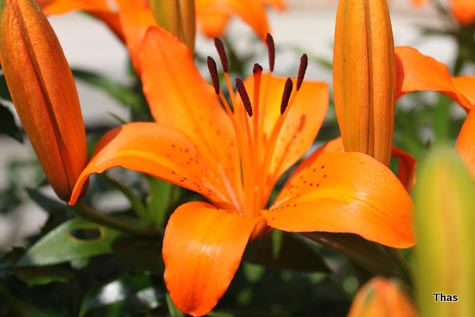 Last Friday while driving to work in the morning I was suddenly hit by the thought of making soy chunks lasagna. I even felt like going back home and to make it right away. My mind was full of that thought the whole day. After reaching home, I got into the kitchen and without any denial  I made soy chunks lasagna, even though the lazy side of me tried to seduce me to relax and have dinner outside. I overcame the lazy me and was seen actively making this.
Soy chunks are rich in proteins and are considered to be a vegetarian substitute for meat. When coarsely ground it has a meat like texture, however I wouldn't say that it tastes like meat. I had made soy chunks cutlets or kebabs before and was gobbled up by my husband and I with so much vigor. Making lasagna filling with soy chunks excited me a lot, I even made a homemade tomato sauce. Topped the layered lasagna with cheese and baked it till golden and bubbly. I fell head over heels for this dish, it was absolutely delicious and a great way to cook soy chunks.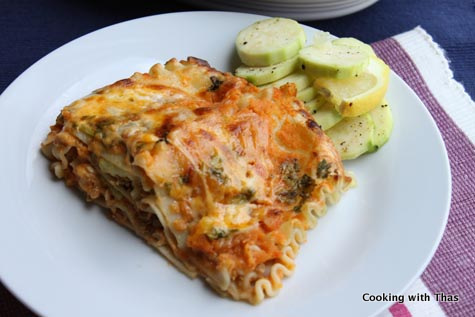 Step by Step Preparation
Cooking soy chunks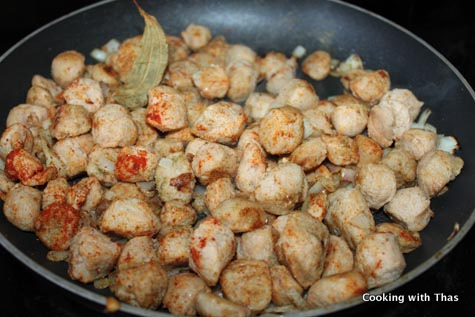 Ground soy chunks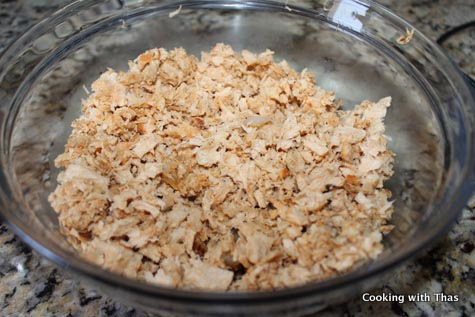 Tomato sauce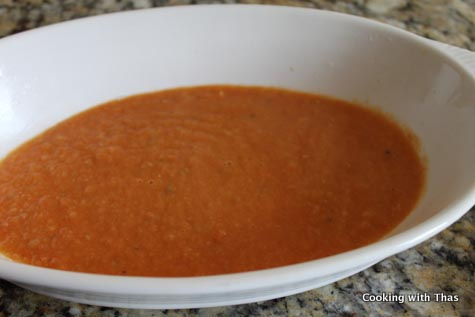 Layering pasta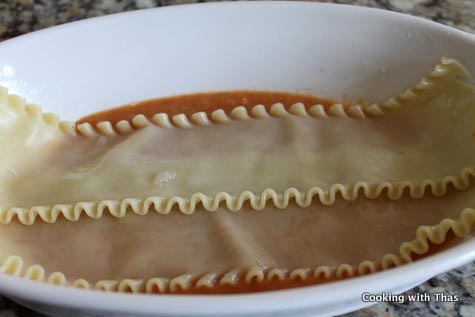 Layered with soy chunks filling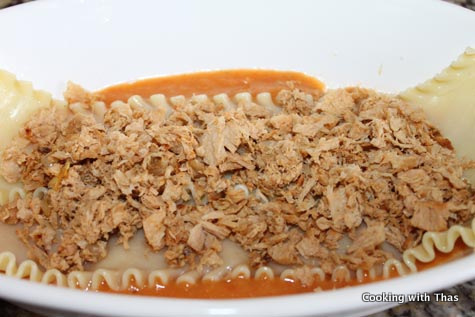 Layering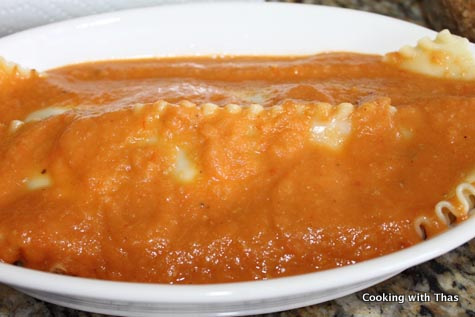 Topped with cheese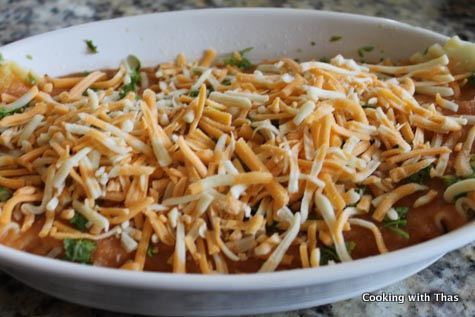 Baked and broiled Soy chunks lasagna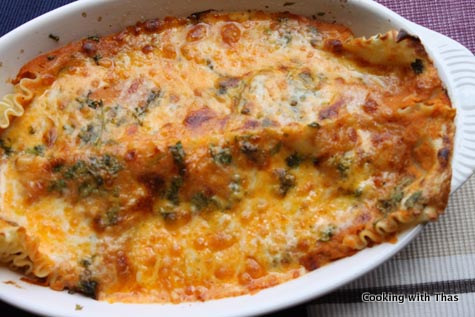 Soy Chunks Lasagna Recipe
Ingredients
For making Soy chunks filling
Oil- 1 tbsp
Cardamom, whole- 2
Cloves, whole- 2
Bay leaves-1
Onion- 1, chopped
Soy chunks, soaked in water and drained- 1½ cups
Kashmiri chili powder- 1½ tsp ( or use regular chili powder for more spice)
Cumin powder- ½ tsp
Coriander powder- 1 tsp
Fennel powder- 1 tsp
Salt- to taste
For making Sauce
Oil- 1 tbsp
Onion, chopped- 1
Tomatoes, chopped- 2
Ginger-garlic paste- ½ tbsp
Chili powder- ½ tsp
Coriander powder- 1 tsp
Cumin powder- ½ tsp
Garam masala- ½ tsp
Salt -to taste
Other ingredients
Lasagna pasta, 3 inch wide or larger- 12
Cheddar cheese or mixed cheese- enough to top the lasagna
Cilantro, chopped- ¼ cup
Instructions
Making Soy chunks filling
Soak soy chunks in water for 20 minutes, squeeze the water out, keep aside.
Place a pan over medium heat, add oil let it turn hot.
Add whole cardamom, cloves and bay leaves, saute for a few seconds.
Add chopped onion, few pinches of salt, saute till translucent.
Add kashmiri chili powder, cumin powder, coriander powder and fennel powder, combine well and cook for a minute.
Add soaked and drained soy chunks, combine well and cook for a few minutes.
Taste and add more salt if needed.
Remove the pan from the heat and let it cool down.
Discard the bay leaves.
In a blender, coarsely grind the cooked soy chunks. Don't grind into paste.
Keep aside the ground soy chunks.
Making the sauce
Place a pan over medium heat, add oil.
Add onions and a few pinches of salt, saute till translucent.
Add ginger-garlic paste, saute for a minute.
Add tomatoes, cook till mashed up.
Add chili powder, coriander powder, cumin powder and garam masala, combine well and cook for a few minutes.
Taste and add more salt if needed.
Remove the pan from the heat and let cool down a bit.
Puree the onion-tomato mixture along with ½ cup water to a smooth paste. Keep aside.
Cooking pasta
Boil water in a large wide pan, let the water come to a rolling boil.
Season the water with salt.
Add the lasagna pasta into the water and cook till it turn soft. Don't over cook as it will fall apart.
Cook the pasta in batches, don't over crowd them.
Drain the water and keep aside.
Spray non-stick cooking oil over the cooked pasta.
Assembling the lasagna
On a large casserole or baking dish, pour half of the tomato sauce.
Place 2 pasta over it.
Spread just enough soy chunks filling over it.
Place 2 more pastas on top of the filling, again layer with soy chunks filling.
Cover with 2 more pastas.
Pour the rest of the sauce over the top pasta.
Sprinkle cilantro over the sauce.
Top generously with cheese.
If you prefer you could make more layers or make two batches.
Cover the casserole with aluminum foil.
Preheat oven to 375 F.
Place the casserole on the middle rack in the oven.
Bake for 35 minutes covered with aluminum foil.
After 35 minutes, turn on the broiler in the oven.
Uncover the casserole, place it in the oven and broil for 1 minute 30 seconds till the cheese has turned golden brown in color.
Remove from the oven, let cool down a bit.
Using a sharp knife, cut the paste into slices and serve warm.