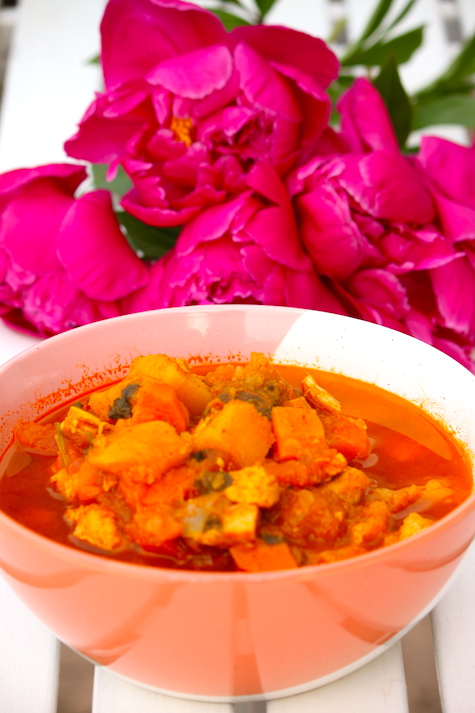 15 minutes and you will enjoy hearty and healthy chicken and squash stew…
This will be a great recipe if you want to clean up the veggies in your refrigerator. Meat lovers, can add chicken or beef along with the mixed veggies. I had to use up the butternut squash, so added squash as well. Spiced up the ingredients, added tomato paste that gave this stew a nice vibrant red color.
In just 15 minutes, I was seen enjoying a bowl of this hearty stew. Can be served with brown rice, pasta, noodles etc.
Note: those are the peonies from my garden 🙂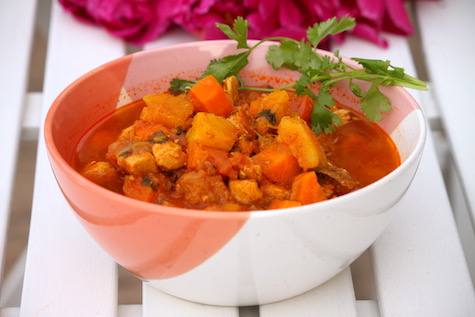 15 minute Instant Pot Chicken and Squash Stew
Ingredients
Oil- 1 tbsp
Dried bay leaves- 2
Chicken breast, diced- 2 breasts
Ground pepper- ½ tsp
Onion, diced- 1
Carrot, diced- 1
Butternut squash, diced- 2 cups
Tomato, diced- 1
Tomato paste- 3 tbsp
Paprika- ¾ tsp
Ground cumin- ¾ tsp
Chili powder- ½ to 1 tsp
Turmeric powder- ¼ tsp
Salt- 1½ tsp
Water- 2 cups
Cilantro, chopped- ¼ cup
Instructions
Turn on Instant Pot.
Click on Saute Mode, medium temperature.
Let turn hot.
Add oil, add dried bay leaves.
Add chicken breasts, season with ground pepper and ½ tsp salt.
Saute for a minute.
Add diced onion, carrot, squash, tomato, tomato paste and all the spices. Add 1 tsp salt.
Combine well.
Add chopped cilantro.
Add 2 cups water. Combine well.
Close the pot with its lid.
Turn on Meat stew mode, set time to 15 minutes. Default pressure is high pressure.
After 15 minutes of cooking, do a quick pressure release.
Open the lid, combine the stew well.
Transfer to a bowl.
Can be enjoyed as it is or serve along with brown or white rice, pasta, noodles, roti etc.