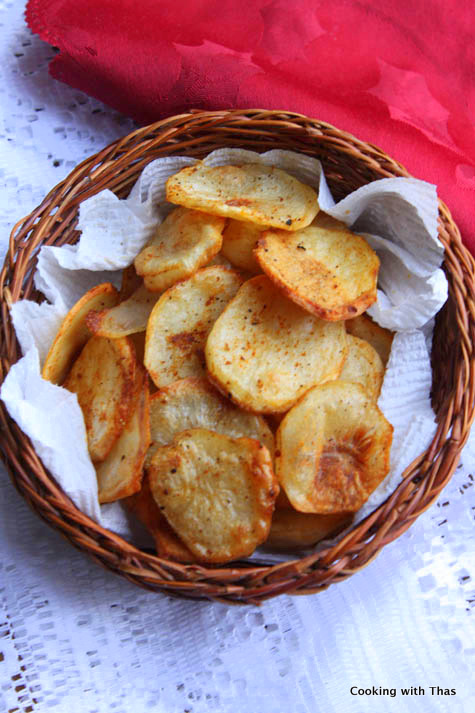 Crispy, crunchy potato chips that are baked not fried…
Potato chips have been one of my biggest weaknesses, I can munch on it non-stop till my jaws get stiff. Every time I go for grocery shopping, one bag of potato chips always tags along with me. It's high time I cut down on fried potato chips, hence I tried baking potato chips at home. I thought it's going to be a disaster, but to my surprise it turned out to be crispy, crunchy and perfect.
The trick for making perfectly baked potato chips is by first cooking the potatoes slightly in boiling water, pat dry it and bake it in the oven till it turns crispy and golden in color.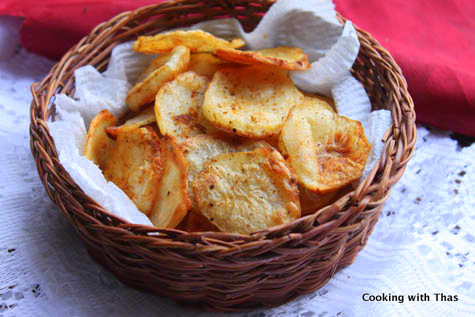 Potato Chips - Baked
Ingredients
Potatoes, sliced round thin- 5 large or depending on your needs
Ground cumin- 1 tsp
Paprika or chili powder- ½ tsp
Ground pepper- ½ tsp
Salt- to taste
Cooking spray
Instructions
Slice the potatoes into thin round slices, if you have a potato slicer use that so that all the slices will be in even shape.
If you are not baking the potatoes right away, soak it in water so that it won't turn brown.
Preheat oven at 425 F.
Cook the sliced potatoes in boiling water till it's slightly cooked. Do not over cook it.
Drain the water and pat dry the slightly cooked potatoes using kitchen paper towel.
Add ground cumin, paprika/chili powder, ground pepper and salt to the potatoes, combine well.
Spread the potatoes on a baking sheet lined with aluminum foil.
Spray with cooking oil.
Bake for 40 to 45 minutes or till the potatoes turn crispy and golden.
Get ready for a guilt free munching.