Onion Samosa, a popular street snack in Hyderabad…
These are also called Irani samosas as they are sold in Irani cafes and tea shops. Onion samosas are also sold at most college and hospital canteens in Kerala. I've had these from my college canteen, tasted so crispy and the onion filling was delicious that I ended up having many in one sitting. These are mini samosas and the dough is rolled so thin that it will turn crispy and crunchy.
It's not that hard to make this from scratch in your kitchen. The filling is easy to make, just combine onion and thin flattened rice or poha along with some spices. Poha will absorb the moisture from the onions. Pastry can also be made easily by combining wheat flour and all purpose flour, kneaded till soft and rolled to thin sheets. Triangular shapes are made and the onion filling is placed in it, sealed well and fried till golden and crispy.
Serve while it's warm, enjoy the crispiness and crunchiness along with a cup of cardamom or masala tea. Irresistible taste and you will lose count of how many you had in one sitting. Forget about the number, and just enjoy the taste 🙂
Chicken Samosa recipe, click here.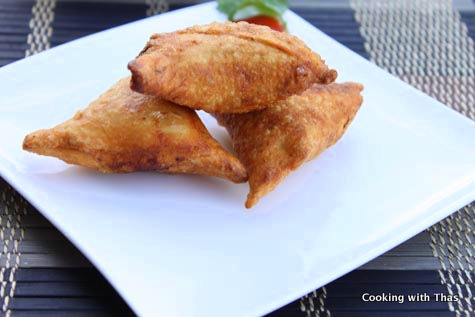 Irani Samosa or Onion Samosa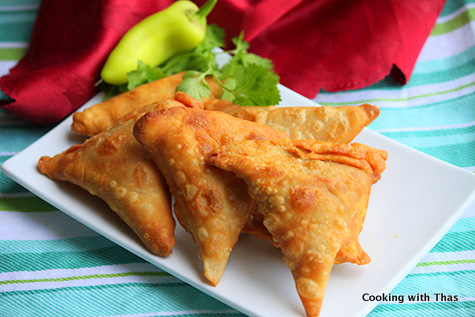 Preparation Pictures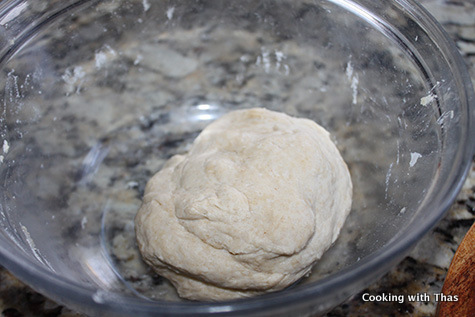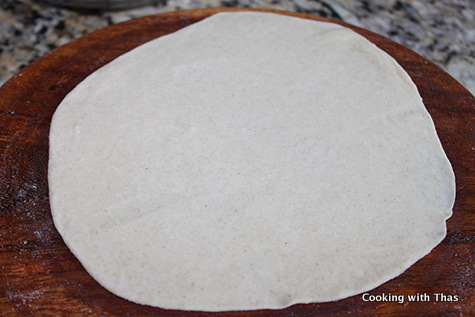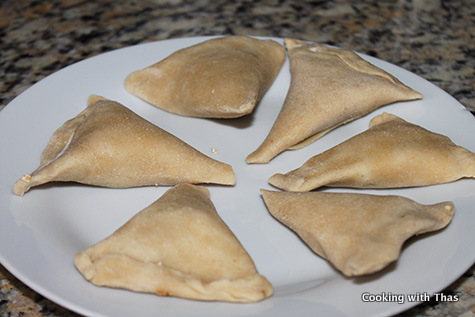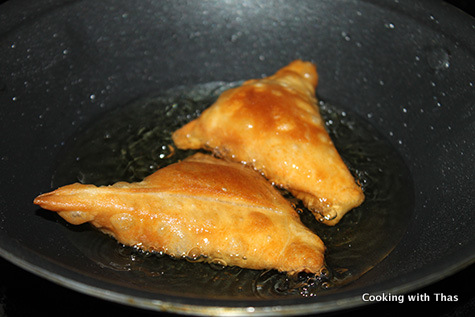 Onion Samosa or Irani Samosa Recipe
Ingredients
For making filling
Onion, chopped- 1
Thin flattened rice or Poha- ¾ cup (if not use instant Oats)
Green chilies, chopped- 2
Chili powder- ½ to ¾ tsp
Garam Masala- ½ tsp
Dry Mango Powder or Amchur Powder- ½ tsp (or add 1 tbsp lemon juice)
Coriander powder- 1 tsp
Cilantro, chopped- 2 handfuls
Salt- a few pinches
For making the pastry sheets
Wheat flour- 1 cup
All purpose flour or Maida- 1 cup
Oil- 1 tbsp
Salt- a few pinches
Water- ¾ cup
Making flour paste or glue
All purpose flour- ¼ cup
Water- 1½ tbsp
Other Ingredients
Instructions
In a bowl, combine all the ingredients mentioned for "making the filling'. Keep aside.
If you don't have thin flattened rice or poha, you can replace with instant oats.
In an another bowl, combine wheat flour and all purpose flour, add salt and oil- combine well.
Add water slowly, knead well and make a soft dough.
Keep aside for 20 minutes- do not skip this step.
Making the flour glue: In a small bowl, combine ¼ cup all purpose flour with 1½ tbsp water and make into a paste or glue.
After 20 minutes, make small balls out of the dough.
Dust a wooden board or a clean countertop with flour, place the dough ball on the board.
Using a rolling pin, roll the dough into thin round shape. Make sure it's very thin.
Place a non-stick pan or tawa over medium heat. Let turn hot.
Place the rolled thin dough on the pan, let the bottom side turn slightly warm, flip it over and let the other side turn warm as well. Do not cook the dough, we are only slightly warming it.
Using a knife, half the rolled dough.
Make a triangle shape or cone shape out of it.
Place 1 tbsp filling into the triangle.
Spread the flour paste on the edges and seal well.
Heat enough oil for deep frying in a frying pan over medium heat, let turn hot.
Place the samosas and deep fry till golden and crispy.
Transfer to a plate lined with kitchen paper towel.
Serve warm along with tomato ketchup, tamarind chutney or any of your favorite dipping sauce.