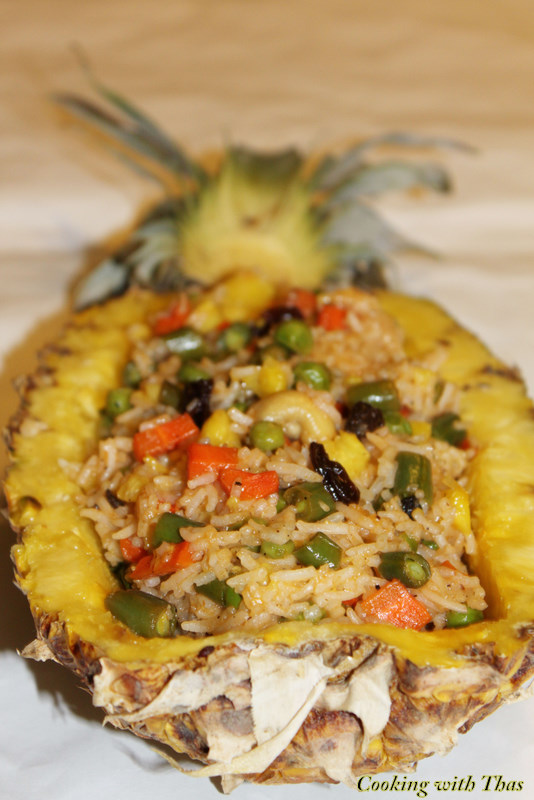 Fried rice with a Pineapple twist…
Fried rice being a versatile and flexible dish, could be made with almost anything or nothing at all. When I say nothing, I mean, we can have just the rice fried and cooked to perfection with added aromatic spices. With almost anything means, we can put all kinds of ingredients in it; doesn't matter whether it is veggie or meat or any spices, there is no such rule which says you can't put that or this when it comes to fried rice. This is a very popular dish in Asian cuisine. My first ever fried rice tasting was not at any Chinese or Asian restaurant, but in my home, made fresh from my Mom's kitchen. Besides, authentic kerala and Tamil cuisine, once in a while my mom used to treat our taste buds with real fancy Indo-Chinese dishes. Now, I wonder how she learned to make these dishes, as in those days there wasn't any internet to search for these kind of recipes or any major Culinary shows on TV to note down the recipe. She truly deserves a round of applause. Fried rice served with Chili chicken was definitely a fancy meal for me in those days.
I never get tired when it comes to experimenting with fried rice, as it is nearly impossible to fail in this. I can blindly throw in any kinds of ingredients in to it and get a really different taste each time when I make it. So this time when I made fried rice, my pick was pineapple. The sweetness of the pineapple along with the mild spiciness of the pepper powder and the aromatic flavors from the fried rice gave it a splendid taste. After tasting this, you will be updating your favorite food listing with this one on the top. 

Pineapple Fried Rice
Ingredients
For Making Rice
Basmati rice-1½ cups, soaked in water for 15 minutes
Cardamom whole-3
Cloves whole-3
Cinnamon whole-2 inch stick
Black Pepper whole-6
Bay leaf-1
Salt-to taste
Ghee/butter-1tbsp
Water-2½ cups
Veggies
Carrot, finely chopped-1
Beans, finely chopped-1/4 cup
Frozen peas-1/2 cup
Ghee/butter-1 tbsp
Mixing the rice
Pineapple finely chopped, use fresh or canned, if using canned, rinse and use-1/2 cup
Black Pepper powder-1/2 tsp
Tomato Ketchup-2 to 3 tbsp
Roasted Cashew nuts, roasted in little ghee/butter- 10
Roasted Raisins, roasted in little ghee/butter-2tsp
Cilantro chopped-1 handful
Instructions
Making the rice
Heat a deep bottomed non-stick dish, add ghee.
Add cardamom, cloves, cinnamon, black pepper corns and bay leaf, fry until aromatic.
Add the soaked, drained rice and fry for 5 minutes. Season with salt.
Pour water to the rice, close it with the lid and cook until the rice has cooked.
Don't over cook the rice.
If there is any excess water after completely cooking the rice, drain the cooked rice and keep it aside in a closed bowl.
You can also cook the rice in rice cooker. After frying the rice, transfer the rice to the rice cooker bowl, add water and cook in it.
If you want you can discard the whole spices after cooking the rice.
Cooking The Veggies
In a pan, add the ghee/butter and fry the veggies till they start to get caramelized.
Keep the fried veggies aside.
Mixing The Rice
Heat a wok or a wide pan, add the cooked rice, fried veggies, and gently combine them.
Now add the pineapple, combine with the rice and veggies.
Add pepper powder and tomato ketchup, give everything a good stir.
Finally garnish with Cilantro, Cashew nuts and Raisins.
Serve hot.
To give it a fancy look, serve on a pineapple bowl.
How to make a Pineapple bowl
Cut the whole pineapple with the top part vertically into 2 halves.
Scoop out the pineapple from the inside of one of the halves, or using a sharp knife cut the pineapple from inside.
Create a hollow inside, so that there is enough space to serve the rice on it.
Serve the rice on the pineapple bowl and serve.
You can have this just as it is or serve as a side dish along with chicken or veggie stir fry.