Pesto and cucumber sandwich, quick fix evening snack or breakfast…
Basil pesto smeared on bread, topped with cucumber and spinach, topped with another bread and cut diagonally. Now, that's an easy breezy sandwich you could make for breakfast or go ahead and serve as an evening snack.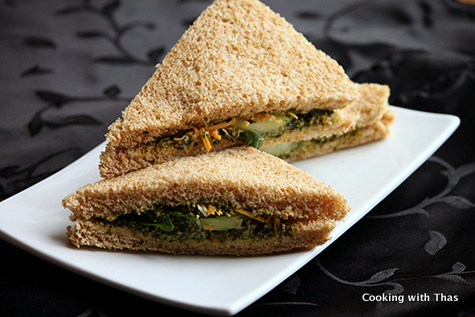 Making Pesto Cucumber Sandwich
Recipe for making Basil Pesto, click here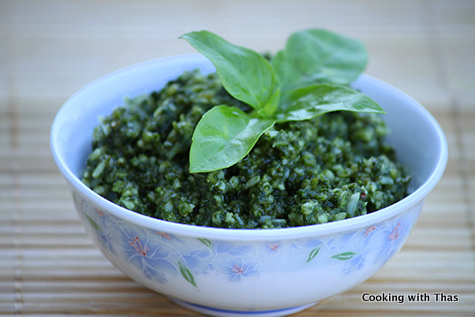 Pesto Cucumber Sandwich
Ingredients
Bread slices, whole wheat or white
Basil pesto- 1 tbsp per bread slice (store bought or homemade)
Cucumber, cut into thin round slices- 2 rounds/sandwich
Spinach leaves- 4 to 6 leaves per sandwich
cheddar cheese, grated- 1 tbsp per sandwich (optional)
Instructions
Using a sharp knife, remove the brown edges of the bread slices.
Spread basil pesto on two of the bread slices, 1 tbsp/slice.
Place 2 cucumber slices on top of one of the bread slices.
Place 4 to 6 spinach leaves on the cucumber.
Evenly sprinkle grated cheddar cheese over the spinach. You can skip the cheese.
Place the other bread slice on top of the cheese and gently press the bread slices together.
Using a sharp knife, cut diagonally into triangular shapes.
Serve as an evening snack or can be eaten for breakfast.