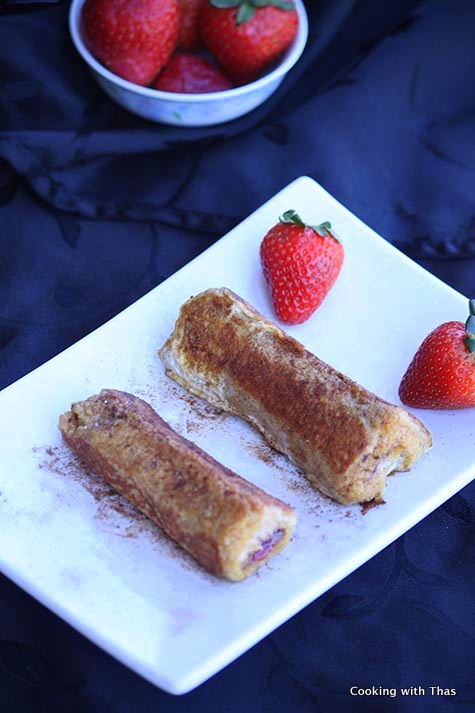 French toast roll ups filled with jam, delicious breakfast…
I've seen a few pictures and videos of French toast roll ups on my FB news feed, since then I've been wanting to try this. I love French toast, who doesn't??? If the French toast has a yummy filling inside and when you bite into it, the filling just oozes into your mouth…now, that's even more delicious.
I made a simple version, smeared the bread with strawberry jam and placed some freshly chopped strawberries on the bread, rolled it up and dipped in beaten egg and fried in butter till golden brown. This turned out delish, both kids and adults will indulge in this. This can be served for weekend breakfast, brunch or even as an evening snack.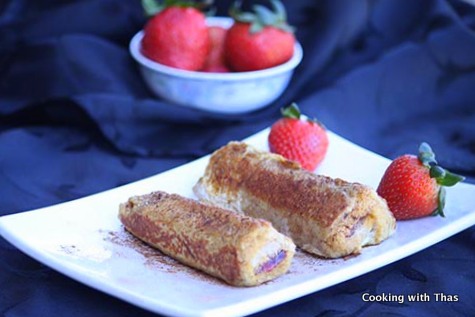 Preparation Pictures
French Toast Roll Ups- Filled with Jam
Ingredients
Bread slices, white bread or wheat bread- 8, (or based on how many you are making)
Strawberry or your favorite Jam or Cream cheese or Peanut butter or Nutella
Freshly chopped strawberries
Eggs- 2
Ground cinnamon- ½ tsp
Vanilla extract- 1 tsp
Unsalted Butter
Powdered Sugar- to sprinkle on French Toast
Instructions
Remove the brown sides or crust from the bread.
Chop fresh strawberries really small.
Flatten the bread using a rolling pin.
Spread 1 teaspoon of jam or any other spread on the flattened bread slice.
Place some chopped strawberries along one side of the bread.
Gently and tightly roll up the bread.
In a bowl, beat eggs, ground cinnamon and vanilla extract using a whisk.
Place a non-stick pan over medium heat.
When the pan gets hot, add 1 to 2 tbsp of butter.
Dip the rolled up bread in egg mixture and place on the melted butter seam side down,
Keep turning till all the sides have turned golden brown.
Remove from the pan and place on a plate.
Sprinkle powdered sugar and ground cinnamon over the French toast roll ups and serve immediately when it's warm.
Notes
You could spread the bread with cream cheese mixed with powdered sugar, nutella, peanut butter etc.